Esteban: Enter the Heart (DTS) Review
Esteban: Enter the Heart (DTS) Review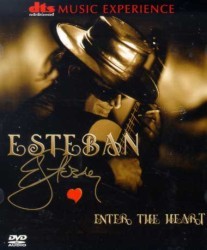 Introduction
Recorded in 1998, legendary Jazz-Latin guitarist Esteban embarked upon creating a new listening experience for his fans by encoding his latest CD with the best current multi channel surround sound scheme available.
Track List
01. Enter the Heart - 5:40
02. Veracruz Express - 3:33
03. Flamenco Wind - 8:19
04. San Antonio Sunset - 4:56
05. Bag Jam - 3:40
06. Mediterana - 4:48
07. Silver Raine - 6:25
08. Blue Lotus - 11:13
09. Sedona Sunrise - 4:41
10. Avenida Concha Espina - 5:18
Sound Quality
In my opinion, this CD goes beyond all expectations when is comes to listening enjoyment. I have never been so moved by a recording's realism and sound quality. Right off the bat with track#1 "Enter the Heart" it is obvious to me that this CD means business. Every subtle nuance is flawlessly reproduced and neatly presented on each channel. The highs are silky smooth and refined, while the bass is deep, extended and well presented. I especially enjoyed track#2 "Veracruz Express" when the guitars were walling through all of the speakers simultaneously. It truly conveyed the sense of being right in the middle of the action. It is very easy to get lost in this CD if you just close your eyes. Track#3 "Flamenco Wind " amazed me by how convincing the trumpet sounded while it panned all around the room to each speaker. I found myself listening to this track several times/day for a week just because of how the "WOW" factor continually overcame me each time I listened. The remainder of the CD is mostly mellow and melodic and highly enjoyable.
Conclusion
If you are looking for the best sounding DTS CD that also contains pleasant Jazz guitar with Latin influence, than look no further than Esteban. This is one CD I will never grow tired of. My wife and I enjoy this CD at night, while the baby is asleep, and we sip our favorite glass of red wine.
Confused about what AV Gear to buy or how to set it up? Join our Exclusive Audioholics E-Book Membership Program!