Cable Distortion and Dielectric Biasing Debunked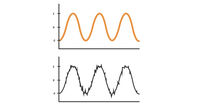 Recently I've done a collection of measurements and tests on interconnect cables to see what I could find that would explain the sonic differences that many people, including myself, have grown accustomed to hearing. The test equipment was an Audio Precision System 2 Cascade. Test objects were a handful of cables of varying construction and claims to audiophile performance.
This article explains the concept of distortion and whether or not cables can exhibit non linear behavior to produce it.