Audioholics 2012 GTG Show Report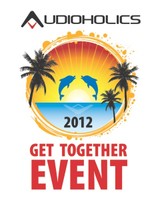 Every year there are a number of different trade shows for manufacturers to show off their products, but most of the time these events are impersonal and rushed. With the Audioholics GTG, we wanted to create an event that allowed Audioholics staff, vendors, and attendees a more intimate environment that encouraged quality interaction. We created a friendly, no-pressure atmosphere for everyone to listen, talk, and maybe even buy. This goal was part of our larger mission of being able to give something back to the AV community. That's why we didn't charge any registration fees, served a home cooked meal, and held it at a small venue. We also had a private party the night before the event for staff and vendors. And I mean party, including a DJ, dance floor, bellydancer, and full coarse meal, to set a relaxed and friendly pace. Overall, the event was a huge success. Attendance was well above expectations and we had a great time meeting and talking with everyone. We are excited to expand the event for the Audioholics 2013 Annual Get Together at a destination Florida beach location.
The Audioholics 2012 was no typical trade show, it was a place for Audioholics staff, vendors, and attendees to interact in a much more personal and slow paced event than any other trade show offers.