RBH Sound Signature Reference 8300-SE/R Loudspeaker Review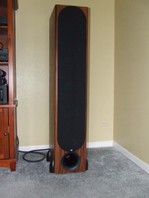 The RBH Sound 8300‑SE/R's are a wonderfully lush set of loudspeakers that can breathe some life into even the thinnest recordings. That lushness does not sacrifice clarity or control resulting in a very precise and tight set of loudspeakers with a substantial depth of sound and a detailed sonic presentation that is never etched, but rather has an effortless, natural musicality. If the RBH 8300‑SE/Rs are in one's price range, they well deserve a look. Even if one is aiming for a more costly set of loudspeakers, there is a good chance that considering these speakers might yield just as much or more sonic satisfaction with potential cost savings to boot. As I would love to own a pair myself, but fall into that modest means category, I can wholeheartedly say… Recommended!
The RBH Sound Signature 8300-SE/R is a wonderfully lush set of loudspeakers that are precise and tight with substantial depth and clarity that is unrivaled regardless of price. Highly recommended.