Sanus LT25 Tilting Flat Panel Wall Mount Review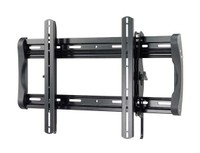 Flat panel mounts are common, but there are a lot of challenges associated with putting your plasma or LCD TV up on a wall. For one, those "super-thin" mounts are great, but most people don't realize that you need recessed power and low voltage connection plates in order to utilize them. Then there are those who need a mount that tilts, so that the TV is at the proper trajectory in situations where the set may be elevated - perhaps above a fireplace or simply to clear a piece of AV furniture. Another common problem is that, with most flat panel TV mounts, you have to get the mount absolutely level or your television will look crooked... permanently. Sanus addresses several of these issues with the LT25 Tilting Flat Panel Wall Mount.
The Sanus LT25 Tilting Flat Panel Wall Mount addresses common challenges of mounting plasma and LCD TV displays close to the wall where cable clearance, easy installation and tilting are essential.