Sony STR-DN1040 Setup and Operation
Sony STR-DN1040 Setup and Operation
The menu system on the STR-DN1040 is ported over from Sony's ES line of receivers. It looks and operates almost identically to the GUI we raved about in our review of the STR-DA2800ES. Navigation is simple and straightforward.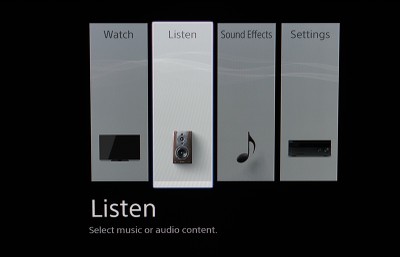 STR-DN1040 Home Menu
Hitting the "HOME" button on the remote pulls up a….well….home menu, where you can select one of four options: Watch, Listen, Sound Effects, or Settings. By selecting Watch, you are presented with a list of inputs that are likely to use your display, like BD, TV, and SAT/CATV. Selecting Listen pulls up relevant inputs for listening to content, like Radio, Bluetooth, Home Network (DLNA), and SEN. The Sound Effects option lists out all of the available DSPs. The receiver defaults to multi-channel stereo, which is annoying, but easy to change. The last option, settings, takes you to all of the advanced settings for the unit.
Running through all of the settings was pretty easy. For the most part, things are organized well. There are some oddities to be aware of though. For example, Fast View (as Sony calls it, but everyone else calls it InstaPreview) only works on 4 of the HDMI inputs. Poking around the input menu, I also noticed that none of the HDMI, composite video, or stereo audio inputs are assignable. However, you can assign component video, digital coax, and digital optical. You can also change the input name, picture/symbol, and if it shows up in the Watch or Listen pages, or both.
Diving into the speaker settings menu, I found the options to be robust. Amplifier assignment was easy. You simply scroll through a list of pre-set configurations and select the proper layout. Speaker level can be adjusted in .5dB increments and distance in 1" increments. Crossover frequency can be set per speaker and adjusted from 40 to 200Hz in 10Hz steps, an impressive level of detail in this price class. Still, there are some limitations. Both subwoofers share a single distance and level adjustment. Additionally, surround and surround back speakers are linked together in the crossover settings only allowing for a single crossover setting for both sets of speakers. I'm not surprised by either of these caveats, and in general am impressed with the level of adjustments the STR-DN1040 has.
DCAC Auto Setup System
Sony uses their proprietary DCAC auto setup system in all of their receivers. While most of these types of systems take measurements at multiple positions, Sony's only works at one location. This means that it can be more easily fooled by room modes than multi-position systems. Then again, it's no fun to move a mic around 6 or 8 times and listen to a round of loud test tones at each spot (especially if the results aren't accurate and you have to run it again).  
Also, instead of using pink noise like most other systems, DCAC uses melodious tones. This allows it to measure up to two speakers at once by combing sounds in the time axis, leading to a very quick start-to-finish run time of about 30 seconds. DCAC checks and adjusts the typical bunch of settings: crossover, level, distance, polarity, and room EQ. After it finishes, you can select one of three EQs: Engineer Reference (matches Sony's in-house room used for tuning AV equipment), Front Reference (does not apply any EQ to front L/R, EQs other speakers to match response of front L/R) or Full Flat (adjusts all speaker to have a flat frequency response).

Sony STR-DN1040 DCAC Results
Purple Trace – Frequency response before DCAC
Black Trace – Frequency response after DCAC, "Flat EQ"
I ran the setup mic two different times with nearly identical results. It didn't prompt any "out of phase" warnings like many of these systems do, but it did set my small bookshelf speakers to large and bumped up the sub by 10dB. The distance setting for each speaker was okay, about +/- 6" from physical distance, but I've had more accurate results with other systems.
For measurements I set the EQ to Full Flat. As you can see from the above graph, it did very little above 500Hz, other than EQ a few dB down at 6kHz for some reason. Between 350 and 500Hz it EQ'ed up a few dB, which I could have done without. Most of its work was done below 100Hz, bumping up the level of the sub by about 10dB. I'm not sure how Sony considers a giant bass boost to be flat (unless the Fletcher Munson curve is at work), but I've seen stranger things with these types of systems.
The lack of EQ above 100Hz (except between 350-500Hz) might be because the system measured quite flat to start with, so little correction was needed, or because DCAC purposefully avoids over correcting midrange or higher frequencies. I hope the latter is true. For the most part, I believe that these auto setup systems should focus on correcting problems in the lower octaves because A) those are the frequencies more likely to need correction and B) adjusting higher frequencies can negatively affect the sonic signature of the speaker.
DCAC gave me similar results to my last run in with the system when I review the STR-DA2800ES. I would recommend using this feature with caution unless you have the tools to measure what it is really doing to your system.
Operation

Remote Control
After dealing with the abhorrent remote coupled with the STR-DN1030, I had low expectations for this year's model. I was, however, pleasantly surprised. There are a lot of buttons packed onto the remote, but the layout makes it easy to find what you are looking for. Discrete input buttons that line the top of the remote (no discrete power) make switching sources east. A giant "HOME" button pulls up the OSD, which, as previously mentioned, acts as the control hub for the receiver. An "HDMI Output" button switches the receiver between A, B, A+B, or OFF modes. Thankfully, Sony has resisted the urge to place a mass of DSP buttons on the remote. Instead, the "TV Channel" button pulls double duty and adjusts DSPs as well as channels. I only have two minor gripes with the remote. First, the volume button is located at the bottom, forcing you to shift your hand to reach between volume and navigation controls. Second, there is no backlight to help see the remote in the dark.  

Sony STR-DN1040 Remote Control
AudioRemote and TV SideView Apps
The STR-DN1040 is unique in that it works with two different mobile apps, AudioRemote and TV SideView. Neither app has full control over the unit; rather, you have to switch between them depending on what you want to do. I believe that Sony is the only company to do this. This dual-app design might suit some people who are only interested in the capabilities of one of the apps. However, for people who want complete control (input, navigation, settings, zone 2) it would be annoying to constantly switch between apps.   
Sony Network Audio App
AudioRemote is strictly used to navigate the streaming services built into the STR-DN1040. It can set the receiver to Sony's Music Unlimited, Pandora, Slacker, DLNA, or vTuner. It also gives you full control over each service and the receiver's volume. I used the AudioRemote app primarily for Pandora, but it worked extremely well for DLNA. So well, in fact, I would actually consider using DLNA on a regular basis. It was snappy and fluid, easy to use.
Sony TV SideView App
TV SideView is half TV guide and half receiver controller. It uses Gracenote to pull up local TV listings and view information related to specific programs, like plot summary and actors. The main purpose of the app is to supplement TV viewing with relevant information, hence the name TV SideView. As far as the STR-DN1040 is concerned, the app offers simple navigation control allowing you to pull up and use the OSD. By using the OSD, you have full control over the receiver, but it can be inconvenient since you have to locate settings buried in the menu that the IR remote has discrete buttons for (ie. Inputs and DSPs). And you have to be looking at the TV to see what you're doing.
There is a keyboard option to enter text, but it is not currently supported by the STR-DN1040. The app worked well, except when it came to using the directional pad to control the network features. Whenever I would tap "up" or "down", the curser would jump up/down by two rows at a time, much like an IR remote with the repeats set too high. This is something I'm sure Sony will address with a firmware update at some point.
Overall, I would prefer a single app to control everything. A single powerful app can be more confusing to use at first, but it's more convenient once you get the hang of it. Still, for those only concerned with the ability to control streaming audio services, the Network Audio app works quite well. For those wanting more advanced control options, the TV SideView app will likely leave you wanting more.
USB
Last year's STR-DN1030 disappointed me a bit when I tried to play my lossless FLAC files from a thumb drive and I found out it only supported mp3, m4a, 3gp, mp4, and wma codecs. This year, however, Sony h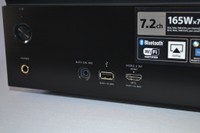 as rectified this situation by including support for FLAC and WAV files. I tried out a few 96kHz/24bit WAV and 44kHz/16bit FLAC files, both worked flawlessly. Navigation worked reasonably well, not super responsive, but not annoyingly slow either. However, I would like to see support added for album art and a search function. Oddly, the STR-D1040 doesn't support NTFS formatted storage devices either, so those with large music collections on an external HDD are out of luck.
Airplay and Bluetooth
Bluetooth and Airplay are of such importance to consumers it feels weird not devoting more space to them, but here's just not much to say. Airplay only supports audio streaming, but works well. I never had any audio dropouts or other issues.
Pairing my iPhone to test out Bluetooth was extremely easy thanks to a pairing button on the front panel of the receiver. The STR-DN1040 also supports Avrcp1.3 for Bluetooth device control. This means that you can use the IR remote to pause, play, and skip tracks on your Bluetooth device. Finally, the receiver will automatically power on for use with Bluetooth or AirPlay devices, and automatically turn off after a period inactivity.
Confused about what AV Gear to buy or how to set it up? Join our Exclusive Audioholics E-Book Membership Program!
Recent Forum Posts:
kcwilsonii posts on June 05, 2014 16:35
SACD/DSD content

Noticed you used an Oppo to playback the Norah Jones cd, was that an SACD?
Did you test any DSD content?

I am looking to replace my Yamaha receiver due to some issues with HDMI handshaking with my OPPO.
Delays in figuring out what seems to be a 3d signal being passed to it. I almost always aim for sound quality
on these amps and want to make sure this could handle DSD via HDMI in bitstream format (not LPCM) and if there are any HDMI
issues ( which I have seen several complaints about online).
Goliath posts on January 04, 2014 04:46
The Sony 1040 is probably one of the best value performers currently available, in my opinion.

I know this is off-topic, but could you guys please post bench results for the Denon X4000 receiver? I've been dying to see what it can do, and each time I look at your review I find no measurements.

Pretty please?
Cliff_is posts on January 03, 2014 19:18
mlawdawg, post: 1008149
Your review of dn1040 puts it higher multichannel audio than da1800es. Why is that when I thought ES line is supposed to be better?

I'm finally looking to replace my marantz avr 7400, an ancient 7.1 receiver.
Recommendations?
I considered marantz 1604 "slimline" but worried about low (70) watts per chan.
Thx.
The ratings are based off of price. So, a $500 product with a 4/5 on a rating is not the same quality as a $1000 product with the same rating.
The ES line is more expensive, but not everything is better. Each receiver needs to be considered individually.
Also, the wattage you need is dependent on a number of factors, primarily the sensitivity of the speakers you are driving. I'd suggest starting a new thread if you are shopping for a new receiver. People are usually happy to help. Good luck!
mlawdawg posts on January 03, 2014 18:21
Dn1040 vs da1800es?

Your review of dn1040 puts it higher multichannel audio than da1800es. Why is that when I thought ES line is supposed to be better?

I'm finally looking to replace my marantz avr 7400, an ancient 7.1 receiver.
Recommendations?
I considered marantz 1604 "slimline" but worried about low (70) watts per chan.
Thx.
BoredSysAdmin posts on December 15, 2013 15:43
gene, post: 1004148
I wish I could find someone local and trainable to do amplifier measurements for us. With my time being more limited daily, this has become increasingly more challenging. I just hired a new marketing person to help free up my time, fingers crossed, so I can head this up again.
I wish I could be local Not just for any AH related purposes, but just live in FL This whole snow thing is very annoying
Post Reply