Sony STR-DN1040 Sound Quality & Conclusion
Sony STR-DN1040 Sound Quality & Conclusion
Two channel listening tests were performed using MartinLogan Theos floorstanding speakers (8" bass driver in ported cabinet cross over  at 425Hz with electrostatic panel.  4ohms nominal. $4995/pr) and an Oppo BDP-93 Blu-ray player with the STR-DN1040 set in Pure Direct mode. Surround sound listening tests were done with MartinLogan Motion LX16 bookshelf speakers (5.25" bass driver, 1"x1.4" Folded Motion tweeter. $799/pr), MartinLogan Motif center speaker, Definitive Technology BP7006 rear speakers (Built in 8" subwoofers with dual 8" passive radiators), and an Emotiva X-ref10 subwoofer.
CD: Norah Jones: Come Away With Me

The opening track, "Don't Know Why I Didn't Call", had all the ambiance and slight reverb that I am used to. Imaging was spot on, with vocals firmly set in the middle, drum kit about a foot inside the right speaker, and piano across the entire soundstage. On "Seven Years", Jones' vocals flowed out from the speakers with an eerily natural and smooth sound. During some of the dynamic peaks in the CD, I thought there was just a little extra edge in the female vocals, but just barely. Overall, the receiver did a phenomenal job. There were no obvious flaws or lack of power. Of course, there wasn't much for the STR-DN1040 to screw up anyway. With the digital-to-analog conversion happening in the Oppo and the receiver in Pure direct mode, I was able to listen to the best sound quality the receiver is capable of. And my Theos are an easy speaker to drive. I don't mean to dismiss the 2ch sound quality capabilities of the STR-DN1040, not at all. However, under different situations, with harder to drive speakers, in larger rooms, or using the internal DAC, some shortcomings may have shown up that didn't present themselves.
Blu-ray: Oz the Great and Powerful
I was really blown away with this movie. The casting is okay (Not sure Mila Kunis is a great fit) and the special effects are good. The cinematography helps strike a nice balance between serious action film and fun fantasy flick, but the sound quality is what really stands out. I really was not expecting the kind of dynamic range from the soundtrack, or the STR-DN1040, that I heard. Part of the reason for the superb dynamics is the DTS-HDMA Near Field Audio Mix. Throughout the movie there are multiple short but intense actions scenes. Your first taste of this sonic delicacy is the tornado scene where Oz is caught up in the middle of a giant twister. Cracks, creeks and whirls emanated from every speaker, filling the room, and a low, rumbling LFE channel shook the couch with force. Even during quick snippets, like the lion attack in chapter 14, sounds panned across the front and rear sound stage. The STR-DN1040 stood its ground and handled every bit of the mix without a hint of strain or distortion. In fact, some of the dramatic scenes were a little too good, like when screaming flying monkeys burst through a cloud only feet in front of your face filling your vision on the screen and hearing through the speakers. The experience was a little….disconcerting. The final coup d'état in the plot and visual effects is the final battle scene where the great wizard finally shows off his power and releases the stars i.e. fireworks. The great Emerald City erupted in a firestorm of explosions and gut wrenching LFE. The entire end battle scene is quite long, but spots of dialogue serve to give your eardrums a break. Obviously, I would not be this impressed with the movie's soundtrack if there wasn't a great receiver to give that soundtrack life. Kudos to the STR-DN1040.
Blu-ray: Tron Legacy
Tron Legacy is one of the few sequels that's actually nearly as engaging as the first film in the series. Legacy pushed the envelope in terms of sound and picture, but still had a decent plot that introduced new characters and advanced old ones (I know Rotten Tomato disagrees, but I still like it). One of the highlights of the movie is the musical score masterminded by Daft Punk. From big orchestral movements to bass heavy synthesizer and drum kit driven passages, the STR-DN1040 belted out enough sound to turn my theater into a personal rave club. But it also handled quite scenes well. For example, there is subtle detail in the scene when Sam first discovers his father's old work station and ventures into the basement under the old arcade. The shuffling of Sam's feet, creaking of an old door hinge, and background music bleeding through from the main arcade all tumbled out of the speakers creating an immersive and detailed experience. I also never had any problems understanding dialogue during Tron, or any other movies I watched. Probably the trademark scene(s) from the movie is when Sam fights Renzler during the Disc Wars and proceeds to escape after an epic Light Cycle battle. As the final sight scene with Renzler swelled to a crescendo, the bass thumper, every section of the orchestra pounded away, and the STR-DN1040 kept pace.
Suggestions for Improvements
As much as I like the STR-DN1040, it's not perfect. The lack of a single mobile app for full control, or web browser interface, strikes me as lazy and directly hampered my experience. For example, it was easy to turn on the receiver and listen to network music services using the Network Audio app. However, when I wanted to turn off of the receiver I had to open up the TV SideView app. And unlike the 2-way communication used in the Network Audio app (it can send commands to the receiver and the receiver can send information back), the TV SideView app is only 1-way. This means that you don't really know if the receiver is on or off without being able to physically see it.
This disjointed mobile app design also compounds the STR-DN1040's zone 2 handicaps. Neither app has any zone 2 control, and the lack of 2-way communication would make controlling the receiver from a remote zone difficult even if the apps were capable. Furthermore, the inability to assign two of the amp channels to power a second zone, lack of support for digital inputs or network sources, and line-level outputs locked at a fixed volume mean that this receiver is quite poorly suited for multi-zone. But, if you are okay with the limitations, the 2nd zone functionality it does have (pre-outs and IR In/Out) works well.
My final suggestion is that Sony stop front-loading the volume control on their receivers.
Editorial note: If you are unfamiliar with front-loading the volume, let me explain. Let's say you have a receiver with a volume dial that goes from 0-100. If you set the dial to 25/100, you would probably assume you are using 25% of the maximum power available. You would also assume that increasing the volume dial by 1 would increase the power by 1%. However, when the volume is front-loaded the amount of additional power from each click of the volume dial is not constant from 0-100. As you turn the volume up, the amount of additional power you get from each click decreases. So, going from 10 to 11 might result in a 5% boost, but going from 70 to 71 might only yield an addition 0.5% of power. With this moving scale you end up hitting the maximum output of the amp far before the volume dial is anywhere near max. This technique was originally ported over to receivers from TVs because consumers were already used to front loaded volume controls on their TVs. However, it can be used to fool consumers into thinking that a receiver is much more powerful than it actually is.
This normally doesn't bother me too much, but it made adjusting the volume with the sliding bar on my iPhone (in the Network Audio app) a big pain. It also made it more difficult to find the perfect volume for general listening. Unfortunately, this is an all too common practice, and one that Sony implemented last year as well but I never called them on it. However, after bringing attention to it in my review of the Samsung HW-F750 soundbar, I thought it only fair to mention it in this review. To be a little more amicable, it's not that Sony can't do this at all, but that it should be toned down a bit. The volume control was over zealous in its desire to blow me out of my seat.
Conclusion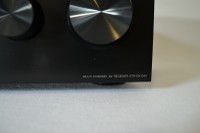 There was a lot that I liked about the STR-DN1030 when I reviewed it last year, like built-in WiFi, Bluetooth, and AirPlay, but a few big caveats held it back. Namely, the sound quality was only so-so, the user interface was awful, network control app was very limited, zone 2 functionality was less than sub-par, and the auto setup system was questionable. With the STR-DN1040, Sony has overcome most all of these issues. The sound quality is much improved and the user interface is now a joy to use. The network apps are better, especially for streaming functionality, but need a little more tweaking. Zone 2 integration is still lacking, but that's not a surprise considering everything else you get. And the DCAC auto setup system needs some work as well, but Audyssey is the only system on the market that's very capable anyway. All in all, the STR-DN1040 is a great receiver for single room installations and comes highly recommended from me. This is by far the best Sony receiver I have used in years.
The Score Card
The scoring below is based on each piece of equipment doing the duty it is designed for. The numbers are weighed heavily with respect to the individual cost of each unit, thus giving a rating roughly equal to:
Performance × Price Factor/Value = Rating
Audioholics.com note: The ratings indicated below are based on subjective listening and objective testing of the product in question. The rating scale is based on performance/value ratio. If you notice better performing products in future reviews that have lower numbers in certain areas, be aware that the value factor is most likely the culprit. Other Audioholics reviewers may rate products solely based on performance, and each reviewer has his/her own system for ratings.
Audioholics Rating Scale
— Excellent
— Very Good
— Good
— Fair
— Poor
| Metric | Rating |
| --- | --- |
| Multi-channel Audio Performance | |
| Two-channel Audio Performance | |
| Network Features | |
| Build Quality | |
| Fit and Finish | |
| Ergonomics & Usability | |
| Ease of Setup | |
| Features | |
| Remote Control | |
| Performance | |
| Value | |
Confused about what AV Gear to buy or how to set it up? Join our Exclusive Audioholics E-Book Membership Program!
Recent Forum Posts:
kcwilsonii posts on June 05, 2014 16:35
SACD/DSD content

Noticed you used an Oppo to playback the Norah Jones cd, was that an SACD?
Did you test any DSD content?

I am looking to replace my Yamaha receiver due to some issues with HDMI handshaking with my OPPO.
Delays in figuring out what seems to be a 3d signal being passed to it. I almost always aim for sound quality
on these amps and want to make sure this could handle DSD via HDMI in bitstream format (not LPCM) and if there are any HDMI
issues ( which I have seen several complaints about online).
Goliath posts on January 04, 2014 04:46
The Sony 1040 is probably one of the best value performers currently available, in my opinion.

I know this is off-topic, but could you guys please post bench results for the Denon X4000 receiver? I've been dying to see what it can do, and each time I look at your review I find no measurements.

Pretty please?
Cliff_is posts on January 03, 2014 19:18
mlawdawg, post: 1008149
Your review of dn1040 puts it higher multichannel audio than da1800es. Why is that when I thought ES line is supposed to be better?

I'm finally looking to replace my marantz avr 7400, an ancient 7.1 receiver.
Recommendations?
I considered marantz 1604 "slimline" but worried about low (70) watts per chan.
Thx.
The ratings are based off of price. So, a $500 product with a 4/5 on a rating is not the same quality as a $1000 product with the same rating.
The ES line is more expensive, but not everything is better. Each receiver needs to be considered individually.
Also, the wattage you need is dependent on a number of factors, primarily the sensitivity of the speakers you are driving. I'd suggest starting a new thread if you are shopping for a new receiver. People are usually happy to help. Good luck!
mlawdawg posts on January 03, 2014 18:21
Dn1040 vs da1800es?

Your review of dn1040 puts it higher multichannel audio than da1800es. Why is that when I thought ES line is supposed to be better?

I'm finally looking to replace my marantz avr 7400, an ancient 7.1 receiver.
Recommendations?
I considered marantz 1604 "slimline" but worried about low (70) watts per chan.
Thx.
BoredSysAdmin posts on December 15, 2013 15:43
gene, post: 1004148
I wish I could find someone local and trainable to do amplifier measurements for us. With my time being more limited daily, this has become increasingly more challenging. I just hired a new marketing person to help free up my time, fingers crossed, so I can head this up again.
I wish I could be local Not just for any AH related purposes, but just live in FL This whole snow thing is very annoying
Post Reply