RBH Sound SVTR Listening Tests and Conclusion
RBH Sound SVTR Listening Tests and Conclusion
Associated equipment consisted of a Benchmark DAC3 HGC pre-amp/DAC connected to two Benchmark AHB2 power amplifiers. The AHB2 amps were set to bridged mono and used as monoblocks—one amp for each speaker. In that configuration, they deliver 380w into 8 Ohms and 460w into 6 Ohms. I did not bi-amp the Tower Signature speakers during my review period; I treated each tower as a single, passive 3-way speaker, using the SVTR's internal crossover.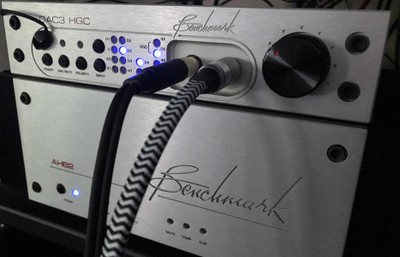 I used a Benchmark DAC3 and two Benchmark AHB2 power amplifiers configured in bridged mono to have them function at monoblock amplifiers.

My primary sources for the RBH and Benchmark setup consisted of an Oppo UDP-205 connected to my Roon media server. My Roon server served up hi-res music files and Tidal streams. The Oppo was connected to the Benchmark DAC3 HGC via S/PDIF. Towards the end of the review period, I also used my Anthem AVM 60 (sans ARC room correction) as a stereo pre-pro for watching some 4K/UltraHD Blu-ray content downmixed to stereo.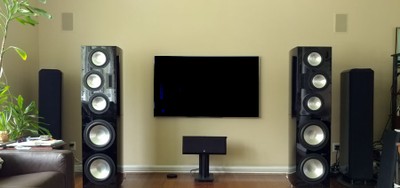 RBH Sound SVTR System Installed (note how much larger they vs. the Revel Ultima2 Salons, which are pushed out to the sides)

Utah-based Kimber Cable (a close neighbor of Utah-based RBH) was kind enough to provide the speaker wire and interconnects for the review. The speakers were connected with a pair of 20 foot Kimber Cable 8TC with spades to the speakers and bananas to the amps. The cable jumper between the speaker modules was also an 8TC. 
Kimber Hero XLR cables connected the DAC3 and the AHB2 amps. I used single-ended Kimber Cable Hero interconnects between the UDP-205's analog output stage and the Anthem's analog inputs.
We're not accustomed to gushing over cables here at Audioholics. Our approach to cables rests heavily on measurements; from that perspective, the Kimber Cable 8TC is simply an outstanding cable, delivering both low inductance and low capacitance. And it's certainly worth tipping our cap to Kimber's outstanding build quality and aesthetics.
Listening Tests
I've never heard the bass drums reproduced with more visceral impact, life, and dynamics than through these RBH Towers.
I played a random selection of familiar tracks to get a feel for the SVTR Reference Towers.  With Shane and Daren still around for a few hours, I could also confirm things sounded right to them since they know the speaker intimately.
I started off with the 16-bit/44kHz version of Holly Cole's cover of "I Can See Clearly Now" in order to gauge the system's bass performance. The Signature Tower didn't disappoint, rendering the bass with outstanding clarity, body, immediacy, and presence.
Next, we fired up 24-bit/192kHz version of "Imagine the Fire" from the Dark Knight Rises soundtrack. The intense slam of percussive notes and deep bass glissando literally jolted me upright in my seat. I instinctively yelled out, "Wow!" eyes wide open from the instantaneous, mind-numbing experience. "Can I quote you on that?" Daren asked. You bet.

The hi-res 24-bit/192kHz version of the Dark Knight Rises soundtrack, which features a dynamic range of 13db was intense.

I love the nobility and power expressed in Aaron Copeland's "Fanfare for the Common Man" (and by extension Symphony No.3). It's a favorite that I've heard played live by the New York Philharmonic at Avery Fisher Hall. We fired up the Minnesota Orchestra's rendition conducted by Eiji Oue. Trumpets sparkled and brass instruments rang true. But it was the bass drums that were the star of the show. I've never heard the bass drums reproduced with more visceral impact, life, and dynamics than through the RBH Signature Towers. The experience was intoxicating.  The bass performance was explosive with pure pistonic performance.
All in all, we played lots of different music before Daren and Shane had to leave to catch their flight back. We reveled in female vocalists such as Adele, Natalie Merchant, Dido, Patricia Barber, and more. But we paid special attention to Utah-native Loren Allred's "Never Enough" from the Greatest Showman soundtrack. Lush and alive. The Tower Reference speakers breathed life and energy into that track. "Ah yes," I thought, "That's how it's supposed to be played."

Bass drums from Copeland's Fanfare for the Common Man were spectacular.

I had the opportunity to settle in with the Tower Reference for over five months. What I can tell you with absolute certainty is that addictive dynamics and massive bass output of the RBH Signature speakers are probably their most formidable characteristics.
In fact, the bass output downright frightening—and that's no hyperbole. The dual 12-inch woofers in each tower unleashed an unforgettable assault I didn't think was possible from tower speakers. Test after test, track after track, the RBH were fearless in the face of every bone-crushing track I played.
On several occasions, I dared to play the audiophile bass torture track: Track 3 of Saint Saëns Organ Symphony from the Boston Audio Society Audiophile Test CD-1.  The track comes with a warning that reads:
"When playing this track for the first time, lower the volume as your woofers may be at risk. The bottom octave of this recording may damage vented or planar loudspeakers....This was one of the last times that the Jordan Hall organ, already showing signs of serious asthma, was heard in a public performance."
Organ notes dip down to 16 Hz. The RBH Signature literally shook the very structure of my home. Subsonic bass reverberated with an authority that no other speaker system has previously reached.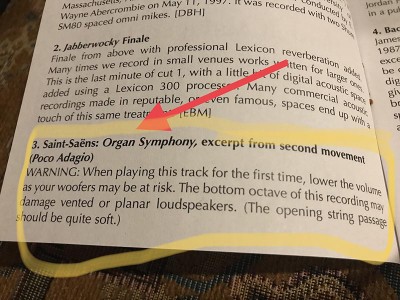 Boston Audio Society Test CD-1 track 3 has one of the best audiophile bass tests with Saint-Saëns Organ Symphony.

The insert includes a warning that the track may damage your speaker's woofers.

The same was true of Lorde's "Royals" where those chest-thumping bass lines performed with absolute control and immediacy. Bass notes started and stopped on a dime. Perhaps best of all, I could discern the texture of instruments. When a speaker can convey texture it's a whole different experience that I find more engaging and emotive.
Perhaps what struck me most during my listening sessions was how coherent the SVTR Signature Tower sounded. I've tried several subwoofers with my Revel Ultima2 Salons. In every case, the subwoofer hasn't perfectly melded with the Salon2s. For that very reason, some audiophile purists will meticulously seek out the perfect tower speaker. And so that begs the question: Does the Tower Reference sound like a separate monitor and sub. The answer is: no, it sounds like a single, coherent speaker. And perhaps that's one of the most amazing things about this setup. I never once got the impression that I was listening to two conjoined speaker units—the subwoofer never called attention to itself as a separate entity. Rather, the musical engagement was as seamless as any other speaker I've auditioned.
But these speakers aren't just about all that bass. The SVTR Signature Tower can image as well as any fine monitor speaker. Track after track, program after program, and movie after movie, the soundstage imaging was stellar. In fact, the phantom center channel in non-music programming never once had me yearning for a dedicated center channel speaker—not an easy feat to accomplish!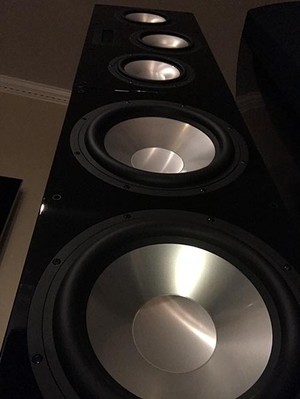 View looking up at the RBH SVTR Tower Speaker driver array.

Perhaps what struck me most during my listening sessions was how coherent the SVTR Signature Tower sounded.
Realistic piano notes are one of the hardest things for a speaker to deliver. And yet, the RBH SVTR Signature Tower aced that test on track after track. The opening notes of Tony Bennett's and Lady Gaga's "Lush Life" from Cheek to Cheek served as a perfect example. Piano notes had that intangible, full body and presence to them. Listening from another room, you'd almost swear there was a real piano playing. That's the kind of intangible character the RBH's brought to the table.
If you plan on using these speakers for both reference two-channel music and home theater, then have no fear. Home theater performance was nothing short of spectacular.
I fired up Tron Legacy on Blu-ray and down-mixed the output as LPCM so it could be played on the Benchmark DAC III. Chapter 4 is a great demo and the RBH displayed its mastery in stunning fashion. The opening features Sam Flynn falling into the Grid. The RBH unleashed the deep rippling bass in all its glory and impact as the scene begins. The RBH didn't miss a beat with the Recognizer's thrusters as they land to pickup Sam Flynn. Dialog was superbly rendered: Crisp, clean and immediately intelligible—though almost too etched at some points. There was nothing bombastic or loose at any point in the RBH's sonic reproduction.
The opening of Live, Die, Repeat: Edge of Tomorrow with Tom Cruise and Emily Blunt features low frequency bass that goes into the subsonic range down to about 16Hz. It's a home theater demo to be sure, but it can bring some systems to their knees. Not the SVTR towers. The subsonic frequency effect was intense.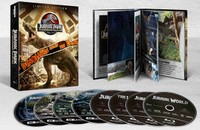 DTS sent me the newly remastered release of the Jurassic Park movies with the DST:X sound track. I couldn't resist. In Chapter 11 of the original Jurassic Park, T-Rex's footprints thundered. I felt and heard the T-Rex's footsteps as the king of the dinosaurs makes its ominous appearance.  I felt as though if I put a glass of water in front of the speakers the bass would have rippled the water like in the movie! The RBH played the rain and surrounding thunder with a superb sense of depth and realism. As T-Rex snaps the deactivated power lines the RBH articulated every cable snap with exacting precision. But the T-Rex's intense, guttural growls and first roar were frighteningly awe-inspiring. These are reference speakers rendering a reference track to its fullest potential.
Whether I was watching The Empire Strikes Back, Thor, Avengers: Infinity War, the MLB playoffs and World Series, or regular programming, the phantom center channel  produced by these speakers was outstanding. Dialogue was highly intelligible. The Signature Towers excelled at creating a rich, layered soundstage teeming with easily identifiable sounds.
On the downside, perhaps my major sonic observation lay with the upper frequencies. As great as the speaker's top to bottom performance was, I sometimes wished the SVTR had Beryllium dome as opposed to ribbon tweeters. After years of listening to the twice as expensive Revel Ultima2 Salons as a reference, there's something just oh-so-right about the Revel's top end that the RBH just couldn't surpass. The difference was subtle, with the RBH being slightly more dull by a hair. To my ears, the shimmer of cymbals and tubular bells was crisper and airier with the Salon2s. Of course, one could always step up to RBH's Status Acoustics 8T Speakers, which feature Beryllium tweeters... for a $60k price tag!
Conclusion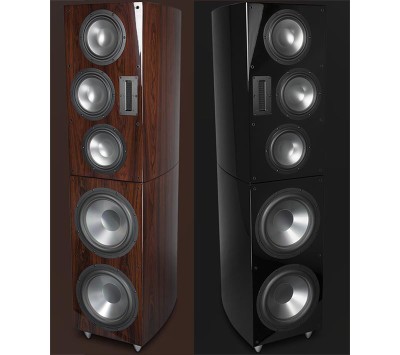 even at $11k/pair, this system is an audiophile bargain.
Every once in a while there's a review product that comes along that's head and shoulders above the rest. RBH's SVTR Signature Speaker falls into that category. Build quality is impeccable and its performance, formidable. Even at an asking price of $15,900, this system is an audiophile bargain. This is a speaker where you experience music, not just listen to it. In fact, the SVTR Tower Speaker may just be a permanent cure to audiophile upgrade-itis.
Practically speaking, the only significant drawback is the speaker's imposing size and weight. It will dominate whatever room you put the speaker into and isn't anywhere close to spouse-friendly. If you're looking for something less imposing and more spouse-friendly in the RBH family, take a good hard look at the R-55E or SV-6500R towers.
But if you have the funds, space, and complementary electronics to boot, once you listen to the RBH SVTR Signature Tower speaker you'll be hard-pressed to listen to anything else. Rest assured, though RBH may not be a household name, everyone who comes into your house will surely never forget it.
The Score Card
The scoring below is based on each piece of equipment doing the duty it is designed for. The numbers are weighed heavily with respect to the individual cost of each unit, thus giving a rating roughly equal to:
Performance × Price Factor/Value = Rating
Audioholics.com note: The ratings indicated below are based on subjective listening and objective testing of the product in question. The rating scale is based on performance/value ratio. If you notice better performing products in future reviews that have lower numbers in certain areas, be aware that the value factor is most likely the culprit. Other Audioholics reviewers may rate products solely based on performance, and each reviewer has his/her own system for ratings.
Audioholics Rating Scale
— Excellent
— Very Good
— Good
— Fair
— Poor
| Metric | Rating |
| --- | --- |
| Build Quality | |
| Appearance | |
| Treble Extension | |
| Treble Smoothness | |
| Midrange Accuracy | |
| Bass Extension | |
| Bass Accuracy | |
| Imaging | |
| Soundstage | |
| Dynamic Range | |
| Fit and Finish | |
| Performance | |
| Value | |
Confused about what AV Gear to buy or how to set it up? Join our Exclusive Audioholics E-Book Membership Program!