JVC 2014 Projector Lineup Preview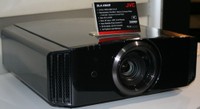 JVC's 2014 projector lineup sports a new imaging device, upgraded e-shift technology, 4K HDMI inputs and a user-selectable Intelligent Lens Aperture. Their 2014 lineup consists of the Procision Series DLA-X900R, DLA-X700R, and DLA-X500R, marketed by JVC's Consumer AV Group, and the Reference Series DLA-RS6710, DLA-RS67, DLA-RS57, DLA-RS4910, and DLA-RS49, available through JVC Professional Products Company. All are 3D-enabled and offer 4K e-shift3.
JVC's 2014 projector lineup adds three new units and keeps two from last year. The big upgrades are a 4k inputs, improved Eshift technology, and Intelligent Lens Aperture.