JVC Professional DLA-X90R 4K 3D Projector Preview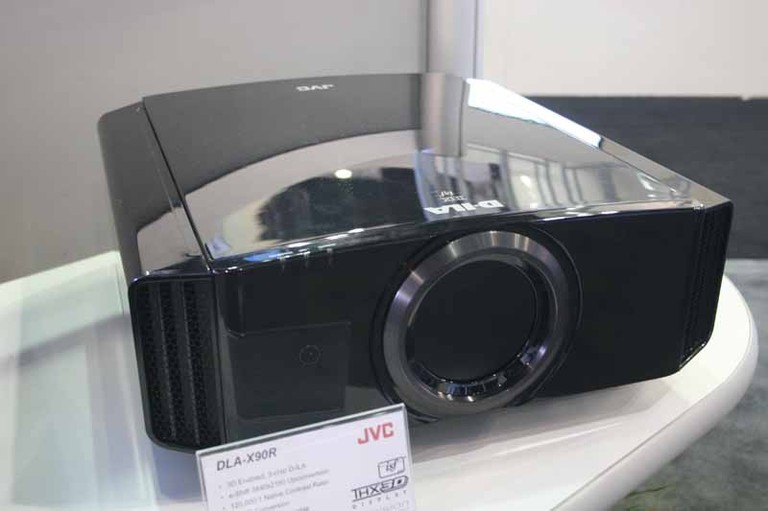 JVC Professional DLA-X90R 4K 3D Projector Preview
Summary
Engine: 3 x 1920x1080 DILA

Contrast ratio: 120,000:1
Resolution: 1920x1080 pixels (3840x2160 e-shift upconversion)
2D-to-3D upconversion
3D anamorphic capable
3D paralax adjustment
3D crosstalk elimination

Executive Overview
JVC came to CEDIA with a sort of braggadocio attitude. They spoke out a little on dynamic iris contrast ratios since they can't do both black levels and high output at the same time. Their answer to this was to demo material on their $11,995 DLA-RS65 reference 3-chip projector with e-shift technology. e-Shift is what JVC is using to accomplish it's pseudo-4K projection, which is intended to upscale 1080p content (which, incidentally, is about the only way anybody is going to see 4K at home in the near future). While Sony's demo utilized an actual 4K panel (albeit rather unimpressively in our instance), JVC uses electronics and video processing to establish 3840 x 2160 4K resolution by shifting the image half a pixel up and to the side at 120Hz. Where JVC might have overextended themselves is that they enhanced the lumen output of the DLA-X90R by using a 127" diagonal Stewart Reflections 170 screen material which provides 1.7 gain. The result were lots of sparkly hot spots on the screen whenever pure white was shown.
Demo material included clips from Legend of Guardians and also a 3D clip of IMAX Under the Sea which showed a beautifully detailed scene of a Potato cod. The footage was originally shot as 4K video footage which was then mastered to Blu-ray and then unconverted by e-shift back to 4K. I have to admit, the e-shift technology does seem to work well. Over-brightness aside, the detail was phenomenal on the displayed picture. I'm certain native technology is going to win out, but for JVC to hit these price points so early in the game and deliver 4K and 3D - that's pretty astounding.
We also loved that all of JVC's new 3D-capable projectors offer the company's 2D-to-3D conversion. This is based on the $30,000 commercial 2D-to-3D converters. It's incredible to see how well the content could be made to work.
Features
2D-to-3D Converter – Converts 2D program material to 3D using technology derived from JVC's professional 2D-to-3D converter. Included are user adjustments for 3D depth and subtitle geometry correction;
JVC's 3D anamorphic feature combined with an optional anamorphic lens make it possible to enjoy 3D movies in the popular 2:35 scope format;
Compatibility with a wider range of 3D broadcasts, including 1080p/24 and 720p side-by-side formats;
Brighter 3D images than previous models are possible through the use of an improved driver that keeps the shutter on the active shutter 3D glasses open longer, thus allowing more light to enter, while at the same time minimizing cross talk;
A Cross Talk Canceller further reduces cross talk through analysis of the left eye and right eye signals and applying appropriate correction;
A parallax adjustment allows the user to tailor the 3D image effect;
Direct access to 3D formats and settings on the remote control.
In addition to the above features, the DLA-X90R is pending THX 3D certification where 400 laboratory tests are conducted, evaluating color accuracy, cross-talk, viewing angles and video processing. The projector also has ISF certification, and its new e-shift technology produces a 1/16th pixel shift function to precisely tune convergence via 121 adjustment points (11 vertical x 11 horizontal) and an increased number of screen mode preset positions, up to a maximum of 255. On top of that, an upgraded optical engine improves the black level and native contrast of this projector over former models. The JVC DLA-X90R uses three Xenon lamp color modes that is designed to emulate the characteristics of high-end movie projectors. A lens memory function lets the projector store 3 memory settings a custom focus, and zoom and horizontal/vertical lens shift position. What this does - and this was a new trend this year with many projectors - is allow a constant height display of 4:3, 16:9 and 2:35 scope content without the use of an additional anamorphic lens.
For 3D viewing, the DLA-X90R comes with two pairs of 3D glasses and a PK-EM1 3D Signal Emitter. The projector also has a 3-year warranty. 
In addition to the JVC PK-AG1 active shutter 3D glasses currently available, JVC announced new glasses – the PK-AG2, which are more compact, lighter and rechargeable. The PK-AG1 glasses remain available and are ideal for use over eyeglasses.  Both models are compatible with the currently available PK-EM1 3D Signal Emitter.
For more information please visit www.jvc.com.

Unless otherwise indicated, this is a preview article for the featured product. A formal review may or may not follow in the future.
Confused about what AV Gear to buy or how to set it up? Join our Exclusive Audioholics E-Book Membership Program!
Recent Forum Posts:
BMXTRIX posts on September 28, 2011 10:00
With JVC I wouldn't go much bigger than a 120" minimal gain white screen. No reason to be using a grey screen unless your room sucks. In which case, get something other than a JVC projector as the blacks will be lost on you.

Reading things, I have a very hard time justifying any and all 4K hoopla. There is no content at all in this format, and absolutely no need for it.

JVC has a phenomenal projector in the RS65 I'm sure - but at almost $12,000, it's not at all worth it.

jnr: Save your money. If you want a good JVC projector, then get their RS45 or RS55 for thousands less, enjoy it for a few years, then you will see when/if 4K has a real market, and you will see 4K projectors at half the price they are now.

Seriously, I see the RS45 at about $2,999 street, while the RS65 will be closer to $9,999 street. Maybe a bit less.

In anything other than perfect conditions, I would bet most people won't be able to tell them apart.
jnr posts on September 28, 2011 04:20
Jvc dla-x90r

Can someone recommend the Optimum Screen for this new Projector ?

I already have a Stewart Grayhawk RS 110" Diagonal but this was before HDMI and 3D was launched .

Should i stay with 110" or go bigger ?
Throw distance is 6m from ceiling location .

thanks

John
Jman9999 posts on September 26, 2011 18:17
thats very disappointing hoping to hear better than that
InTheIndustry posts on September 23, 2011 18:23
Saw the demo at CEDIA.

JVC's booth was somewhat dead. Their demo presentation was the worst - by far - compared to Epson & Sony. I did like the fish 3D content they showed, however all of the other things packed into the (roughly) 12 minute demo was virtually useless. The "4K" (yeah… I used air quotes when i typed that) stuff they demo'd was virtually all still shots of yarn & thread. No wow factor.

Underwhelmed is how I left their booth.
Post Reply