Panasonic PT-AR100U Projector Preview
Summary
Power consumption: 350 W (0.08 W standby mode)
LCD panel: Panel size: 18.7 mm (0.74 in) diagonal (16:9 aspect ratio)
Display method: Transparent LCD panel (× 3, R/G/B)
Drive method: Active matrix
Pixels: 2,073,600 (1,920 × 1,080) × 3, total of 6,220,800 pixels
Lamp: 280 W UHM lamp
Lens: Manual zoom (1.33–2.69:1), manual focus, F 2.0–3.4, f 21.5–43.0 mm
Projection size (diagonal): 1.02–7.62 m (40–300 inches)
Brightness: 2,800 lumens
Center-to-corner uniformity ratio: 85%
Contrast ratio: 50,000:1 (full on/full off)
Resolution: 1,920 × 1,080 pixels
Scanning frequency: RGB: fH: 15 kHz–74 kHz, fV: 24 Hz–85 Hz
Dot clock: 154 MHz or lower
YPBPR (YCBCR): 525i (480i), 625i (576i), 525p (480p), 625p (576p), 750 (720)/60p, 750 (720)/50p,
1125 (1080)/60i, 1125 (1080)/50i, 1125 (1080)/24p, 1125 (1080)/60p, 1125 (1080)/50p
Video/S-Video: fH: 15.75 kHz, fV: 60 Hz [NTSC/NTSC4.43/PAL-M/PAL60]
fH: 15.63 kHz, fV: 50 Hz [PAL/PAL-N/SECAM]
Optical axis shift: Vertical: ±68%, horizontal: ±26%
Keystone correction range: Vertical: approx. ±30°
Installation: Ceiling/desk, front/rear (menu selection)
Terminals: HDMI IN: HDMI connector × 2, HDMI (Deep Color, x.v.Color, CEC),
HDCP compliant, supports HDAVI Control Version 5
COMPUTER (RGB) IN: D-sub HD 15-pin (female) × 1 (RGB/YPBPR × 1)
COMPONENT IN: RCA pin × 3 (YPBPR/YCBCR)
TRIGGER IN/OUT: M3 × 2, 12 V, max. 100 mA (input/output selectable using on-screen menu)
VIDEO IN: RCA pin × 1
S-VIDEO IN: Mini DIN 4-pin × 1
SERIAL IN: D-sub 9-pin (female) × 1 for external control (RS-232C compliant)
Power cord length: 3.0 m (9 ft 10 in)
Cabinet materials: Molded plastic (PC+ABS)
Dimensions (W × H × D): (18-1/2" × 5-13/32" × 14-31/32")
Weight: Approx. 8.6 kg (19.0 lbs)
Operation noise: 29 dB (lamp mode: eco)
Includes: Wireless remote, 2xAA batteries, lens cover
Executive Overview
Panasonic had the PT-AR100U on hand at CEDIA, touting it as their "Full High-Definition" LCD Home Theater Projector with 1080p resolution. While 1,920 x 1,080 pixels doesn't win you any awards of late, the projector boasts 2,800 lumens of brightness and a 50,000:1 contrast ratio, the PT-AR100U lets home-theater enthusiasts enjoy Full-HD large screen entertainment – from movies, sports to games – in various lighting conditions.
The PT-AR100U projector produces bright, sharp images by employing a new, high-power 280-watt Red-Rich Lamp and optical unit that generates 2,800 lumens of brightness - which is enough to overcome a significant amount of ambient light. In addition, Panasonic included its advanced Light Harmonizer 3 feature which will automatically adjust the output of the projector to match the ambient light levels. The Light Harmonizer 3 system uses built-in ambient light and color sensors to adjust the white balance, gamma curve (and even sharpness settings) to maintain bright, crisp pictures which match the viewing environment.
The PT-AR100U comes with many picture-enhancement functions, like Dynamic Iris Pro and Pure Color Filter Pro which help reproduce the projector's impressive (but highly dubious) 50,000:1 contrast ratio and exceptional color accuracy. The intelligent Dynamic Iris Pro adjusts the PT-AR100U optical iris, the Red-Rich Lamp and gamma curve at 60Hz (60 times per second) to give you a contrast and black level that is true to the picture content. The PT-AR100U includes the company's Pure Color Filter Pro which is a filter system that allows you to perfectly dial in the color, while simultaneously displaying deeper blacks, and an extended color gamut. And if that weren't enough, the PT-AR100U uses a proprietary Detail Clarity Processor 3 engine to adjust the crispness of the image on-screen.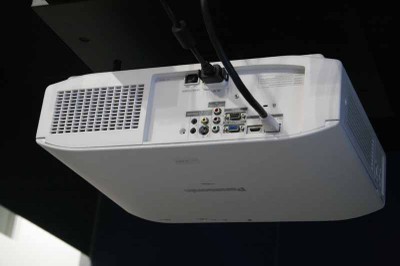 The PT-AR100U has seven different picture modes including, Sports, Game, Cinema1, Vivid Cinema, Normal, REC709 and Dynamic mode. Conspicuously absent is ISF day/night. A built-in Waveform monitor means you can view waveforms on the screen and adjust the settings accordingly, but honestly this seems like more of an option for video editors and photographers unless Panasonic is planning to include a reference source disc for calibration. One thing we saw that we liked was the Split Adjust Mode that lets you see what you are adjusting and the effect it has on the current (frozen-in-place) picture.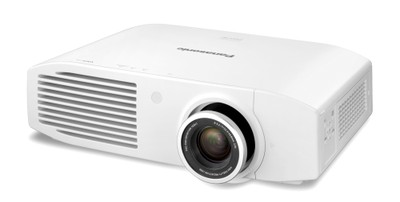 Setup is easy and the 2x zoom means you can hit a 120-inch screen from just over 11 feet away (or as far as 23 feet away). Panasonic continues to include lens shift, so you get 68% vertical adjustment and 26% horizontal adjustment - basically throw the projector anywhere in the room and you're bound to hit the screen square-on. The PT-AR100U comes with 2 HDMI 1.4a inputs and there are two programmable 12-volt triggers as well as VIERA Link.
The PT-AR100U has a low standby power consumption of just 0.08 watts and the projector's new Eco Management function reduces power consumption through time-out functions, off-timers, and varying light output based on the picture content. This advanced analysis process is said to reduce power consumption by as much as 10% in Dynamic Iris Pro mode.
The PT-AR100U will be available in October and will have an MSRP of $1999. For more information please visit www.panasonic.com/business-solutions.
Confused about what AV Gear to buy or how to set it up? Join our Exclusive Audioholics E-Book Membership Program!
Recent Forum Posts:
Jim Robbins posts on September 09, 2011 16:47
I guess I was making a commentary on both. But really, I was hoping their new $2000 projector would have a couple of extra things beyond the 4000. I think the 4000 is probably in my future if they continue to sell it, and I hope that it drops in price. Anyone have a used unit they would like to sell because they MUST have the 3D 7000?
BMXTRIX posts on September 09, 2011 14:30
Jim Robbins posts on September 09, 2011 10:20
Dear Panasonic,
Why have you removed the motorized zoom from your new product? I won't be spending $1500 more for 3D that I'll only use twice a year. I already have a dark room for a theater and I don't need 1000 more lumens in a less flexible product. At least your more flexible, two year old product will probably be cheaper as a result. Thanks for totally misreading your repeat customers and making stuff we don't want and/or don't want to pay that much for.
Sincerely,
Your Ex-Customer

Does anyone else agree with me on this?? Or has Panasonic actually included the power zoom and failed to state it on all their press announcements? This is THE killer feature for me and I won't be purchasing a new projector this year without it. I really want the cinemascope screen, not 3D.
Post Reply