Runco 3Dimension D-113d Projection System Preview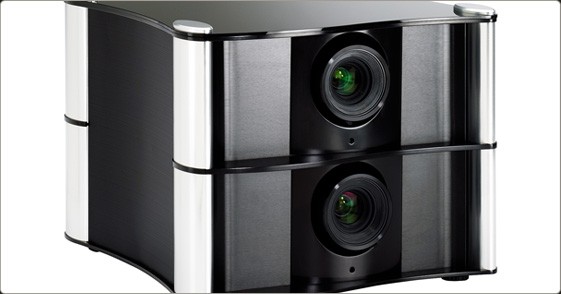 Runco 3Dimension D-113d Projection System Preview
Summary
Engine: 3-chip (DLP), SuperOnyx DMD
Native Resolution: 1920 x 1080 (1080p)
Aspect Ratios: 16:9, 4:3, Letterbox, VirtualWide, Cinema, VirtualCinema
DTV Compatibility: 480i, 480p, 576i, 576p, 720p, 1080i 50/60, 1080p 24/50/60
Picture Size (16:9 Screens) in 2D: 120 - 348 in. W
Picture Size (16:9 Screens) in 3D: 96 - 190 in. W
Athena Dos: Zoom 1.39 - 1.85:1
Athena Tres: Zoom 1.85 - 2.59:1 (with CineWide 1.60 - 1.94:1)
Athena Cuatro: Zoom 2.59 - 4.16:1 (with CineWide 1.94 - 3.12:1)
Athena Cinco: Zoom 4.16 - 6.93:1 (with CineWide 3.12 - 5.20:1)
Processor: Runco 3Dimension Processor with ViVix IV™ technology and BRiC tool
Calibration: ISF Certified Calibration Configuration
12V Output: 3 programmable
Color Gamut: Fully adjustable, > BT.709 (REC709)
Video Standards: NTSC, PAL, SECAM, CEA-861D
Vertical Offset: Up to 60%
Horizontal Offset: Up to 25%

Light Output in 2D: 20,000 ANSI Lumens
Light Output in 3D: 4,000 ANSI Lumens
Lamps: Quad mercury; Dual mercury; individually hot-swappable
Lamp Life: 2000 hours
Contrast Ratio: >500:1 (ANSI); 10,000:1 full-on/off
Control: RS-232 and IR remote
Power Consumption: 2640 W maximum
Dimensions (in): 24.3 W x 32.7 D x 26.2 H
Weight: 275 lbs (124.74 kg) no lens
Limited Warranty: 2 year PremierCare; lamp warranty 1000 hours or 6 months
Glasses: 6 pairs of PreciseColor by Panavision 3D System passive glasses
Inputs: 4 x HDMI 1.4, component/SCART (3 x RCA), 2 x component/RGBHV (5 x BNC), 3 x composite
Outputs: 2 x HDMI
Control: USB (type B female), RS-232C, RS-232C (male DB9) for accessories, 3.5mm wired IR input, IR
Front panel vacuum fluorescent display and keypad
Ethernet Communication: (1) RJ45 (female) for web server, e-mail, auto firmware upgrade and Telnet
Executive Overview
Runco announced the latest extension of its professional cinema 3Dimension family, the D-113d projection system. What the $200,000 D-113d does is pair Runco's Constant Stereoscopic Video (CSV) approach with the optical filters and glasses of the Panavision 3D System. The result is being billed as the brightest CSV projection in the world. The Runco D-113d enables seamless decoding, syncing and merging of stereo images to deliver a constant HD image to each eye without the flicker, distortion, or discomfort inherent in other approaches. This is a truly passive dual-projector approach. 
In the D-113d, Runco's CSV technology pairs with the spectral filtration technology of the Panavision 3D System and slices the entire visible spectrum is sliced into ten slim bands - with five directed to the left eye and five to the right. The result is that each eye receives the same amount of total white light energy, so the images appear equal in brightness and provide accurate color reproduction. Runco has utilized this technology from the Panavision 3D System in its PreciseColor passive glasses. This differentiates Runco's passive approach from other high-end 3D projection systems, which are based on "active" LCD shutter-glass technology. We prefer passive to active for a number of reasons - it remains to be seen whether manufacturers will give up on bringing active to the home anytime soon.
Because the Runco system doesn't require polarization, images can be shown on a white screen with its more even illumination and its superior color image quality. The "plus" here is that the same white screen can be used for both 2D and 3D. Runco offers a broad range of lens options for optimization with different throws and screen sizes in any theater.  The Runco 3Dimension Series is wrapped in a gorgeous "Copenhagen" design which is inspired by both classic and modern Danish architecture and design.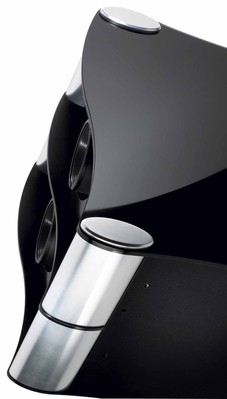 The D-113d ships with the new Runco 3Dimension processing system, which includes Runco's latest, award-winning Digital High-Definition (DHD) external video processor. The D-113d 3Dimension Processing system not only provides accurate scaling and processing, but adds to that decoding and playback of 3D content in compliance with the HDMI 1.4 standards. Just as the human brain makes sense of three-dimensional content, the 3Dimension processor ensures that the whole solution works as an integrated system.
The D-113d can be customized with Runco's FinishPalette, providing owners a unique level of personalization that reflects their own individual styles and decors. Runco's Finish Palette enables full-color, large-format projector design options, including gallery of artist impressions and the option to custom-print your own artwork. Complementing the Finish Palette offering are 25, hand-finished signature colors to compliment any décor.
D-113d is projected to ship in late October 2011 with an "if you-have-to-ask-you-can't-afford-it" MSRP of $199,995. The D-113d is coupled with Runco's PremierCare service program providing on-site calibration and two years of ongoing support from the Runco team. Optional CineWide and CineWide with Autoscope are additional costs. Runco's 3DimensionSeries projectors are available exclusively through the Runco authorized dealer network. For more information about Runco or to find a local dealer in your area, please visit www.Runco.com.

Unless otherwise indicated, this is a preview article for the featured product. A formal review may or may not follow in the future.
BMXTRIX posts on September 28, 2011 09:39
God I hate Runco.

It sounds like a press release when I read "This differentiates Runco's passive approach from other high-end 3D projection systems, which are based on "active" LCD shutter-glass technology."

At $200,000 you are in the passive 3D technology range. Digital Projection does it, Christie does it, a ton of companies do it. Heck, I've seen Pico projectors from BenQ (or was it LG?) setup in a 'dual projector' setup.

The entire purpose of active shutter glasses technology is that it allows for a standard screen to be used and allows for incorporation into LCD/plasma displays rather easily with full resolution 1080p being maintained.

So, yeah, what differentiates my sub $5,000 3D projection setup from Runco's projection setup is not the passive vs. active glasses.

It's the Porsche Turbo convertible that I can now afford because I didn't just drop $200,000 on a projector!

I wish that Runco would just focus more on their actual tech specs which make their product a solid piece of gear.

I think the highlight of this projector is that it allows for passive 3D while NOT requiring a silver screen which provides a poor 2D viewing surface.

How bright is it? (not mentioned)
What is the resolution? (not mentioned)

At $200,000 I am looking for 7,000+ lumens and included 2.35 support out of the box.

Heck, why would I care about custom paint colors when a proper design will have the projector buried in a hush box or in a projection booth?

If I could afford this projector easily, the one thing I know for sure is that I would never buy it. Digital Projection, Christie, Projection Design - those 3 companies would be near the top of my 'high end list'. Definitely not Runco.
Post Reply
Confused about what AV Gear to buy or how to set it up? Join our Exclusive Audioholics E-Book Membership Program!