Vivitek Wireless HDMI 1080p Projector Preview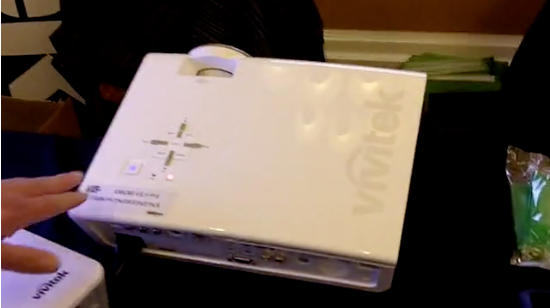 Vivitek Wireless HDMI 1080p Projector
Summary
Executive Overview
As part of our continuing coverage with Robert Silva of About.com, we were treated to an up close-and-personal look at a new wireless projector. Vivitek showed off a new projector that includes wireless 1080p streaming capabilities. The projector itself had nothing but a power cable plugged in and, with the help of an included USB dongle, Chris Yang, the product manager was able to stream 1080p video from a MacBook Air to the projector in real time (though we were unable to view frame rates). Since the Vivitek also uses DLP technology, the system can also supported 3D via DLP Link - a system that is somewhat less than reliable in our opinion but does satisfy the minimum requirements of projection 3D. Robert was kind enough to capture some video of the projector in use:
Vivitek Wireless 1080p and 3D Streaming Device from AVRant
Here is a rough transcript of the presentation from Vivitek:
My name is Chris Yang. I'm the Senior Product Manager for Vivitek. Today I'm introducing the Vivitek wireless 1080p  projector. As you can see here, I have a MacBook Air with a wireless dongle. and I'm streaming straight to this projector here. This is a 1080p model. As you notice it only has a power cord connected to it - there are not other cables connected to it. If you step back, you'll see I am streaming a website. I can even stream a 1080p Apple Movie trailer wirelessly. This makes the capability of watching high definition video wirelessly a lot easier to the consumer and [more] accessible. In addition this has the capability of sending 3D content from your laptop to the Vivitek projector via wireless connection. No other digital cables are needed. And this new product that we are showcasing here at CES should be introduced sometime this year. Look at our website for more information.
We'll have our eyes on this one as it matures. Wireless 1080p video transmission is a big deal - especially in the corporate world. Whoever comes up with a robust method of doing it will surely see a lot of business and we could even see it moving into the consumer market for home use once it's a bit more refined.
For more CES coverage please check out our main CES 2011 Product Coverage page as well as Robert's Blog over at About.com.

Confused about what AV Gear to buy or how to set it up? Join our Exclusive Audioholics E-Book Membership Program!
Recent Forum Posts: