Definitive Technology A60 Dolby Atmos Sound Quality Tests
Definitive Technology A60 Dolby Atmos Sound Quality Tests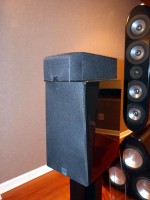 I set up the Definitive Technology A60 Atmos modules in the two listening rooms:
1. The Audioholics Showcase Theater Room, which is an acoustically controlled listening space roughly 6,000 cubic feet with 8' flat ceilings and
2. The Audioholics Family Room system which is a large untreated open room with 10' flat ceilings.
The core of the test setup was the recently reviewed Denon AVR-X5200W A/V receiver with four A60 Atmos Elevation speaker modules. The SVS Ultra bookshelf speakers were used as the main front channels, Status Acoustics 8C for the center channel and RBH 41-SE/B bookshelf speakers for the surround speakers, with a small but potent Velodyne MiniVee subwoofer to cover the low frequencies.  The source was Oppo's BDP-105 Universal Blu-ray player and all speaker cables and interconnects were provided by Blue Jeans Cable.  With the exception of my über expensive center channel, I tried to test with speakers consistent with a $2,000 A/V receiver.  The SVS Ultras matched my RBH speakers extremely well, as confirmed via pink noise and program material. However, the Definitive A60 Atmos speakers were a different story.  The pink noise revealed the A60s were extremely narrow band limited, and I will get into how this affected the overall timbre match of the system via the listening tests.
Dolby Atmos Demonstration Blu-ray Disc – August 2014
Sadly the only Dolby Atmos Blu-ray released at the time of writing this review was the Transformers 4 movie, which I did not have a copy of.  As a result my Atmos demonstration was limited to the Dolby Atmos demo disc and applying the Dolby Surround Upmixer (DSU) to discrete 5.1/7.1 and two-channel sources.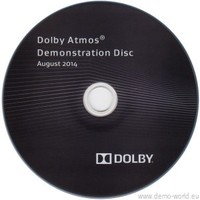 Amaze Demo
This is a wonderful-sounding clip and it's a shame this demo is so short (1 min long) as I could just listen to the sounds of nature all day long.  The echo effects at the very beginning, as well as the cricket and bug sounds produced a pleasing elevated effect.  It was quite an immersive experience.  However the rain didn't quite sound like it was coming from up above me, hitting against trees in the forest.  It sounded more like it was around me, and it lacked the clarity and detail I'd expect to hear from a natural event.  Turning off the Atmos modules and allowing the rain sound to fold back into the surround speakers helped to clear this sound up considerably.  While I enjoyed the elevation sound of the Atmos speakers, I also enjoyed the more precise sound of them being off as well. I was quite amazed at how well the ear level surround speakers produced an elevated effect with the Atmos modules turned off.  This is truly an incredible recording both in TrueHD and Atmos.
Enrique Iglesias Music Video: Bailando
Transient sounds like the snare drum hit or claps did project an elevated sound, but the male vocals sounded like they were coming from the Atmos companion speakers.  Only the little kid at the beginning of the song shouting "Bailando" sounded as if his voice was elevated near the ceiling. I also found if I sat too far away from the Atmos modules, the elevation effect evaporated, while if I sat too close, the speaker was too easily localized.  In my two rows of seats, only the primary row pulled off an acceptable elevation effect.  When I turned off all the speakers but the Atmos modules, I could clearly identify steady state sound such as male vocals, emanating from the Atmos speaker producing it from any seat.
I repeated the tests in the Audioholics Family Room system and found the A60s did a more convincing job at producing the intended elevation effect.  I suspect the more reverberant room acoustics of this listening space was providing a masking effect to help pull this off.  Steady state sounds were still easily localized, but I fault that more on the physics of reflecting sound rather than a specific design flaw of the A60 module. 
The A60 sounded more compressed and boxy the harder it was driven.
As I drove the A60's harder, they tended to sound more compressed and boxy.  You can't cheat physics.  There's only so much a 3" paper driver can do, and these speakers are no match tonally or dynamically for even modest two-way bookshelf speakers. This is especially true in regards to the venerable BP-8060ST towers that employ dual high performance 4.5" mid/woofers and  1" metal dome tweeters in an MTM configuration with an additional 4.5" rear firing mid/woofer and 1" rear firing tweeter which contributes significantly to the overall midrange level up to about 2kHz. 
Measurements and Analysis
I set the A60 Atmos speaker module on a 32" stand firing up at the ceiling with the microphone from my LMS system above the driver with the proper offset to account for the angled baffle and measured at the various distances as shown below in the measurement graph.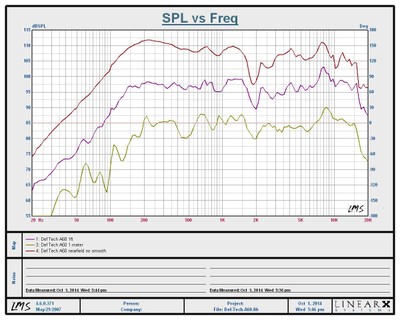 Definitive Technology A60 On-Axis Frequency Response Measurements
Purple: 1ft, Gold: 1 meter, Red: nearfield (no smoothing)
Dolby Atmos Speaker Target Frequency Response
As Dr. Toole pointed out at CEDIA, we don't hear high frequency nulls and thus it's not necessary to incorporate them into a speaker crossover design.

Although Definitive Technology doesn't specify sensitivity for the A60, I measured about 85dB as you can see in the gold trace measured at 1 meter.  The BP8060ST is rated at 92dB SPL on-axis at 1 meter. That's a -7dB delta and yet another reason why the A60 is not really a good match as a mating Atmos speaker module. The A60 speaker module exhibited some of the worst frequency response measurements we've ever seen in a loudspeaker that has graced our labs in our 15+ year history.  Note the huge dip at 2kHz.  I suspect this is due either to the partial horn loading of the enclosure that the driver is seeing in the cavity or just a sonic nasty from the driver or a combination of both.  You can see the slight +4dB elevation at 8kHz and -2dB dip around 11kHz in the A60 frequency response.  This isn't quite on target with the Dolby frequency response graph from figure 14B of their patent application. However, this isn't surprising when trying to do high Q frequency response correction in the analog domain with a one-design fits all crossover while dealing with not only part tolerances but driver tolerances as well.  It is doubtful that the Dolby crossover is contributing anything audibly beneficial to this speaker with respect to increasing the elevation effect.  This is especially true since as Dr. Floyd Toole pointed out at CEDIA, we don't hear high frequency high Q nulls since they are not definitive and depend on many circumstances.  A high frequency null is very directional at 12kHz where the wavelength is only about 1" with a .5" path difference which is significantly smaller than the space between our two ears making it impossible to detect.  Thus incorporating a notch filter into an Atmos speaker crossover is not needed to help create the illusion of height
The A60 module appears to have about a 180Hz -3dB point with a 12dB/octave slope and I recommend setting the bass management of your Atmos AV receiver to its maximum setting (typically 250Hz), to help reduce its omni-directional dispersion at the lower frequencies.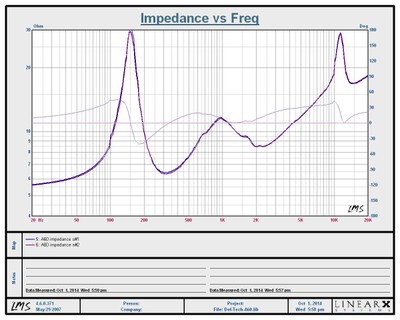 Definitive Technology A60 Impedance/Phase Response
Definitive Technology doesn't give the full specs on the A60, but it appears to be a 5 ohm speaker.  Notice the rise in impedance at 1kHz. which may explain a driver non-linearity that they were trying to compensate for with the extra inductor.  Since consumers using this speaker will typically install it with bass management set to 150Hz, or higher to reduce omni-directional sound inherent at lower frequencies, there shouldn't be any issue driving this speaker with a typical Atmos A/V receiver.
Conclusion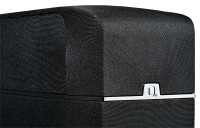 It's hard to imagine such a reputable company as Definitive Technology producing a speaker like this.  We are huge fans of their other products as you can see in prior reviews.  The A60 has a very niche application and audience.  It aesthetically only fits with their BP-8060ST tower and yet it's no match for such a great speaker system in terms of sensitivity, tonality or dynamics.  I suppose if you simply cannot do Atmos properly by installing discrete in-ceiling speakers for the front and back height channels, and you want to make your BP-8060ST towers look taller and meaner while getting your foot into the Atmos door, then they are certainly a consideration.  
The Definitive A60 Atmos Elevation speakers can add an element of transient height and ambience to your system if you have the right room acoustics and flat, untreated ceilings no higher than 14 feet per Dolby's recommendation. If you've got a Dolby Atmos A/V Receiver, $1,000 (4 modules) burning a hole in your pocket, and two pairs of BP-8060ST towers to mate the A60s with, then go for it. Just make sure your dealer has a generous return policy if you don't like them.  For all other applications, we simply cannot recommend these speakers.
A60 Review: $499/pair
 
Definitive Technology
11433 Cronridge Drive
Suite K
Owings Mills, Maryland 21117-2294
Toll Free (USA & Canada): (800) 228-7148
Phone. (410) 363-7148
Fax. (410) 363-9998
[email protected]
Confused about what AV Gear to buy or how to set it up? Join our Exclusive Audioholics E-Book Membership Program!