Anthem ARC Room EQ Interview with Dr. Peter Schuck and Nick Platsis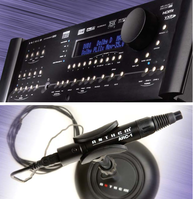 Continuing our investigation of the various room correction (aka Room EQ) products on the market, we had a chat with Anthem's Nick Platsis and Dr. Peter Schuck who were kind enough to answer our questions. Anthem's Room Correction or ARC, is found exclusively in Anthem's MRX receivers and their AVM and D2 series Preamp processors. How does ARC work? Why does Anthem limit room correction to 5 kHz? Read the article to find out. Updated on 10/08/14 with more detailed Q&A pertaining to bass management and EQ functionality.
ARC Auto EQ: Today the Audioholics had a chat with Anthem's Nick Platsis to get the inside scoop on Anthem Room Correction (ARC). Click to learn all about ARC the wonders of great EQ.