tSc Setup and Installation Pt. 2
tSc Setup and Installation Pt. 2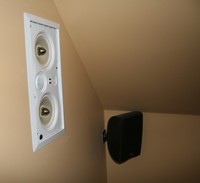 Once we got all the holes cut, it was a simple matter of running (or re-routing) the wires. In the front, we just ran them along the wall behind the entertainment unit and punched a hole underneath the speaker location. For the most part, we were close enough for the other person to reach down into the wall from the speaker cutout and grab the wire. For the side speakers, we had a bit of a problem with the left speaker. Because of the added bathroom, we didn't have access to the left wall. The original wire was run to the corner. Our new location was a few feet in from the corner on the wall. I climbed on top of the ceiling with the intention of dropping down on the other side and just plucking the wire out and moving it manually. Unfortunately, there was about a ten foot drop on the other side through a 3 foot by 1.5 foot opening. I could probably make it down but I wasn't sure I could make it back. My father pushed the snake up through the speaker cutout until I could see it, I attached the wire, and he pulled it back.
Author's Note: There are as many ways to run wires around a room as there are rooms. Check out Editor-in-Chief Clint DeBoer's excellent series of install articles for some ideas. The key is that there is always a way. Article 1, 2, 3, 4, 5.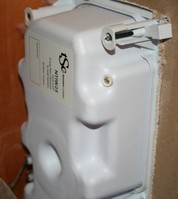 Now that we had the wires run, it was simply a matter of installing the speakers and locking them down. Since we had leveled our template before we cut the holes, the speakers went in with a snap and were true. The cordless screwdriver made things a lot easier and comes highly recommended. Just be sure to use the clutch function, or stop when it starts to strain or when you see the drywall start to bend. You don't want to over tighten them. As I mentioned, the only problem I had was with a ring on he mounting clip that had fallen off and was causing the screw to pop out of the channel. You could probably power through this but I had the ability (since it was the right wall with attic access) to just walk into the attic and hold it in place.
Once the speakers are in place, wired, and installed, it was time to do what we should have already done - test them. Since I knew that the wires were good and had worked in the past, I waited until after I installed them for tests. I advise against this. Believe me; I was sweating as my father's Denon AVR-1708 went through the test tones. Luckily all was well and everything worked perfectly.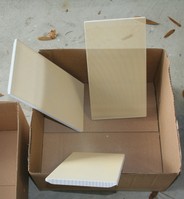 The last thing to do was paint. My parents used a special blend of paint for that room mixed by a local shop (it even bears my mother's name) so getting an off-the-shelf spray can for the grills was not an option. For the bevels, I could have painted them before installation but didn't. I'm a pretty good free-hand painter so I just did it on the wall. This pretty much insured that you'd rip the paint off the wall if these were ever taken out to which I say, "Good!" They shouldn't be taken out anyhow. I tried not to get any paint on the inside edge where the grill would sit but that is pretty much an impossibility. Even if you could, I don't think that you should as you'll certainly risk seeing white from some seated positions.
For the grills, we ended up grabbing a spray can solution that consisted of a small reservoir for the paint, a can of compressed air, and a plastic unit to make them work in concert. If I may make a small digression, this solution was barely adequate and was almost more trouble than it was worth. The real problem I was trying to avoid was filling in all the little holes on the metal grill with paint and then having to go back and poke them all clear with a toothpick. I was pretty sure that would happen if we used a brush. The problem was that the spray can was out of commission as much as in commission as it would get too cold and lock up, the paint would clog and it would lock up, or it would just lock up and need to be cursed at occasionally.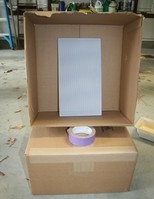 If you do use a spray method for the grill (and I do recommend it even with the aggravation we had), don't put more than 2 coats if you can help it. And that is two light coats. The point is not to fill the holes in the grill. The more you layer on; the most you fill those holes. Also, I'd recommend three full days of drying before installing the grills. While paint may feel dry to the touch, it isn't. If you install those grills too early, you're pretty much guaranteeing you'll never get them off (or at least you won't without damaging the paint). Since the speakers have the midrange and high boost and cut switches as well as a swiveling tweeter, you're probably going to want to adjust them from time to time.
What we ended up doing was setting up a sort of mock "paint booth" using the boxes the speakers came in. We propped one up on top of the other and leaned the grill back into it. This made cleanup a cinch since we were planning on throwing away the boxes anyhow. We used a third box for drying. The system worked pretty well and between the time it took to switch out the grills, realign the boxes, and keep the sprayer in working order we could pretty much keep working continuously. Within an hour, we were done.
Author's Note: Having a hard time getting the grills off before installation? Push in the mounting brackets and let the heads of the screws do the work for you. After installation, I use a grill pick (looks like an ice pick with the tip bent at a 90 degree angle). You'll have to get creative.
I was looking for an in-wall sub for this review but the one that was promised (not from tSc, another company) did not arrive in time for the review. I relocated my father's JBL sub into a different location (he had it under the computer desk in the corner) for the below listening tests. After a short time, it pretty much just died. I knew it was coming since he'd been having problems with it. Most of the below listening tests were done with the sub.
Confused about what AV Gear to buy or how to set it up? Join our Exclusive Audioholics E-Book Membership Program!
Recent Forum Posts:
rsajdak posts on September 21, 2009 23:46
How do these speakers compare to the Klipsch in-walls?
Tom Andry posts on January 23, 2009 09:36
Alex2507, post: 512899
I like the review too. Just because I'm a drywaller I chuckle when I see what normal people do to cut holes. Hey, drywallers don't have many opportunities to feel superior.
Glad I could be of service!
I feel the same way when i go to other people's homes and see how they calibrated their TV or setup their speakers. There is nothing like seeing the surround speakers placed in front of the couch to give me great AV Rant material.
gene posts on January 22, 2009 23:18
These seem to be very similar to the MB Quart Alexxa in-walls. Are the two companies related? If this was previously discussed, I apologize.
tSc does some of their own design work such as the TSAT system I just finished reviewing and will post tomorrow.
But many of their designs are open tooled in china and you would be surprised how many speaker brands run on the same lines!
If you are thinking about getting the MB Quarts from the Audioholics E-store or elsewhere, I'd suggest you save your money and buy the tSc versions Tom reviewed
Alex2507 posts on January 22, 2009 21:34
I like the review too. Just because I'm a drywaller I chuckle when I see what normal people do to cut holes. Hey, drywallers don't have many opportunities to feel superior.

What caught my attention in this was that The Complex is in DTS. I have a DVD video that is in Dolby Digital. I think I may try to blow up my subs tomorrow listening to the piano smasher. Great name for it.
Matt34 posts on January 21, 2009 18:22
Tom Andry, post: 511774
I'm finishing up a review of the TST2's right now.



I'm not sure about any relation but I agree (and mentioned it in the review). That being said, the MB Quart speakers sell for over 2x's more.
Rickster71, post: 512362
That's good to hear; looking forward to it.

Any info on who makes their drivers in the TST2's and TST3's?

Thanks,
Rick
Looking forward that review.
Rickster,
I believe those speakers are rebadged Saphires but I'm not sure where they sourced their drivers from.
Post Reply