A Tale of 5 Installs Part 2 - Surfer Dude Gets Surround
A Tale of 5 Installs Part 2 - Surfer Dude Gets Surround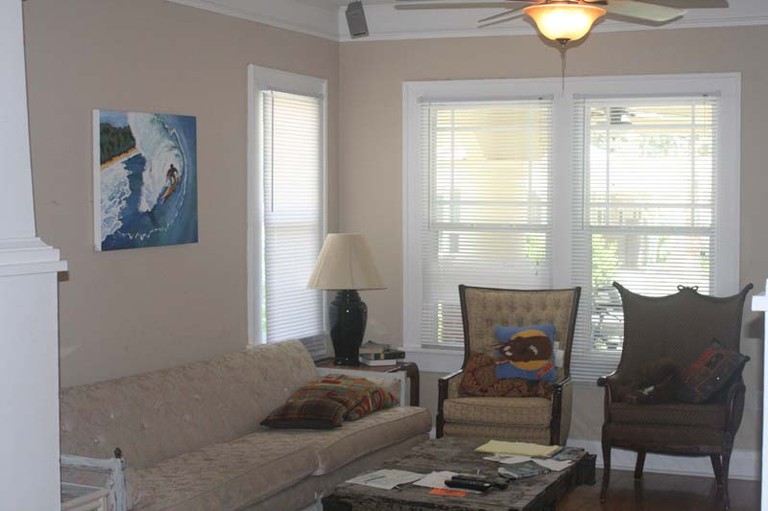 "Joe" is a single guy who has youth group meetings at his home and watches movies with friends. He used to have a roommate who had a decent TV and speakers but now it's time to replace the system that "moved out". Joe is a bit of an enigma. He's actually quite "metro" and concerned with aesthetics - much like... well, your typical girl, particularly the kind that always seem to be married to the average audioholic. OK, that's enough Joe-bashing. The good news is that Joe already owns a Sony home theater-in-a-box, complete with subwoofer (bass module). The only thing left to do was make it actually be usable by buying ceiling mounts and wiring up the living area for a full 5.1 system.
Vital Statistics:
Single with no prospects (just kidding)
Concerned with aesthetics - doesn't want a big, bulky system
Older home with attic
Open room whose area is larger than the part dedicated to the theater space
A/V Knowledge Level: "So will this take very long?"
You're Not a Chick If You Like Small Speakers… Technically Speaking
I quickly realize a few minutes after pulling up and checking out the living room that this install was going to be much different than the last one for a number of reasons. First, the owner (let's call him Joe - 'cause that's his name) was very concerned about a pair of Bose speakers. They were "too big for the room". Instead, he wanted to use his much smaller (dare I say dainty?) set of Sony satellite speakers. This was unfortunate, since this home could easily support a full 5.1 bookshelf system and even some floorstanding speakers. The second reason this install would be different was that I'd be going solo. Joe had to leave shortly for a meeting soon and I'd be fending for myself. Fine, I'd go ahead and install his "chick speakers" without him.
Glancing around I saw that the room, which was oriented to a corner-loaded position, could be quickly reconfigured so that the audio system could be placed against the East wall, giving us the ability to create a rectangular listening area. Of course, it meant that we had to leave a couch on the exposed front porch - but what's that in comparison to good sound? Fortunately, Joe said he wanted to toss the couch anyway… good riddance, better sound.
Once we decided on the configuration, we also settled on ceiling mounting the speakers. This was a very similar job to the last one and I was able to get started much more quickly. I also brought slightly less equipment, opting instead to go with plenty of wire, but not enough to drag a line across town.
I Hate Old Houses.. OK, Not Really.

I located the place where I'd come down the wall and started drilling a hole into the plaster to form the beginning of what would house the electrical box and contain the banana connectors. With Murphy-inspired accuracy I drilled almost directly into the center of a stud (knock tests and stud sensors don't work so well on lath & plaster houses). It was close enough that I figured I could chisel the area out (not a load bearing wall) and access everything I needed. I was committed, so I plowed ahead and completed the box. It took way too long and I hated myself, but it got done. This is why people pay custom installers to wire these things up... but doing it yourself is certainly cheaper.
Into the Attic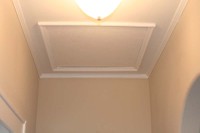 Attic access was in the hallway adjacent to the listening room. I was actually able to measure distance to the desired location for the drop into the wall cavity. This was good since there wasn't a ton of other objects to help, save a power outlet which typically drop next to a stud. I measured over 18 feet or so from the opening and pulled myself up into the attic using a 5-foot ladder. As the ceilings were 9 feet tall, this was no small feat.
The attic was wired for light - very cool since the light extended over to my drilling locations - this saved a lot of headaches. I don't like headaches. I measured over to my point and checked for studs in the exposed header after pulling away the newspaper-based insulation (nifty, no scratching!) Finding the stud I needed, I went to the side having the most space and prepped to drill my holes.
It Sure Is Dark in There…
Pulling out my cordless Makita 18V drill (yeah, baby!) I slapped on a 3/4-inch spade bit and drilled my hole which would support all four speaker cables. The hole drilled easily enough and I peered inside. At this point I was curious as to why I didn't see any light coming from below (we did just cut out a large hole, you know.) Basically, when you drill into a header and have a hole in the wall below, you should be able to see some light if you kill the lights in the attic or cup your eyes over the drilled hole. I saw nothing. Nada. Zip. I was on the side of the stud I wanted to be on, so I quickly realized (because I'm smart like that) that there must be some kind of cross-brace in the wall. This was bad. Shining my headlamp LED light into the hole I just drilled I saw the culprit about 24 inches or so below the header. It was too far down for me to deal with - even using my drill bit extender.
Since my hole down below was straddling a 2x4, I jumped to the other side of the stud (after a brief time of quiet reflection and prayer) and drilled a new hole. Bingo - we had light. That was cool, because I'd hate to just randomly start drilling holes in the wall to find a cavity that wasn't covered by a random piece of wood. I widened my hole a tiny bit more and breathed a sigh of relief - thanking Murphy and his cursed law for having me cut a hole across a stud rather than on the wrong side entirely.
I forgot my cables, or rather, I wasn't prepared to run them just yet or didn't trust my hole. In either case I needed to head back down and pick up some wire.
Han "Solo" Had a Wookie…
I pulled myself back into the attic for some more fun. I measured and brought two rolls of wire, precut to the lengths I needed for the front speakers. I also brought my drill bit extender to use as a drop weight to get two of the ends down the wall. I hated not having a big enough ladder - next trip to Home Depot I committed myself to remedying that (this was not the first time I'd said this, but this time I really meant it).
Once I was in I sauntered over to the hole and used electrical tape to secure two runs to the drill extender (the extender, being a heavy but thin pole, pulled the cable down the wall without it tangling). It dropped down the wall easily enough and I could tell it had hit bottom by the sudden slack in the line. I don't have an assistant, so I had to go down (again) and pull it out myself.
See also:
Confused about what AV Gear to buy or how to set it up? Join our Exclusive Audioholics E-Book Membership Program!
Recent Forum Posts:
cwall99 posts on September 15, 2008 13:40
Love the articles
So, I've been lucky in that my wife has let me buy all the gear for my system that I want. Actually, she bought me a 57-inch Sony RPTV for my 40th birthday, and while the technology that's out now (I'm almost 46) eclipses what was available then, I still think she's at least a finalist for the "Coolest Wife Ever" award for that one (granted, I did spend the night before camped outside the Palace in Auburn Hills with her so she could get second row, dead center seats to see Bon Jovi - a band I've seen too many times… you mean once?). But I digress….
So, right now, I'm feeling inspired by these articles, and I'm considering re-running my surround speaker cables (my back speakers are a pair of old, but still very capable, NHT 1.3As).
My questions:
How do I determine where to drill down into the wall header? More specifically, from what point in the attic do I measure to have any sort of realistic chance of drilling down between the same two wall joists where I cut my hole in the wall?

Is it easier just to run the cables through the attic over the listening room/family room and dropping the cables, or is it easier to just do the crown molding trick? I figure that if I do the crown molding trick, locating the holes through which I need to run the wires ought to be pretty easy as I don't have to go up into the ceiling and then try to make sure my holes in the header are between the same two joists where I cut into the dry wall to put my plates.

Oh, I'm not very handy. I'm hoping that if I buy the materials and some good beer, my handy buddies can help me out with the carpentry work.
Thanks.
mjsmith posts on September 15, 2008 13:10
Attics are for wusses. Bring on the Crown Molding!

These install articles are great but I was hoping they would differ a little. This last one is very similar to the first one.

Are you going to showcase any that are a little more difficult? In my current situation I just bought a two-story home and the living room has a high ceiling. I think I can hide most of the cable in molding but it is going to be tricky.
Matt34 posts on September 15, 2008 12:33
My only install story comes from when I was running cable from my satallite dish to my TV in the living room. My house's foundation is three feet tall(flood zone) so there is a crawl space underneath.

After overcoming my fear of the black widows that call it space home I began crawling from one end of the house to the middle where I had already drilled a hole and my wife was now shinning a flashlight through. I get about a quarter of the way there and hear something coming up behind me! It's pitch black under there and I'm only wearing my headlamp so I spin around as quick as I can to look at what's coming up on me and all I can see is the green reflection of my german shepards eyes! I guess he thought he could help and followed me in.
Clint DeBoer posts on September 15, 2008 12:10
No doubt. I actually have a 3-LED one. I want to get one of those safety glasses with the ones built into the side, though. Very cool!
Matt34 posts on September 15, 2008 10:18
Clint, for those attics without lights.


Post Reply