A Tale of 5 Installs Part 5 - Almost Easy
A Tale of 5 Installs Part 5 - Almost Easy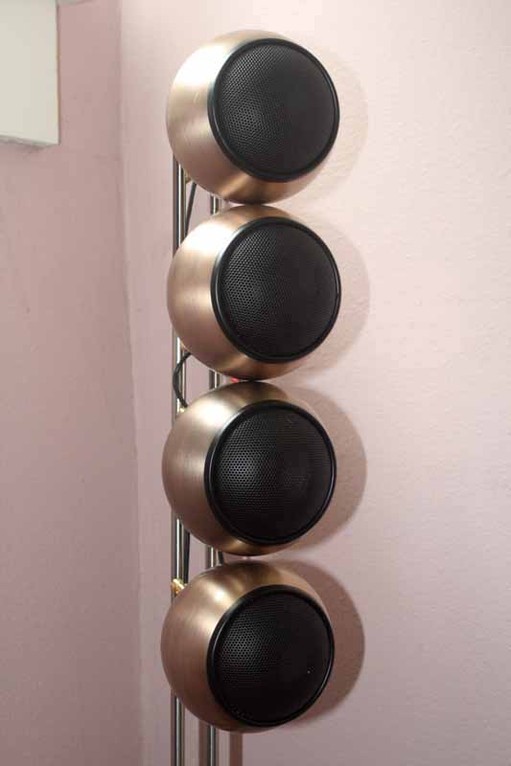 Orb Audio Installation
We conclude our five part series with "Mitchell" who is married with a teenage son. Mitchell never actually pursued surround sound in his home but enjoys playing the Nintendo Wii and watching movies. We had access to an older, but high powered, Denon AVR3300 AV receiver (which has on-screen display, Dolby Digital and DTS) and were fortunate enough to be able to install a new Mod 4 system from Orb Audio. Mitchell's wife was very concerned with aesthetics and so we had to spend a lot of time ensuring that we didn't overrun the room with towering speakers and huge boxes or stands. Our work was cut out for us and we stepped up to the task.
Vital Statistics:
Married with a teenager
Wife concerned with maintaining a modern, aesthetic appeal
Older home with attic & crawl space
Wide, open room with wood floors and tall ceilings
A/V Knowledge Level: "I don't mind getting my hands dirty - tell me what to do."
This Actually Doesn't Look Too Bad
I knew that this install would involve an older home on a nicely-raised, open crawl space. As such, I wasn't anticipating much in the way of difficulty. The other nice thing was that we quickly decided on installing a beautiful set of Orb Audio Mod4 speakers on their massively overbuilt HOSS Floor Stands. This was mostly because they met with our aesthetic requirements and didn't dominate the room. That meant that we just needed to run a pair of Impact Acoustics CL2-rated 12/2 speaker cables from the front of the room to the back. None of the speakers were being mounted from the ceiling, so attic access was unnecessary and we avoided all sorts of potential hassles. I was actually tempted to think that this particular install might actually be completed in just a couple hours.
Yeah, as soon as I thought it I regretted it too.
Walking into the home, we surveyed the landscape. Mitchell, the homeowner and Director of a local nonprofit organization here in town, brought his wife over to render her opinion on the process. After much discussion we opted for the aforementioned method of having the four main speakers mounted to stands and the center and sub placed up front in their appropriate positions. The display was an older CRT-based rear projection screen. It was 1080i and had a nice wide 16:9 aspect ratio - great for movies, and apparently for playing the Nintendo Wii with friends and neighbors. Looking at the front wall I noticed that a fireplace had been removed and the concrete base had been nicely covered with hardwood in a decorative raised pattern. It seemed pretty straightforward to run the cables into the void of the fireplace and then shoot them out underneath.
The Best Laid Plans
We started by pulling the TV away from the "area formerly known as fireplace" and cut a hole into the drywall which could support our low voltage box. Once that was done we carried our roll of CL2 cable below the house and worked our way to that area of the room from below. It seemed easy enough to locate the correct spot and drill upwards... except that the fireplace hadn't been entirely removed. The concrete base was still there... blocking our way. We had essentially drilled into the void of the fireplace with no way to get out to the area below.
Having friends stop by to offer advice isn't always a bad thing. Our mutual friend Will, a neighbor of Mitchell's, suggested we simply "go sideways" and get to a part of the wall where we could then shoot up from below. This turned out to be a great plan. It was made all the more possible when we found we could easily remove the piece of baseboard which had been placed over the opening of the former fireplace. Once this was done we were able to track the cable to an area that was free and clear for us to drill up into from below.
Up and Down and Up and Down
This time, instead of drilling up from below, we simply found our spot and drilled down through the wall cavity from above. It was easy and gave us the exact location for our wire feed. It also made sense to go ahead and cut open the wall at the back of the room so it would be ready to receive the cables once we got back down below. That took a very short amount of time due to the fact that this older home (1940s or 50s) had been redone with drywall - at least at this particular location. No lath & plaster meant no hassles. We were quickly through and ready to go down below.
Back under the home, Mitchell and I fed up a single cable which Will ran across and out of our low voltage box. We quickly measured and located the spot on the opposite wall (we got our bearing based on two things: 1) it was a load-bearing wall, and 2) it was exactly 5 feet away from a cableTV line which had been fed up through the floor). After doing all my complex distance measurements to find the center of the floor footer, I saw that the load bearing wall made that very easy to distinguish visually from below. We drilled up (always remember your eye protection) and were done in a matter of minutes.
We exited the crawl space and went back inside... and then promptly realized we (I had a mouse in my pocket) had only run one of the cables we needed. Back under for another go (and with egg on my face) I had the second cable fed through both sides in no time.
Final Steps and CleanUp
The only things left to do was label and connect the speaker wire to the 2-pair Speaker Wire Binding Post Inserts on both sides of the room. This was done quickly and we proceeded to clean up and replace the baseboard across the former fireplace. Moving the television back into place we were ready to setup the speakers and subwoofer, however I had other plans and needed to push that off for our final day.
Install 5, Day Two - Wii Like It!
Nintendo Never Sounded THIS Good!
Mitchell was excited about his new system - so much so that I found he and a friend had connected most of the wiring themselves just to be able to crank it up and listen to it purr... I love self-motivated people. When I arrived on the scene I found everything close to correct. The subwoofer had been left unconnected and the center channel of the Orb Mod 4 system was connected in parallel instead of series - dropping the speaker impedance load a bit lower than intended or desired. I fixed this quickly and proceeded to connect the sub to the line level output of the AV receiver - a Denon AVR-3300. This receiver was actually quite good in its day and even has support for Dolby Digital and DTS - everything that this particular system would need.
Since all of the wiring had been prepped and connected to all 5 speakers, a lot of my time was saved and I could begin to triple-check the AV-routing of the system and ensure that everything was ready for surround sound. After verifying the DVD player was outputting DTS and Dolby Digital, I popped in a few of my favorite test discs and settled back for a listening session (check out my full review of this Orb Audio Mod4 system).
After going through several music-based listening sessions I cranked up the Nintendo Wii. Unfortunately (inexplicably?), the Wii lacks discrete surround sound out of the box and only has, at best, Dolby Pro Logic-encoded material in the games. Nevertheless, the presence of a subwoofer and some real speakers made the sounds of the Wii pop, whether it was simply tennis or bowling, or something a bit more energetic (I'd recommend Super Smash Bros. Brawl).
Conclusion - You Are Go for Lift-Off
When Mitchell got back home I was wrapping up my review of the Orb Audio system (hey, why not kill two birds with one stone?) and I played some Seal for him from the latest DVD-Audio/DTS disc and was pleased to see his eyes light up when he heard the discrete surround and incredibly tight bass that filled his room. It's always great to bring people into the world of surround sound and I was happy to help a friend and his family experience it first-hand in their own home. I felt like I "cheated" on this house since it went so flawlessly. Not all homes will, but after the first four it was nice to end on a positive note and see that not everything that can go wrong will. Mitchell's wife really liked the system and felt that it did a good job of catering to her aesthetic preferences while producing sound that made her husband (and several neighbors) very happy indeed.
Confused about what AV Gear to buy or how to set it up? Join our Exclusive Audioholics E-Book Membership Program!
Recent Forum Posts:
allargon posts on October 09, 2008 13:09
Clint, I always see the wife very concerned with aesthetics part, but I never see you install in-walls/on-walls in this series… Is it due to the budget/performance factor?
Post Reply