NTIW26 NTIW25 Listening and Conclusion
NTIW26 NTIW25 Listening and Conclusion
My father's initial reaction to the speakers was one of disappointment. That's right, disappointment. "They seem sort of shrill, don't they?" he said to me. I just waited. After less than a minute, he turned back and changed his tune, "You know, I think I'm just hearing highs I've never heard before."
You know Dad, I think you're right.
Right out of the box I was impressed with the NTIW26's. Sure, the comparison to the JBLs wasn't fair as just the pair of NTIW26s cost almost as much as the entire JBL 5.1 system, but I was trying to compare to my vast (after doing this job as long as I have, I think I can say "vast" without stretching the truth too much) experience with speakers. They had an open and airy sound and were deep and rich. I initially played with the cut and boost switch but ended up leaving them at zero since a) my father couldn't tell the difference and b) he was going to run Audyssey and I figured I'd let that do the boosting and cutting. I also played with the tweeter alignment a bit but not as much as I will on future visits. I basically did very little physical calibration other than setting levels and orienting the tweeters.
DTS-CD: Diana Krall - Love Scenes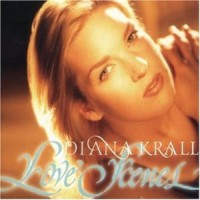 This is the first CD I thought to play, mostly because of the phantom center. Diana Krall's voice on this album is clearly anchored in the center though you don't need a center channel to experience it. I've often used this album in two channel reviews without feeling like I was unduly hamstringing the speakers. The NTs kept up very well with the content of the album especially with the midrange and upper bass. The JBL sub (before it died) was woefully inadequate and I was glad to bump the crossover down to 60Hz on the Denon minimizing its load. At no time did I think that the NTs were in anyway dropping the ball in the bass department. I'd suggest that the 55Hz lower end spec might even be a little conservative. Again, remember, in-wall speaker performance can vary highly based on room size, shape, and speaker placement. Your results may be different than mine.
I'd have liked to have heard a more unified center experience with the NTs, however. It wasn't as if the imaging was bad - far from it. But I've heard more solid imaging in the past. With some additional tweaking of the tweeter alignment, this may tighten up a bit. The placement of the display (which I pushed as far back as I could) might have been deflecting a little of the sound, messing up the imaging slightly. I hope to eventually convince my parents to wall mount the display as well. Of course, after having to spend hours/days/months convincing my Mom that they "needed" a 58" plasma, her first comment was, "Huh, I thought it'd be bigger." If it was a lighter, instead of pushing back speakers like she used to, she very well may have been pulling out the TV. Wall mounting may or may not be an option here.
DTS-DVD: The Blue Man Group - The Complex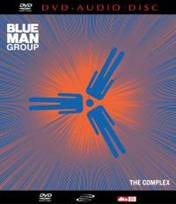 One thing I always loathed about the JBL speakers was how horribly noticeable the rear speakers were. You always knew they were there and always knew when they were playing. It was annoying. Not once with those speakers did the surrounds blend into the background. This was especially irksome with movie soundtracks where, instead of being enveloped by the music, you were instead sort of blasted from three sides (front, left-rear, and right-rear). I can honestly say that the NTIW25s are probably too much speaker for surrounds. They are obviously every bit the speaker that the 26s are and meshed very well with their slightly larger brethren. The rear imaging was finally diffuse and unified creating the full surround effect that I've never before experienced in that room.
The Blue Man Group is known for its low bass, interesting and unusual sounds, and immersive nature. NTIW26s and 25s worked in concert to really draw you into the music, letting you lose yourself in the high quality mix. It's a very good possibility that my using this album for the review is what killed the sub and if that's the case, what a way for a sub to go. If I was a sub, I'd want to die playing Piano Smasher too.
Xbox 360: Rock Band 2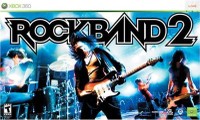 I brought my Xbox 360 and my copy (and instruments) of Rock Band 2 thinking I was doing it for the kids. It turned out that my parents liked playing it just as much as the kids. The NTs presented the music and fan noise as if you really were in a rock band. Of course, with the kids we had it set in "No Fail" mode but when only the adults were playing, you could really get into the music and mood. By this time the sub was dead so I set the speakers to Large and kept the volume reasonable. Even without a sub, I never once thought I was missing out. There were plenty of times when I had completely forgotten that the sub was dead until I started watching a movie and wondered where the bass was. The fact that these speakers are weather resistant is almost a shame. While they may be cost effective enough for installation in a bathroom or outdoors, I'd be a crime to do so. As quality speakers go, I can't believe how good these are for the price.
Conclusion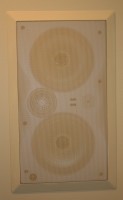 As reviews go, this isn't my most rigorous. The fact is that once you leave your own room where you are familiar with the acoustics and limitations, you're really unsure of what is the speaker and what is the room. Plus, I couldn't exactly measure them as I would with most speakers since I didn't have my heavily treated AV Rant podcast room to do it in. At $300 a pair for the NTIW26s and $230 a pair for the NTIW25s, these speakers are a remarkable value. Quality components, easy to mount, lots of tuning options… the list of benefits goes on. Sonically, they at least met and in many ways exceeded my expectations. Bass was admirable for a bookshelf much less an in-wall. The highs and mids were well realized and very lifelike. The NT speakers definitely live up to the tSc motto - Quality Loudspeakers at Half the Price.
The real test, however, was how my parents feel about them. Before we even had them all the way installed, my mother was enamored. She loved the clean look and the space-saving attributes of the in-walls. My father appreciated that he was getting much better sound than he had ever experienced before. After I left, I sent them a list of movies to watch that would show off their new speakers. Later that night I got a call from them saying they had just finished watching Spiderman 2 (the "Horror Hospital" scene is a reference for surround sound). Their reaction? "Wow." Wow, indeed.
tSc NTIW26 In-wall Speakers
$149.97/each
tSc NTIW25 In-wall Speakers
$114.97/each
The Speaker Company
100 Corporate Drive
Mahwah, NJ 07430
About tSc
We offer quality speakers and speaker systems at discount prices. From towers, satellite speakers, in-walls, bookshelves and surround systems as well as headphones and iPod Docking stations The Speaker Company offers a full line of speakers & accessories.
The Score Card
The scoring below is based on each piece of equipment doing the duty it is designed for. The numbers are weighed heavily with respect to the individual cost of each unit, thus giving a rating roughly equal to:
Performance × Price Factor/Value = Rating
Audioholics.com note: The ratings indicated below are based on subjective listening and objective testing of the product in question. The rating scale is based on performance/value ratio. If you notice better performing products in future reviews that have lower numbers in certain areas, be aware that the value factor is most likely the culprit. Other Audioholics reviewers may rate products solely based on performance, and each reviewer has his/her own system for ratings.
Audioholics Rating Scale
— Excellent
— Very Good
— Good
— Fair
— Poor
| Metric | Rating |
| --- | --- |
| Build Quality | |
| Appearance | |
| Treble Extension | |
| Treble Smoothness | |
| Midrange Accuracy | |
| Bass Extension | |
| Bass Accuracy | |
| Imaging | |
| Soundstage | |
| Dynamic Range | |
| Fit and Finish | |
| Performance | |
| Value | |
Confused about what AV Gear to buy or how to set it up? Join our Exclusive Audioholics E-Book Membership Program!
Recent Forum Posts:
rsajdak posts on September 21, 2009 23:46
How do these speakers compare to the Klipsch in-walls?
Tom Andry posts on January 23, 2009 09:36
Alex2507, post: 512899
I like the review too. Just because I'm a drywaller I chuckle when I see what normal people do to cut holes. Hey, drywallers don't have many opportunities to feel superior.
Glad I could be of service!
I feel the same way when i go to other people's homes and see how they calibrated their TV or setup their speakers. There is nothing like seeing the surround speakers placed in front of the couch to give me great AV Rant material.
gene posts on January 22, 2009 23:18
These seem to be very similar to the MB Quart Alexxa in-walls. Are the two companies related? If this was previously discussed, I apologize.
tSc does some of their own design work such as the TSAT system I just finished reviewing and will post tomorrow.
But many of their designs are open tooled in china and you would be surprised how many speaker brands run on the same lines!
If you are thinking about getting the MB Quarts from the Audioholics E-store or elsewhere, I'd suggest you save your money and buy the tSc versions Tom reviewed
Alex2507 posts on January 22, 2009 21:34
I like the review too. Just because I'm a drywaller I chuckle when I see what normal people do to cut holes. Hey, drywallers don't have many opportunities to feel superior.

What caught my attention in this was that The Complex is in DTS. I have a DVD video that is in Dolby Digital. I think I may try to blow up my subs tomorrow listening to the piano smasher. Great name for it.
Matt34 posts on January 21, 2009 18:22
Tom Andry, post: 511774
I'm finishing up a review of the TST2's right now.



I'm not sure about any relation but I agree (and mentioned it in the review). That being said, the MB Quart speakers sell for over 2x's more.
Rickster71, post: 512362
That's good to hear; looking forward to it.

Any info on who makes their drivers in the TST2's and TST3's?

Thanks,
Rick
Looking forward that review.
Rickster,
I believe those speakers are rebadged Saphires but I'm not sure where they sourced their drivers from.
Post Reply