FAQ: DIY Speaker Kits, Dolby Atmos Placement Tips and Wi-Fi Help
FAQ: DIY Speaker Kits, Dolby Atmos Placement Tips and Wi-Fi Help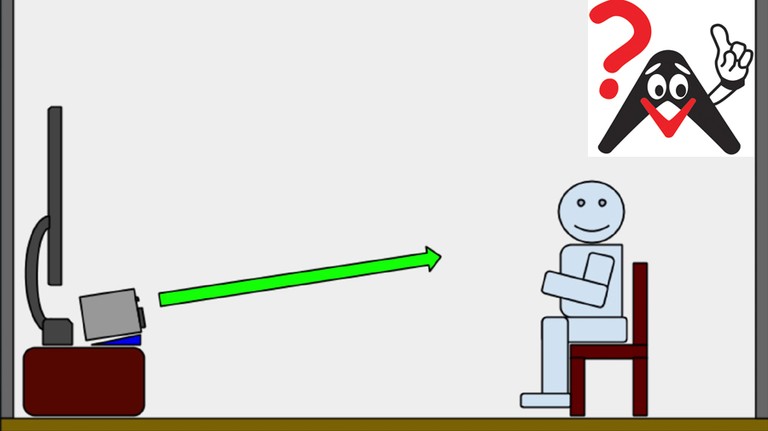 Center channel placement with Dr. A
This week we take on a few interesting questions received from our YouTube Channel pertaining to DIY speaker kits vs finished manufacturered products, Wi-Fi network stability issues, Dolby Atmos speaker placement and subwoofer purchasing decisions.
Can a DIY Speaker be as Good as a Manufactured Product?

Your speaker reviews are very informative, on par and in some ways more relatable than Secrets of Home Theater and High Fidelity.
I love great sounding speakers at or below the working "middle class" point of diminishing returns--regardless of brand. I sold my Paradigm Studio 20v.3 a few years ago (huge mistake) and am in the market again for a pair of bookshelf speakers. With a maximum budget of $500/pair, I am interested in The Dayton Audio RS621 speakers sold online through Parts Express.
Q: If possible, would Gene be willing to review Dayton Audio's RS621 speakers?  They have been around for a few years, and appear to use decent quality components. What can be expected from semi-DIY speakers at this price point? How would this sealed enclosure compare to paradigm studio 20s, Aperion versus grand bookshelves, etc? Thanks for your time!
A: Dayton Audio makes some really great speaker kits.  We've reviewed a couple and were impressed and will try to add this particular model to our busy review schedule.  The components in the RS621 appear to be of very high caliber so it's highly likely if these speakers are put together properly, they'd compare favorably to the excellent Paradigm Studio 20 and Aperion Verus Bookshelf speakers on your list.
The question you need to decide on is if it's worth your time and effort to build your own DIY kit or to just purchase a finished product from a reputable manufacturer like the ones on your list.
 See:  Dayton Audio T1503 Subwoofer Review
Wi-Fi Network Difficulty
I'm having some serious issues in my home with Wi-Fi lately ever since I have started to stream things such as Netflix and YouTube through my smart TV.  I have also invested in a Sonos home sound system which runs off the Wi-Fi as well.  I have a fairly big house but the main problem in the house is the thick concrete walls that some weak Wi-Fi can't get through. At the moment I have 4 netgear boxes installed but the Wi-Fi signals are all very weak and every 20-30 minutes the signal will drop and come back after about 2 minutes.

Q: Are there any Wi-Fi boxes that have a good strong signal that you can advise me on or at least some sort of solution to try an resolve this problem?
A:  I've had similar issues in my own home as you are experiencing.  As a result, we wrote a series of articles on how to set up a Wi-Fi system in your home.  These articles are some of the most popular on our site and are a recommended read for anyone wanting to build a more robust and reliable Wi-Fi network to ensure you've got everything covered to handle high speed streaming.
 See:  How to Set Up a Wireless Network and  7 Tips to Boost Wi-Fi Speed and Reliability

Center Channel Placement and Dolby Atmos
Loving your YouTube video but I have a Quick question.
Q: I kinda had no choice but to put my center channel above the TV, close to the roof. Should my right and left speakers be even with it? Reason I ask I just upgraded to the Denon 5200W AV receiver and want to add additional speakers for Atmos. I was thinking about putting two height speakers level with the center, maybe point them to the ceiling.  My concern is now the height speakers are even with the center. Might cause a odd sound field.

Dolby Atmos Speaker Layout Diagram - Courtesy of Denon

A:  Putting a main channel in an elevated height position similar to that of your dedicated height speakers for Dolby Atmos is NOT advised for the very reason you state - it will cause an odd sound field.  We are finding some folks wanting to install Dolby Atmos-enabled reflection speakers are doing so at a lower physical height compared to their side or back surround speakers.  This is also not advised as your height speakers should ALWAYS be positioned higher than the 5 or 7 main channel beds (Left, Right, Center, Surround Sides and Surround Backs).  If you can't do this, then you are not going to benefit from the height effect Dolby Atmos offers when positioning discrete height speakers above the rest of your speakers.
We recommend placing the center channel near the floor or slightly above your display aiming it towards the listening area.  This will provide enough vertical physical separation to still allow you to install height speakers for Atmos.  Keep your left and right front speakers as close to seated ear level position as possible as this will achieve the best fidelity.   
Please follow our guides on How to Set Up a Basic 5.1 Speaker System and Immersive Surround Speaker Layout Guidelines and Dolby Atmos Explained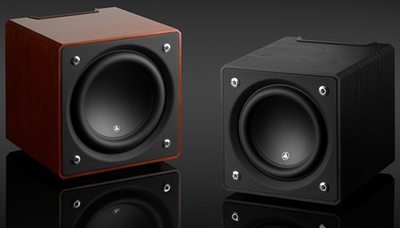 JL Audio e112 (left) and e110 (right) subwoofers
 Which JL Audio Sub to Buy?
Q: I know you all have a lot on your plate but I am trying to decide between the JL Audio e112 and their new Dominion d110 - 10" which would save me the $900 to put towards a sound panels. When would you foresee doing an in-depth review of the Dominion line that includes your listed frequency sweeps that I can trust to be non-biased.
A:   Depending on the size of your room, the Dominion sub may NOT provide enough output or extension to satisfy your bass needs.  While we haven't reviewed the d110 we can make an educated guess that it would earn our small bassaholic room size rating by comparing it to the more powerful and more expensive e110 which earned our medium bassaholic room rating.  The e112 earned our large bassaholic room size rating so there is quite a difference in output between the d110 and e112.
We recommend choosing a sub based on the Audioholics Bassaholic Room Size Rating.  While the Dominion d110 is likely a fine sub given it's made by JL Audio, the E112 is simply a fantastic sub with more output and extension.  Always buy the biggest and best sub you can afford.  It's NEVER a good idea to sacrifice bass (which represents over 40% of the experience in sound) over adding passive room treatments.  This is especially true for bass treatments which are bulky, expensive, lossy and not needed if you employ multiple subs in your room.  Instead of applying passive room treatments for bass frequencies, save your money for a second sub.  Start with the best sub you can afford now and later on add an identically matched sub when funds become available.  Dual subs are a must for anyone serious about getting good bass in their home theater room.
See our JL Audio e110 and e112 review  and Multiple Subwoofer Set Up Guide
Confused about what AV Gear to buy or how to set it up? Join our Exclusive Audioholics E-Book Membership Program!
Recent Forum Posts:
Kaikias posts on May 23, 2015 06:31
Regarding the WiFi issue- I'm 99% sure your sonos is causing the issue. Connecting it to a managed switch should help with that.
Tumara Baap posts on May 19, 2015 23:55
DIY speakers by Siegfried Linkwitz are unburdened by marketing concerns and are based on empirical evaluations and exceptional insights in the field of psychoacoustics. The engineering approach to various types of distortion and radiation patterns employed simply cannot be found elsewhere, commercially available, or otherwise. It's not that his designs are a bit better. They are a revelation. Interestingly the best implementation of your cookie cutter transducer on box design is found neither in commercially available consumer speaker lines nor DIY kits at Parts Express, but in a handful of professional Active studio monitors targeted at the recording industry. And those are a distant second.
gene posts on May 19, 2015 13:13
This week we take on a few interesting questions received from our YouTube Channel pertaining to DIY speaker kits vs finished products, Wi-Fi network stability issues, Dolby Atmos speaker placement and subwoofer purchasing decisions. Can you place a main channel higher than a height channel for Dolby Atmos? Find out how we answer that question and more…


FAQ: DIY Speaker Kits, Dolby Atmos Placement Tips and Wi-Fi Help
Post Reply