Anthem AVM 60 Preamp Processor Review: Set Up and Testing
Anthem AVM 60 Preamp Processor Review: Set Up and Testing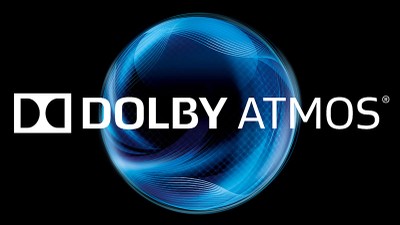 The AVM 60 is Anthem's first Dolby Atmos-capable preamp-processor and supports up to a 7.4.4 channel immersive audio configuration.
By any measure, Anthem's AVM 60 is a first-class pre-pro. It comes with everything you need in the box. Every accessory is high quality. I tested the AVM 60 in two different setups and venues. The first was a high-end setup anchored by Revel Ultima2 Salon speakers and dual SVS SB13-Ultra subwoofers at a location I have access to. It's the same setup I typically use for reference equipment that comes in for review.  I kept the AVM 60 in this location for the first half of the review period.
The second venue was my Dolby Atmos, DTS:X, and Auro-3D setup. This setup consists of SVS Ultra Tower speakers, SVS Ultra center channel, and SVS Ultra Bookshelf speakers for the side and rear surrounds. An SVS PB13-Ultra handles the low end. In-ceiling height speakers are courtesy of Beale Street Audio. For amplification, I paired the AVM 60 with Emotiva XPA-1L 250wpc monoblocks serving the front channels, a Monoprice Monolith 7-channel 200wpc amplifier for the remaining floor-level channels and front height speakers and rounded things out with an Emotiva A-100 50wpc amplifier for the rear height speakers. (As a side note, I used the AVM 60 with the Revel Concerta2 F36 review  and I have four additional Beale Street Audio in-ceiling subwoofers as part of my setup. However, my listening evaluation below applies to the Revel Ultima2 Salon and 7.1.4 SVS Ultra configuration with the PB13-Ultra).
The Glories of Anthem's ARC Room Correction

Basic setup was very straightforward. The ARC-2 room correction system comes with a high quality calibrated microphone and a real microphone stand—not the cheap cardboard garbage you get with other systems. My only constructive observation about the AVM 60's microphone stand is that even though it's light, it is a bit short. I suggest making the modest investment in a longer boom arm to fit the stand to make all your calculations easier to do.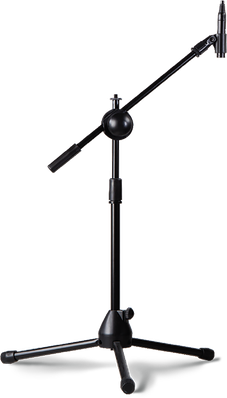 I ran ARC 2 from a Mac running Bootcamp and Windows 10. I also played with ARC using the iOS app. Because Anthem didn't have the calibrated microphone for iOS devices available yet, I didn't use the ARC App''s measurements for any critical listening. 
I initially had a few issues with ARC-2. Every time I would run ARC-2, I would always get an error indicating there was too much background noise (even when there wasn't any). No matter what I did and no matter what physical location I was in, I always got the same error immediately when trying to run ARC for an initial sweep. Pressing the "Try Again" button got things working every time without any errors and the results were always superb. I contacted Anthem about this issue and the most recent software update should fix that minor annoyance.
Small bug notwithstanding, ARC-2 is incredibly fast, accurate, and yields some of the best sonic results I've heard in my room. There's just no other way to say it.
Running full sweeps and uploading those settings on a 7.1.4 or 7.5.4 setup was faster than running plain old 7.2 sweeps with ARC-1 on an AVM 50v 3D. I loved being able to run ARC-2 over Wi-Fi.  On the AVM 50v, you were tethered by both a USB cable to the calibrated microphone and an RS-232 cable to the processor. That leash is a thing of the past.
ARC-1 on previous AVM models allowed you to correct up to 20kHz. With the AVM 60 you cannot set ARC to correct above 5kHz. While 5kHz was always the default for the AVM models you could override it anytime up to 20kHz. 5kHz was the maximum allowed for MRX models and now that the AVM 60 is based on the MRX platform, you have that limitation as well.
Now, to be fair, it's debatable whether this change makes any difference. I never used any ARC EQ above 5kHz even when I had the option. In fact, Anthem has always maintained that at frequencies above 5kHz, the microphone becomes too directional. As we've stated in previous articles, Anthem's approach is backed by solid science.  Research conducted under Dr. Floyd Toole and the team at Harman International on the benefits and limits of room correction has shown that you should limit EQ to low frequencies only.
ARC: Quick Measure and Room Gain

To help you with placing speakers or subs in your room, ARC features a Quick Measure feature. As its name implies, Quick Measure will give you a fast, uncorrected visual measurement of the speaker you want to position.  Quick Measure also works with multiple subs. Once again, this is a smart tool and one you don't get with many other systems. It's a perfect way to see where you can find the flattest bass response for a particular speaker before running ARC.  You always want optimal speaker placement before you add any EQ and Quick Measure really helps with this effort.
The other element that ARC does incredibly well is that it measures and compensates for room gain. In simple terms, room gain is the amount of bass reinforcement that your room brings to the mix. We're accustomed to having a bit of extra bass reinforcement when we listen and ARC does an amazing job calculating this. If ARC were to calibrate a completely flat frequency response, bass would sound a bit like you're playing your subwoofer outdoors without any boundaries in an anechoic type environment. It would be anemic and uninvolving. Of course, you can manually adjust the amount of room gain to your personal taste anytime.
ARC: Multiple Subwoofer Support

"Multiple subwoofers produce a smoother in-room frequency response than just one subwoofer alone.  You don't just add more subs to get stronger bass.  You add more subs to better quality bass."
ARC can support four or more subwoofers. ARC's subwoofer outputs are buffered parallel outputs and not wired to a single opamp. Each XLR sub output has its own buffer while the two RCA sub outputs are in parallel and share one buffer.  We were happy to hear this when we got to some in-depth technical discussions about the AVM 60's design. Anthem's design doesn't put as great of a load on the opamp.
You can't adjust delays or levels individually within the pre-pro. If you are using two or more subwoofers with ARC, then here's a general guideline if you do have multiple subwoofers: For distance setting, enter in the average of all the subwoofer's distances. For SPL setting, do not set the SPL level of each to be 75db. It will be too much.  While adding multiple speakers playing the same source typically results in a 3dB SPL boost the difference in the bass region can be higher by as much as an extra dB or two due to boundary and pressurization effects. Thus, with ARC, you can try 75db for a single sub, 71db for dual subs, or 67db for four subs measured from the listening position.  Because of the way multiple subs interact with a room, the sum total of all subs will be around 75db using this method.
While the aforementioned method will work every time and give good results, I spoke with Nick Platsis, Anthem's Product Manager, about some advanced techniques for power users. Nick noted that instead of balancing all subs to one another before measuring, you could use ARC's Quick Measure to adjust individual sub levels according to the flattest response, not necessarily matched level between subs. 
According to Nick, you'd do this in the following manner:
Run Quick Measure with all subs connected.
Vary sub levels until curve is smoothest while aiming for around 75 dB on the Quick Measure curve. A ballpark is fine here since ARC's level calibration will take care of the rest.
Run ARC
Align subs to the rest of front speakers by varying distance in menu while playing non-station FM noise without using any upmix listening mode and aim for smoothest-sounding output in the crossover region. The blending of the subs with multi-channel systems is beyond scope.

Clearly this can be time consuming since you're checking multiple sub positions. But, as Nick pointed out, the potential improvement can be worth the effort.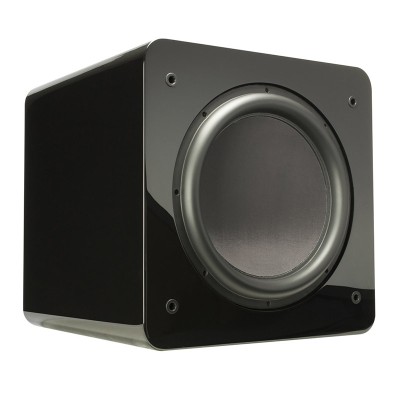 We tested the Anthem AVM 60's multi-sub support and ARC's ability to calibrate multiple subs with dual SVS SB13-Ultra subwoofers.  The results were stunning.

Why are multiple subwoofers important (if not essential)? The reason is simple: Multiple subwoofers produce a smoother in-room frequency response than just one subwoofer alone.  You don't add more subs just to get stronger bass.  You add more subs to better quality bass.  It's not just our opinion, its a fact proven by research. We have written several articles on both the benefits of multiple subwoofers and placement locations for multiple subs here on Audioholics that you can reference. You can  also check out our Audioholics multliple subwoofer setup guide here.
Oh, and speaking of multiple subwoofers, ARC measures them correctly. The sonic results? Simply stellar.
So many room correction systems don't get multi-sub calibration right.  That's right, most room calibration systems handle multiple subs incorrectly. They calibrate each sub individually. That's flat out wrong. While this approach may seem logical to the average consumer, room correction should calibrate the sum of all subs playing in room and only then apply EQ to the combined, average curve.  This is the only way to do multiple subwoofer EQ correctly and thanks to our advocacy here at Audioholics some very well known Room EQ solutions have changed how they approach multiple sub EQ. Kudos to Anthem. They have been doing multiple sub EQ correctly from day one.
New ARC features: Multiple Profiles
With ARC-2 you can now set up four different calibration profiles from a single measurement. You can also custom name each one. If your situation warrants, you can even do different measurement sweeps for each profile.  ARC remains one of the few room correction systems to offer this option. You'll quickly see why this is not only cool but can also help get peak performance from your system.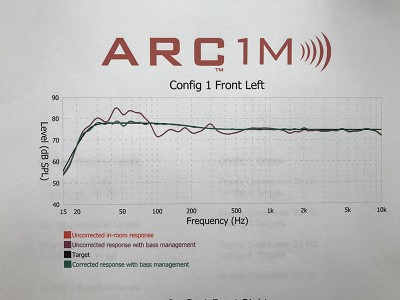 Detailed ARC Report Results

The new version of ARC gives you the ability to print a detailed, multi-page graphical report of every speaker measurement for every profile. Here, you see ARC's in-room response measurement with Profile 1 where we are running Revel Concerta2 F36 tower speakers full range.  The graph shows the front left Concerta2 F36 with its uncorrected in-room frequency response and its response after ARC applies its filters up to 5kHz. Note that ARC also calculates room gain, which is why there you see slight elevation in the target curve from 20Hz to approximately 200Hz.
In my case, I assigned Profile 1 to be the stock ARC 7.1.4 measurement, where it selected 80Hz for the filter. For Profile 2, I configured a 2.x setup (2.2 with the Revels and 2.1 with the SVS) and set ARC's filter to 60Hz. For Profile 3, I set the calibration as 2.0 only and set the towers to play full-range. I could have used the profiles for several other real-world scenarios.  For example, I could have set Profile 1 to have additional bass emphasis for action movies. I could have also done separate measurements and profiles with the movie screen up or down. These are the kind of nuances that can make or break important aspects of a system's audio performance. You just don't get these kinds of options with many other room correction solutions.
Just like ARC-1, you can assign calibration profiles on a source-by-source basis or even turn ARC off for a particular input. In my case, I assigned the 7.1.4 Atmos profiles to my Blu-Ray, AppleTV, and Roku sources. I assigned the two-channel profile to my stereo sources. I created two different stereo inputs and assigned the 2.x and 2.0 profiles to those. In a nutshell, ARC-2 is extremely flexible and powerful and even better than its predecessor.
Inputs Go Virtual
There are no source input buttons on either the chassis' face or the remote control. Every input is virtual. To select the input you want, you need to scroll through them one at a time (the sole exception to this rule is if you use Anthem's iOS app or IP or RS-232 commands). This took some getting used to, but you have a seemingly infinite number of inputs at your fingertips.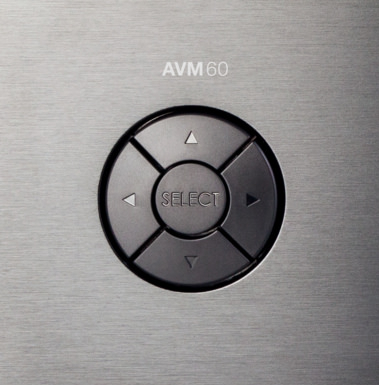 There are no physical input buttons on the AVM 60. You scroll through the virtual inputs you create either from the unit's front panel or from the backlit remote control

As you'd expect in a high-end pre-pro, every input is assignable.  You can assign any HDMI input, digital input, or analog input to a source. You can even have analog inputs as fallbacks should there be no digital signal. You can even have two or more inputs be exactly the same with the only difference being the the ARC speaker profile. You could therefore have one input designated as "Blu-ray with screen up" and another as "Blu-ray with screen down" and apply a difference ARC profile to each. While custom installers will perform these tweaks for affluent clients, it's important to highlight these granular features for the enthusiast crowd too.
The Anthem Remote Control App
Anthem will be releasing a remote control mobile app for the AVM 60 and MRX x20 models that is geared towards end-users. The app isn't ready just yet. The company's focus on ARC Mobile delayed completion of the new AVM 60 remote control app.  I spoke with Nick about the forthcoming Anthem remote control app. While it's not geared towards custom installers, it sounds like it will provide a nice experience for end users.
Anthem's back-lit IR remote control for the AVM 60 offers a clean layout and easy access to basic functions.
If you're an end user without a third party IP-based controller and you simply can't wait for the remote control app there's nothing stopping you from downloading the Anthem remote control app for the MRX x10 models in the short term. I'd look at this as a bandaid for volume and input selection where you absolutely cannot use the included IR remote.  Anthem will tell you outright that this older remote control app not designed for the new units. I'll echo that it's not a smart idea. You will definitely run into incompatibilities. I tried it and experienced several issues trying to use the mobile app for the MRX x10 models with the AVM 60.
Hi-Res Music Streaming with DTS Play-Fi
By all accounts I should be enthusiastic about DTS Play-Fi. It allows you to stream all major hi-res music file formats. It's a technology that is being adopted by multiple vendors. Therefore you theoretically aren't locked in to a particular brand or vendor. Yes, it does down-sample higher bitrates but that isn't a glaring drawback for me.  All in all, DTS Play-Fi works and sounded really, really good on the AVM 60, but I wanted to note a few items.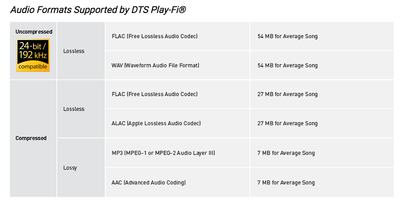 DTS Play-Fi supports most of today's most popular compressed and uncompressed hi-res music file formats and traditional lossless music formats.

DTS Play-Fi isn't integrated into Anthem's app.  You need to download and use the DTS Play-Fi app. You also can't use DTS Play-Fi to work as supplemental zones for the Anthem.  When I first got the Anthem, I was hoping I could use the Anthem as a DTS Play-Fi source.  In other words, I wanted to connect DTS Play-Fi speakers or DTS-compatible equipment to the Anthem to extend zone functionality. I was hoping I'd be able to create DTS Play-Fi virtual inputs so that I could configure an input as, "DTS Play-Fi Kitchen" or "DTS Play-Fi Whole House."  Then, I could send whatever source I wanted to that Play-Fi enabled zone.  Alas, none of that is possible. That was a real disappointment for me and I'm not sure if DTS has any plans to expand the ecosystem to support this kind of model.  It would be very cool if they could. It would make the AVM 60 a much more appealing hub for connected audio.
That limitation aside, DTS Play-Fi's glaring Achilles heel is the app's user interface. I've written extensively about the app's UI before. It's just not very good and is in need of an overhaul.  Simple things like a consistent menu system or being able to enable hi-res streaming are unnecessarily convoluted.  Given its current feature set, DTS Play-Fi is "nice to have" but I wouldn't look at it as a killer feature on the Anthem.
Software Bugs and Firmware Upgrades
I was among the first reviewers to get an AVM 60 back in July but my experience was riddled with frustrating software glitches that persisted in one form or another for over two months. Some were minor and some were significant. Consequently, I spent countless hours debugging and making adjustments to the AVM 60.
A product's value isn't limited solely to its feature set and performance.
The most gnawing problem was the AVM 60's inability to retain an IP address on my network. Using DHCP or manual addressing didn't make a difference. The AVM 60 would fail to retain an IP address and fall off the network after a few minutes. Without an IP address, I couldn't reliably stream content to the AVM 60 via DTS Play-Fi. Worst of all, I couldn't run ARC calibrations (remember ARC is now network based!) and I couldn't use the iOS app for basic control. I worked extensively with Nick, to debug my situation, which was evidently common to a very small number of other AVM 60 installations. A few firmware versions later, the problem was fixed and everything was copacetic.
I've worked with Anthem's support as both a consumer and reviewer over the years. Every experience has been extremely positive.  Anthem's support staff is highly competent and knowledgeable. When you buy an Anthem product, you get some of the best support in the business. Remember, a product's value isn't limited solely to its feature set and performance.
Confused about what AV Gear to buy or how to set it up? Join our Exclusive Audioholics E-Book Membership Program!
Recent Forum Posts:
ellisr63 posts on October 22, 2019 12:46
A few questions…
1. How do you hookup the STR preamp to the Yamaha cxa5100, Does it get hooked up as an output or an input on the Yamaha?

2. Will this work if you are running biamped on your front 3 channels?

3. When you run YPAO on the Yamaha do you not run the front channels, or are you not running Athems room tune software?
Danzilla31 posts on October 08, 2019 14:59
Erod, post: 1343970, member: 89019
ARC Genesis sets my Dolby offset to -12 so the overall system baseline is based on 100dB.

The result is, my levels end up being around 62dB. I think it does this so that all my channels hover closer to 0. I generally get -3 or -4 with my fronts, and +2 to +6 with surrounds and ceiling atmos speakers. My sub ends up at around -5.

As a result, my volume control typically sits between -25 and -15, depending on source material.

Sounds awesome, but I've never had a room correction change my baseline off of 75dB like this. Genesis is the first to do that.
I just turned mine off did it all manual that's what I usually do with all my recievers although I ran Genesis multiple times it never changed my Dolby offset from 0
That's interesting it did that for your setup
Erod posts on October 08, 2019 14:52
ARC Genesis sets my Dolby offset to -12 so the overall system baseline is based on 100dB.

The result is, my levels end up being around 62dB. I think it does this so that all my channels hover closer to 0. I generally get -3 or -4 with my fronts, and +2 to +6 with surrounds and ceiling atmos speakers. My sub ends up at around -5.

As a result, my volume control typically sits between -25 and -15, depending on source material.

Sounds awesome, but I've never had a room correction change my baseline off of 75dB like this. Genesis is the first to do that.
Danzilla31 posts on October 07, 2019 13:33
VonMagnum, post: 1343782, member: 86028
If you ran room correction calibration, reference is normally 0.
Cool yes I did normally I am just fine with -35 if I want to get crazy max I can realistically handle is around -27 so I'm in good shape for where I want the room to be. Thanks!!!
VonMagnum posts on October 07, 2019 11:45
If you ran room correction calibration, reference is normally 0.
Post Reply