Axiom Audio Epic 80 Loudspeaker System Review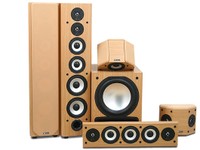 The first thing I noticed about the Axiom Epic 80 System was the incredible presence and detailed highs. The clarity and imaging put forth by the M80s was refreshing and worthy of designating them as a movie theater killer. As good as this system was, Axiom's recent dramatic price increases have put their products into a price class of much higher caliber competitors.
The Axiom Epic 80 Speaker System was quite the bargain when we reviewed it in the 2003. However, their prices have gone up substantially since then putting them up against higher caliber products.