NuVision Lucidium FX10 LS Series Preview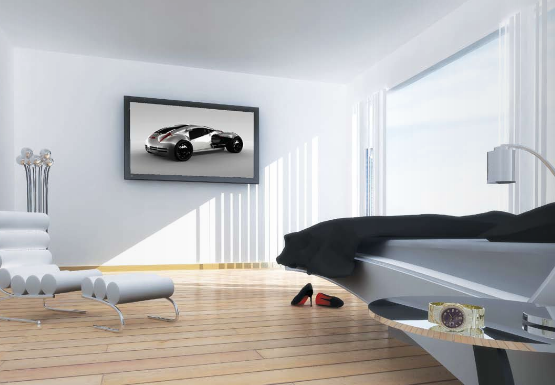 NuVision FX10 LED LCD TVs
Summary
FX10 true 5:5 pulldown/frame doubling
240Hz (24 fps x 5 x 2
FFM (Frame Forward Motion)
Tru Dimming
Bi-directional RS232 control
IR pass-through
Frame: recyclable aluminum
U Color premium option ($1500)

Executive Overview
We reviewed NuVision's NVUFX5LS LED TV and found it to be a great performer. Now, the company has announced the introduction of the Lucidium FX10 LS series of super slim LED/LCD HDTV sets. The initial product range will include 46" and 55" sizes to be available October, 2010 with a 40" version due out 1st quarter, 2011 and all three models represent NuVision's most advanced series to date.  NuVision's 3D platform is capable of working with Blu-ray and broadcast sources, while providing the visual performance and exceptional build quality that has become synonymous with the NuVision brand. The Lucidium FX10 LS series is also available with U Color - a service which allows you to décor-match the TV's handcrafted aluminum bezel to any color. Additionally, a fully reflective mirror finish is available on the 55FX10 LS. All FX10 LS sets come with two pairs of 3D glasses included. The FX10 LS series is a complete line of high performance HDTV's that will appeal to consumers looking for the finest in technology and style.
Features & Technology
FX10 Technology - NuVision's FX10 products employ proprietary software embedded within the video processor that eliminates the need for the 3:2 pulldown algorithm by performing a true 5:5 pulldown and frame doubling, generating true 240Hz performance (24 frames per second x 5 x 2 =240 frames per second), delivering an absolutely stunning motion picture experience (half of the processing is done by the on-board video scaler, hence the 5x2) NuVision's video processor also handles the FFM (Frame Forward Motion), which compares two consecutive frames and uses proprietary frame doubling interpolation algorithms to generate new frames for blur free, breathtakingly clear, fast sports motion and action sequences.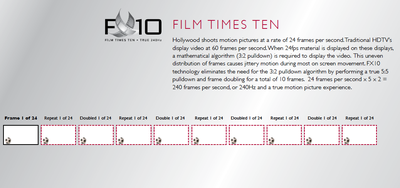 Tru Dimming - Because Edge lit LED backlit LCD panels are lit from the top and bottom and the backlight is diffused to fill the entire viewing area, NuVision engineered their Tru Dimming algorithm to achieve the highest degree of lighting uniformity. Tru Dimming improves color depth, contrast, and both black and white levels to deliver the most balanced and detailed picture possible. 

Custom Installer Friendly - Every NuVision television offers bi-directional RS232 control for seamless integration into home automation systems.  They also offer IR pass-through to control other devices and an IR input to control the set, eliminating the need for separate IR emitters.

NuVision is environmentally conscious and all TVs are mercury free and require 40% less power to operate than comparably-sized CCFL sets. The TV frame is made of recyclable aluminum and each dealer is expected to take responsibility for proper recycling procedures at the end of the TV's life cycle.
Customer service seems to remain high on NuVision's list of priorities. All NuVision TVs come with NuCare, a two-year warranty as well as a 30-day defective exchange policy. In the unlikely event that the TV should ever need service, NuVision will see to the repair within two business days in the customer's home.
Pricing
The 40FX10LS will have an MSRP of $4,499, the 46FX10LS will have an MSRP of $5,499, and the 55FX10LS will have an MSRP of $6,999. The 55FX10LS Mirror will have an MSRP of $8499, and the U Color premium adds $1500 to any of the FX10LS series.
About NuVision
Founded in 2005, NuVision, Inc. is a manufacturer of ultimate performance video components. Known for their premium build quality and elegant appearance, NuVision products are engineered to be the finest home cinema solutions available. To ensure that customers receive the best support, service and set-up, NuVision products are only sold through an exclusive, pre-qualified dealer network. NuVision garnered 7 first place awards in the prestigious Inside Track 2010 Supplier Loyalty Test. For more information visit: www.NuVision.com

Unless otherwise indicated, this is a preview article for the featured product. A formal review may or may not follow in the future.
Confused about what AV Gear to buy or how to set it up? Join our Exclusive Audioholics E-Book Membership Program!