Audyssey Audio Dock South of Market Edition Preview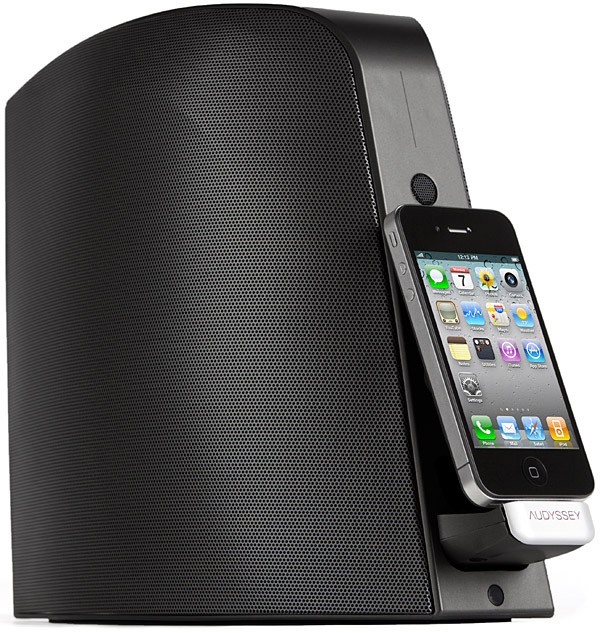 Audyssey Audio Dock South of Market Edition
Summary
Two 4-inch woofers

Two 3/4-inch tweeters

Four discrete amplifiers

Active crossovers with bi-amplification

30-pin iPod connector

Bluetooth (with A2DP)

3.5 mm line input

3.5 mm microphone output (VoIP)

USB 2.0

Dimensions: 5" W x 9" D x 9" H (13 x 23 x 23 cm)

Executive Overview
A decent quality Lifestyle iPod/iPhone dock isn't exactly new, but one that includes tons of mainstream technologies typically found in AV receivers and home theater in-a-box (HTiB) systems is. Designed to fit into your connected lifestyle, the Audio Dock: South of Market Edition from Audyssey perfectly complements your iPhone or iPod Touch. Its innovative design fits anywhere, sounds great, and streams music and calls wirelessly. This dock is full of technology from Audyssey and it's coming to stores this November.
The Audio Doc is designed to keep you from being tied down. Bluetooth wireless technology streams your music wirelessly, but you can just pick up your iPhone/iPod Touch to text, email, or select your next song – you can have the freedom to do what you want when you want while never stopping the music. When you dock your iPhone/iPod, the device immediately begins to charge. It's that simple. But when you connect the dock to your computer via USB, you also sync to iTunes for your latest music. So essentially, like most docks, you can charge, sync, and play music from your iPhone or your computer - and no extra cables are required.
Another neat feature is speakerphone calling. The Audio Dock allows hands-free speakerphone calls, so you can type, cook, or even play a video game while talking on your iPhone. You can keep your iPhone docked and be free to walk across the room and continue the conversation. Audyssey's voice-processing algorithms and echo cancellation technology makes calls sound clear as day. For those without an iPhone, the dock includes a built-in mic - so you can still Skype or do VOIP like never before.
Audyssey iPhone App
If you download Audyssey's free iPhone app, you can really customize your sound. The app lets you create and store new EQ curves to control the levels of specific frequencies and even personalize your dock to suit your musical tastes. Think you need a little extra bass or a slight boost to the mid-range? The Audyssey iPhone App offers you the capability to control and customize your dock in a new way.
Features
Audyssey BassXT
The only technology that can extend the response of small speakers to reproduce the lowest frequencies. The result is extraordinarily deep bass you typically only expect from large subwoofers.

Audyssey Dynamic Voice
Delivers clear, natural and intelligible voice communication. It uses microphone array processing to reduce background noise and echo cancellation to improve sound quality of phone calls.

Audyssey EQ
Provides accurate musical balance, vocals and soundstage. Fine-tunes and calibrates the speakers for optimal sound.

Audyssey Dynamic EQ
Maintains bass and rich sound at low volumes. Continuously monitors your content to make vocals intelligible and background detail clear at low volumes.Learn More

Audyssey Dynamic Volume
Automatically controls the volume level so no content gets too loud or too soft. For movies, audio books and vocals it makes voices much more clear and understandable. For music listening, it maintains a consistent level, eliminating the need for constant volume adjustments.

Audyssey Tilt
Easily adjust both treble and bass levels with one control. If you want a warmer sound, tilt toward the bass. Not only will the bass frequencies get a boost, but also the treble frequencies will be diminished.

Audyssey Fast Slope Tone
Provides precise adjustment of Treble or Bass without affecting other frequencies, unlike most tone controls which affect only the very high and the very low regions.
The Audyssey South of Market Edition Audio Dock will work with teh following Apple Products (specifically):
iPhone 4

iPhone 3GS

iPhone 3G

iPod touch (1st, 2nd, 3rd generation)

iPod nano (4th and 5th generation)

iPod classic
It's a bold new product that offers some impressive fatures that go above and beyond the norms of iPhone or iPod docs. At $399, it's squarely planted at the higher-end lifestyle market, and not at budget-conscious mortals looking for bells and whistles for next to nothing. Still, they seem to have a lot of features and the build quality looks impressive.

Unless otherwise indicated, this is a preview article for the featured product. A formal review may or may not follow in the future.
dkane360 posts on September 16, 2010 23:35
Looks really nice, but I probably wouldn't spend that much on an ipod dock. I'd like to see it compared to the B&W zeppelin though.
BWG707 posts on September 16, 2010 17:29
It would be alot more interesting if it was a totally digital music transport.
BoredSysAdmin posts on September 16, 2010 16:24
Sounds mildly interesting indeed, but what would really interesting is mobile app (android preferably) to display and control Audyssey parameters and test results from avr. Or for that matter all AVR settings as well…
Post Reply
Confused about what AV Gear to buy or how to set it up? Join our Exclusive Audioholics E-Book Membership Program!