2018 Audioholics Christmas Gift Guide
2018 Audioholics Christmas Gift Guide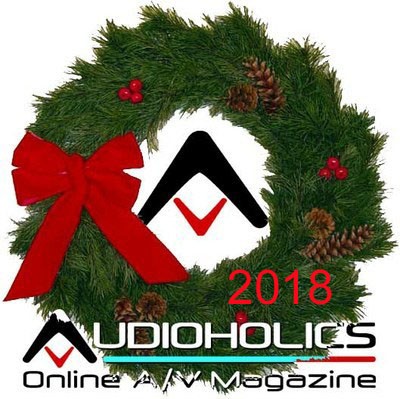 2018 Audioholics XMAS Gift Guide
Here is our 2018 Audioholics AV electronics Christmas Gift Guide of AV goodies that will bring you and your loved ones audio joy and holiday cheer. We selected an assortment of products ranging from AV receivers, powered subwoofers, wireless speakers, and 4K streaming devices that will keep you entertained or secluded away from family get-togethers. 
Note: Pay special attention to the limited time special pricing on some of the products on this list.
11.2CH 4K Atmos AV Receiver: Onkyo TX-RZ730

MSRP: $999 (special price $799) | Buy Now
Onkyo is dropping the gauntlet this year offering the most AVR per dollar we've seen for under $1k. The TX-RZ730 offers 11.2CH processing (with 9 built-in amplifiers at 100 watts/ch) to support a full 7.2.4 speaker layout if you add a 2Ch external amplifier or just do 5.2.4 with the built-in amps. THX Certified Select ensures this AVR has proper bass management and other post-processing features you may decide to take advantage of. Onkyo has got you covered with full 4k HDR support and all of the latest streaming apps including Sonos and Airplay and up to 3 zones of audio. Weighing almost 24lbs with a max power consumption of 750 watts, this baby packs a pretty good punch. We recommend adding a nice 2CH amplifier for the front channels and letting the other 9 internal amplifiers run a full-fledged 7.2.4 speaker setup (dual subs a must).
Onkyo TX-RZ730 11.2CH 4K Atmos Receiver (left); Triad Sat 3.0 Passive Soundbar (right)

Passive Soundbar: Onwall Mini SAT 3.0
MSRP: $900 | Buy Now
If you already have an AV receiver in your system and you want as close to discrete LCR speaker performance from a compact single box that blends in with the decor of your TV, you'll want to check out the wide assortment of passive soundbars from Triad. The standard size of the Mini SAT 3.0 is 44" perfect for your new 50" flatscreen TV. Triad's new Mini Sat 3.0 has been well received as a compact, high-performance front speaker solution. The 6" tall OnWall Mini Sat 3.0 integrates three discrete mini sats into one handsome enclosure, for onwall use with flat panel video displays. The three 4" paper/fiber blend woofers and 1" tweeters will be a huge upgrade from your TV's built-in speakers.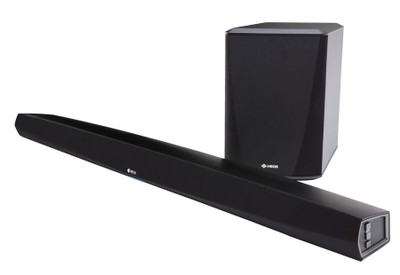 Heos HomeCinema HS2 Soundbar

Wireless Soundbar & Subwoofer: HEOS HomeCinema HS2
MSRP: $799 (special price $499) | Buy Now
If you want a wireless soundbar loaded with the latest in streaming features and HD connectivity that works with Alexa and Airplay2, look no further than the HEOS HomeCinema HS2. The HEOS HomeCinema HS2 features bi-amplified 2"x5" mid-woofers and soft-dome tweeters with Class D amplification and advanced DSP processing with 4k HD video support and Dolby TrueHD and DTS-HD decoding. You also get a wireless subwoofer with 2 built-in 5.25" long throw woofers to feed your bass addiction. Audiophiles rejoice as this baby supports WMA (up to and including 192kbps AAC), MP3 (up to and including 320kbps), WAV, ALAC and FLAC (up to and including 24-bit/192kHz), and DSD: 2.8MHz or 5.6MHz. At retail, this product was already a good deal but at the special sales price of $499, it's an absolute steal!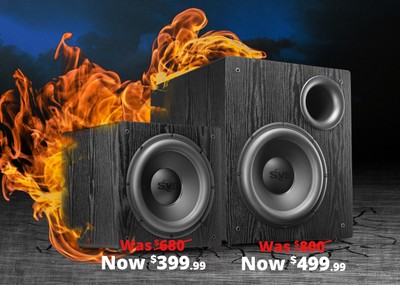 SVS SB12-NSD and PB12-NSD Subwoofer Blowout

Powered Subwoofers: SVS SB12-NSD and PB12-NSD 

All-Time Low Price
SVS Black Friday Subwoofer Deals: SB12-NSD | Buy now @ $399 and PB12-NSD | Buy Now @ $499 

SVS heard the demands, so it's back! Starting today, factory fresh SVS subwoofers hit an all-time low price for an extremely limited time. The acclaimed SVS SB12-NSD sealed cabinet subwoofer joins the hugely popular PB12-NSD ported cabinet subwoofer for a seismic Black Friday deal. Both models are legendary for their massive and effortless output with stunningly deep low-frequency extension and pinpoint accuracy. These are truly world-class subwoofers suited perfectly for music and home theater. Both models feature high-excursion 12-inch SVS drivers and robust 400 watts RMS, 800+ watts peak power Sledge amplifiers with intelligent DSP processing. For a limited time, they're available at nearly half the original price and FREE shipping!       
Fluance RT80 Turntable (left); RBH Sound H2 Wireless Headphones (right)
Turntable: Fluance RT80
MSRP $199 (special price $169 with free shipping, Nov-23-26th) | Preview | Buy Now
Vinyl is in full force again these days and Fluance is making it easy to get a budget-conscious turntables that will bring out the best in your vinyl collection.  The RT80 plays traditional LP and EP vinyl albums (33 1/3 or 45 RPM). Whether dusting off a classic jazz album or spinning up the 2-disc music soundtrack for A Star is Born, for the first time, Fluance's turntable will transport you through a stunning adventure down the sonic spectrum.  RT80 features an AT91 Audio Technica cartridge, diamond stylus, Belt Drive, defeatable preamp, and wood cabinet. Become a hipster or relive your youth again all for a very down to earth price, especially during this special limited-time promotion.
Wireless Earbuds: RBH Sound ProStereo H2

RBH keeps making wireless headphones better every year as evident by their latest effort, the ProStereo H2. This time the product is built specifically for hi-res audio. A lot has changed in Bluetooth technology with the addition of aptX HD and LDAC and the new ProStereo H2 features both hi-resolution audio codecs, making it an important musical companion for anyone streaming from an Android phone. These headphones will handle all of your high-res audio with ease and keep you light and mobile with up to 9 hours of listening time before a recharge is needed. Audiophiles rejoice, you can tune out the rest of the world in audiophile nirvana.
Special RBH Sale: On a budget, but still want audiophile wireless sound? RBH is blowing out their EP-SB Wireless headphones | Buy Now and their wired EP3 | Buy Now for only $49/ea (67% discount)! These are insanely good deals (includes free shipping) so spread the holiday cheer to family and friends as they make great stocking stuffers. Be sure to check out all of the other great speaker sales on this page too.
Dayton Audio MK402BT Wireless Speakers (left); Sony Core SSCS5 Bookshelf Speakers (right)

Budget Bookshelf Speakers: Sony Core SSCS5 
MSRP: $149/pr (special price $73/pr shipped) | Buy Now
Don't let their price fool you. The Sony Core speakers are some of the best budget speakers on the market, directly competing against the venerable Andrew Jones Pioneer speakers. The SSCS5 are a 3-way, 3-speaker ported system featuring a 5-1/4" Foamed-Mica Cellular Reinforced Woofer, 1" Polyester Main Tweeter and 3/4" Sony Super Tweeter to extend bandwidth to over 2X human hearing (50kHz) which Sony claims is necessary for high-resolution audio.  Regardless of the validity of that claim, these speakers are a forum favorite and at 1/2 their retail price an absolute steal! They are 6 ohms rated with 100 watts power handling. We listed this speaker two-years in a row for a reason. The value/performance ratio is off the charts!
Budget Wireless Speakers: Dayton Audio MK402BT
MSRP: $98/pr (special price $89/pr) | Review | Buy Now
Looking for a pair of budget Bluetooth speakers that actually perform well? We got a chance to do a full review of Dayton Audio's MK402BT Bluetooth speakers and liked what we saw and heard. For under $100/pair you get all the upscale audiophile features of Dayton Audio's passive MK402 speakers along with a 20 watts per channel amplifier. These aren't the typical mediocre plastic wireless computer speakers you find at most department stores. Instead, the Dayton MK402BT is a high-quality speaker with decent bass extension that almost defies its asking price. This is a perfect gift for your son or daughter to use in a college dorm.
Monolith USB DAC (left) ; Amazon 4K Fire TV Stick (right)

USB DAC: Monolith by Monoprice
MSRP: $99 (special price $69) | Review | Buy Now
The Monolith USB DAC headphone amplifier is one of the smallest headphone amps on the market. But, good things often come in small packages.  Monolith contains an internal 32-bit, 384kHz ESS Sabre DAC.  The ESS ES9018K2M chips use the patented 32-bit Hyperstream DAC with Time Domain Jitter Eliminator, which will satisfy the most demanding audio enthusiasts.  In unison with this ES9018 Sabre DAC chip, Monoprice also spared no expense and included an ESS ES9601 chip for its headphone driver.  Monoprice also included a Savitech SA9227 USB streaming controller, which is a new product for Taiwan-based Savi Audio as well.  This controller can support 16/24/32 bit resolution and 32, 44.1, 48, 88.2, 96, 176.4, 352.8, and 384kHz sampling rating. Audiophiles that want to take full advantage of high-res audio can greatly improve the sound feeding their headphones over the standard DAC found in a laptop and most smartphones and tablet devices.
Streaming Media Player: Amazon 4K Fire TV Stick with Alexa
Media streaming is quickly replacing the hard disc format while also having people cut the cord. Many Blu-ray players and HDTV's do a poor job serving this function, so external devices are usually the way to go. Amazon has updated their venerable Fire TV Stick to 4k resolution capability which can be taken advantage of on select program streaming services on Netflix, and Amazon Prime. Best of all, it is extremely affordable allowing you to buy multiple units to connect to ALL of your displays in your home and/or to take one when traveling so you don't have to rely on mediocre TV programming typically found in most hotels. If you haven't seen and heard how awesome Netflix original shows like Daredevil or Amazon Prime's Man in the High Castle, you owe it to yourself to check them out.
Sound Reproduction: Psychoacoustics of Loudspeakers and Rooms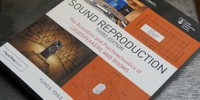 What are the characteristics that determine the sound quality of an audio system? This is a question that for too long has been shrouded in mysticism as if there were some ephemeral magic that touched some systems and not others. But, the truth is this question can be approached objectively, and indeed that is what Dr. Floyd Toole has been doing with over a lifetime of scientific research. The results of his research are presented in a clear, concise third edition of his book 'Sound Reproduction,' which makes for an enlightening read for neophyte audio enthusiasts and long-time audiophiles alike. For Audioholics that want a serious education of the science of sound, you're gonna want to get a copy of this book.
Blu-Ray: Steven Wilson To the Bone

MSRP: $14.79 | Buy Now
We are big fans of Steven Wilson both in his solo career and his prior life as frontman of Porcupine Tree. We absolutely loved his last Blu-ray release Hand Cannot Erase which was a progressive concept album written from the perspective of a woman who lived in a large city between 2008 and 2015 and went unnoticed when she died in her apartment.  Like that Blu-ray, Wilson's 5th solo release To the Bone is mixed in 96/24 5.1 LPCM and DTS-HD Master Audio 5.1 and the fidelity is superb. The secret? He doesn't allow a master engineer to touch the mixes which helps to preserve dynamic range. He also uses the studio as an instrument for making his mixes as opposed to trying to recreate a live performance.  While To the Bone sometimes lacks the musicianship and often superb instrumentals from Hand Cannot Erase, its more pop-centric theme is easily digestible for the casual listener that wants to get their feet whet into the roots of progressive rock.
Merry Christmas From Audioholics
With the holiday season upon us, we'd like to take the time to say thanks to our readers for their support and encouragement to keep us doing what we love. It's the time of year when everyone should take a few minutes and be thankful for everything they've got, especially their loved ones. Audio, although a passion of ours, is a luxury item we're fortunate to be able to indulge in. We enjoy sharing this passion in hopes that guiding you towards informed purchasing decisions brings you countless hours of quality entertainment from class-leading products for many years to come. In closing, we sincerely hope everyone has a great holiday season enjoying the spirit of Christmas surrounded (no pun intended) by family and friends.  In the end, that's all that really matters.
Feel free to tell us which items on this list have your interest or if you are contemplating others in the related forum thread below.