Dayton Audio MK402BT Bluetooth Speaker Review
Dayton Audio MK402BT Bluetooth Speaker Review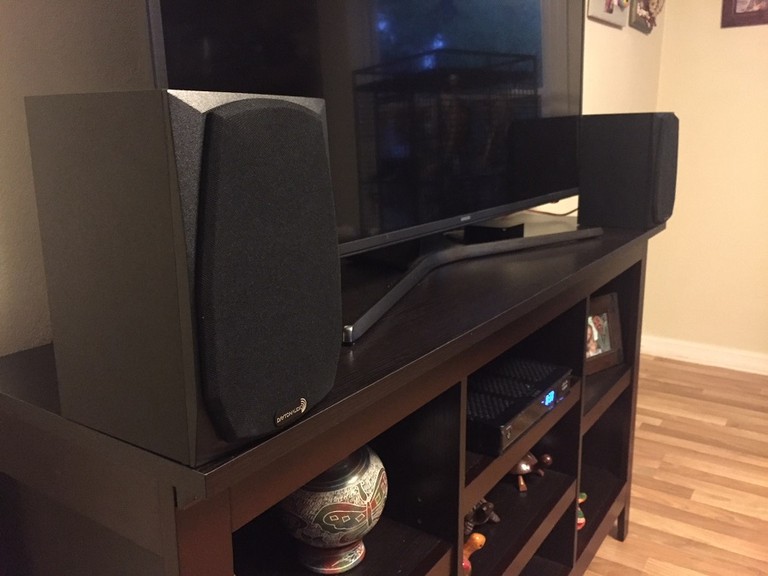 Design: 2-way vented bookshelf
Woofer:

4" high-excursion driver with a treated-paper cone

Tweeter: 3/4" soft dome

Output power: 40 watts RMS/80 watts max

Frequency response: 60-20,000 Hz

THD+N: <0.7%

Crossover: 2.5 kHz

; 2nd order low pass, 3rd order high pass

Bluetooth: 4.2

Dimensions: 9-1/2" H x 5-3/4" W x 6-5/8" D

Weight: 5.5 lb ea
Pros
Good sound quality for the price
Ease of setup
Cons
will not fill large rooms with audiophile sound
There is currently a preponderance of single powered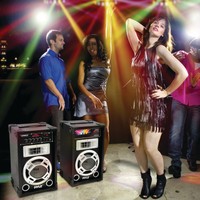 Bluetooth and WiFi speakers on the market like the RBH Soundkick ($129), or the Oppo Sonica ($299), but a simple Google search shows a lack of decent budget powered Bluetooth speaker pairs out there. Sure, you can get a Disco Jam pair of active speakers from Walmart for $99, but like mopeds, they're fun to ride, but do you really want to have your friends catch you on one.
It doesn't mean they aren't available, in fact we reviewed the Edifier S2000 Pro Bluetooth Powered Speakers recently and found them to have fantastically detailed sound with gorgeous cabinetry for $400/pr.  But, my father always says anyone can buy a $50 bottle of wine and say it's good. The key is to buy a $20 bottle of wine that tastes like a $50 bottle for $10. Enter the Dayton Audio MK402BT.
I recently did a preview article on the Dayton Audio MK402BT Bluetooth speakers with the idea in mind that they certainly would make for an interesting review sample. The end result of the preview is that for $99 a pair you get a high-quality set of Bluetooth speakers with emphasis placed on sound quality and an outstanding feature set. But the question is, as always, "What will be sacrificed to bring the price down to such modest levels"? Be sure to watch our YouTube overview and read this review to find out....
Dayton Audio MK402BT Bluetooth Speaker Overview
Unpacking and Appearance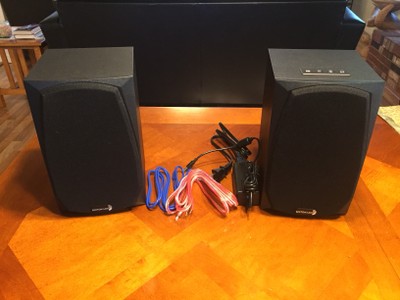 The speakers arrived double boxed with air filled cushioning bubble wrap in between each box layer. The inner box contained both speakers which were wrapped in plastic bags and nestled between Styrofoam inserts. Also supplied is a decent gauge 6' speaker cable to run from the slave speaker to the powered speaker. Definitely above the quality you would expect from a $100 pair of Bluetooth speakers. Also supplied is a 5' AUX cable in case you need to plug into a 3.5 mm port.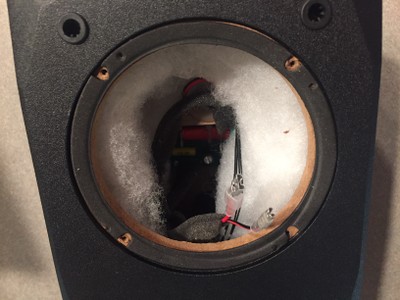 The speakers themselves look just like the passive Dayton Audio MK402 version Audioholics reviewed recently . For the price, these are a good-looking pair of speakers. They use a textured black vinyl finish that, combined with their chamfered front baffle edges, do project some sense of style. The soft front grilles fit snugly onto the speaker cabinet via posts and slots and make the speakers look a bit plain. The glossy black tweeter and beefy surround on the woofer along with its concave dustcap give the MK402BT a better look if that is what you're going for. With the attached grilles the speakers take on a more sedate appearance.
Also, like the passive version, the drivers used in this design play a large role in this small speaker. The 4" high-excursion driver with a treated-paper cone is rated to play down to 60 Hz and still retain vocal clarity. In addition, the 3/4" tweeter is designed to produce the high frequencies with a wide dispersion. These two drivers, paired with Dayton Audio's simple yet effective crossover, should create a large soundstage with dramatic imaging.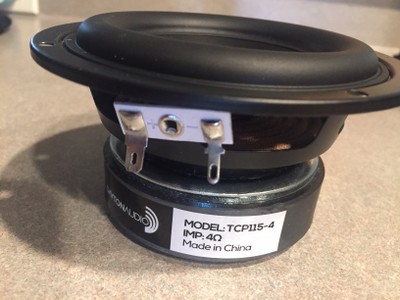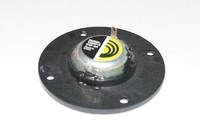 Opening the speaker reveals that the MK402BT does in fact use the Dayton Audio TCP115-4 as the bass driver just like the passive version. Inspecting the interior shows that they are virtually identical in design and structure aside from the amplifier in the master speaker. These speakers have a claimed bass level down to 60Hz, which is quite a feat from a 4" bass driver. The bass driver used in these speakers is rather heavy-duty, considering the cost of the speakers. It has a relatively low resonant frequency for such a small cone with a stated Fs of 53.8 Hz. Its beefy motor uses a ¾" tall, 3" diameter magnet with a vented pole piece. The voice coil is a 1", four-layer CCAW (copper-clad aluminum wire) wound around an aluminum former for better thermal dissipation. Its suspension system uses a 3" diameter spider along with a ½" wide surround; a very brawny surround for a 4" woofer! The cone is made from treated paper with an inverted dustcap.
The Dayton Audio TD20F 4 ¾" silk-dome tweeter with ferrofluid cooling is the same tweeter used in the passive version of the MK402 as well. Such a small diameter tweeter should have wide dispersion even at very high frequencies. The MK402 speakers use a four-element crossover network with a 2.5 kHz crossover frequency: an inductor and capacitor are used for a 12dB/octave low-pass filter on the woofer, and a capacitor is used for a 6dB/octave high-pass filter on the tweeter.
The built-in amplifier on the MK402BT is rated to provide up to 80 watts of max output power, but upon further inspection we see hidden in the specs that it is 40 watts RMS and 80 watts max or 20 wpc, which is a bit misleading to the uninitiated who may think the 40 watts is per channel and not total power for both channels (or 20 watts/ch). Still for less than $100/pair, we aren't complaining and neither should you.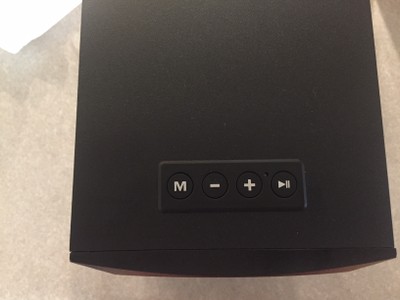 The top of the speaker has buttons that allow you to change tracks, volume, and pause/play songs from the speaker itself.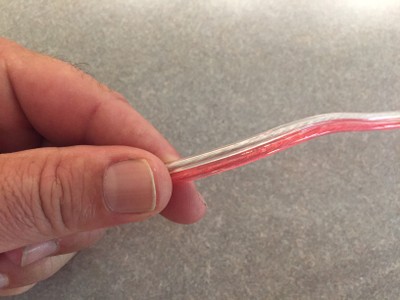 A reasonably hefty gauge speaker wire is included with the pair and high-quality binding posts are used to connect the speakers which give the option of beefing up the gauge for longer than a 10' run. I knew from previewing these speakers that these would be a tethered pair, but I checked again and nowhere on the Dayton Audio webpage does it say this. Buyers should be aware (or beware) that the second slave speaker is a wired version of the original that needs to be tethered to the master speaker. Not that this is necessarily a bad thing, many wireless stereo pairs of speakers I have reviewed have had difficulties playing true stereo sound from one wireless speaker to another without a physical connection.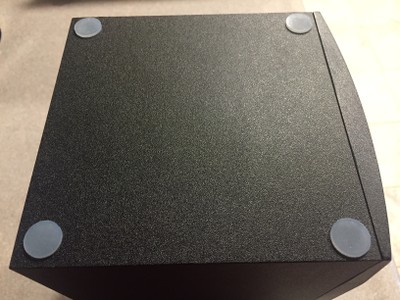 The bottom of the speakers come with translucent rubber pads which do a nice job of sticking the speaker firmly to a hard surface without marring the finish of your furniture.
Setup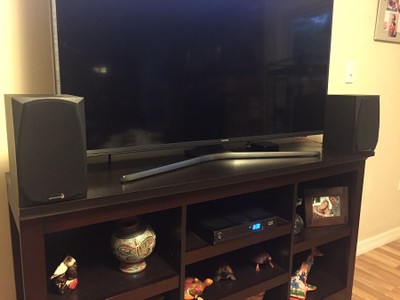 The speakers were placed four feet apart on top of my entertainment center to the sides of my flat screen T.V. with a height of 36 inches off the floor and a distance of 9 feet from the listener. As with most Bluetooth speakers, setup was a breeze. Simply connect the power cord to the back of the powered speaker and attach the supplied speaker cable to the slave speaker. When the master speaker turns on, the distinctive sound of a lightsaber powering up can be heard. When the speaker connects to a Bluetooth device R2D2's whistles and chirps are heard, (at least that's what I hear, considering I'm a Star Wars Nerd).  Pretty cool. My iPhone easily connected to the MK402BT speaker and I was ready to go.