iClever BoostSound BTS09 Bluetooth Speaker Review
iClever BoostSound BTS09 Bluetooth Speaker Review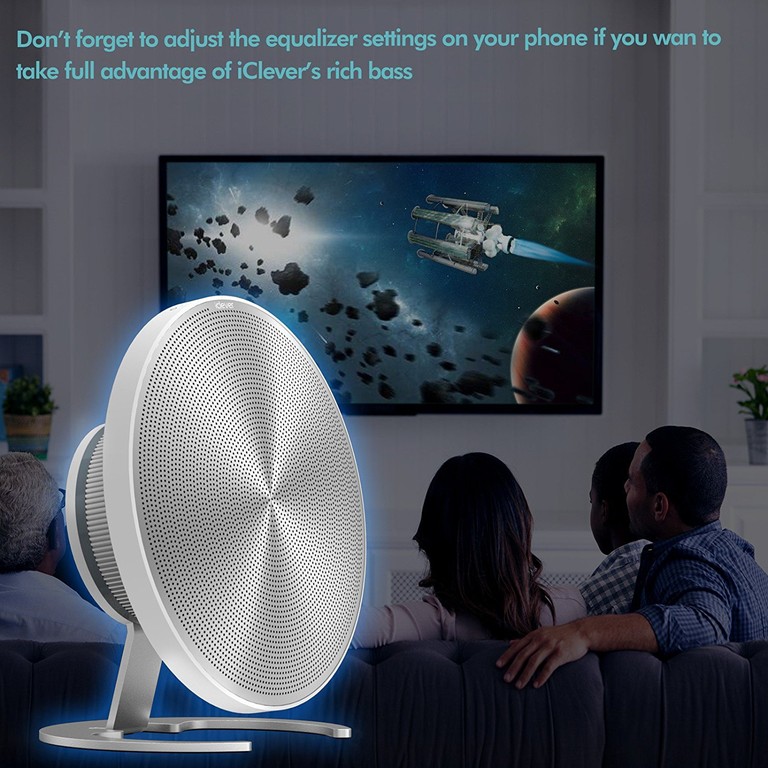 Product Name: iClever BTS09
Manufacturer: iClever
Distributor: Amazon.com
Performance Rating:
Value Rating:
Review Date: May 23, 2017 13:00
MSRP: $ 69.99
Specifications
Bluetooth V4.2

Bluetooth profile: A2DP, HFP, HSP, AVRCP

Speaker: 2 x 10W

Transmission distance: 10m

Working time: about 8 hours

Charging time: about 2 hours

Dimension: 220 x 200 x 130 mm

Size: 836g
Package Contents
1 x IC-BTS09 Bluetooth Speaker

1 x Micro USB Charging Cable

1 x 3.5mm Audio Cable

1 x User Manual

1 x Warranty Card Seller Warranty

Lifetime Support Guarantee

18-Month Replacement Warranty

30-Day Money Back Guarantee
Pros
Durable build
Cool indigo blue backlight
Distortion free at high volumes
Cons
Industrial design not the best aesthetics
Tonality benefits from software EQ
Documentation isn't the most complete
For those of us in northern climes, we take comfort in the fact that the days are getting longer and summer is on the way. Outdoors has become a place of leisure again; no more heavy, hostile environment gear to go outside, just stepping out to the door to relax with a beer and listen to music. And with barbecue and deckchair season in full bloom – it's time to prepare yourself for your annual inundation of budget Bluetooth speakers.

The good news for 2017 is that competition in the portable speaker market has heated up, while associated technology cost has dropped so low you can finally find a decent-sounding battery-powered, portable Bluetooth speaker in the sub-$100 category. In the past, you had to spend a significant amount for a Bluetooth speaker capable of pushing sound with anything more than a handful of watts into a terribly inadequate driver that distorted it into a sonic mess. And let's face it - life is just too short for terrible sound, so it was easy to pass on the tiny noise boxes of the past.

Today, advances in new Bluetooth specs give us near-lossless sound, while batteries can run efficient digital amps and small speakers for hours. This makes budget-priced portable speakers an interesting prospect for anyone in need of a quick-and-easy solution for backyard sound.
Build Quality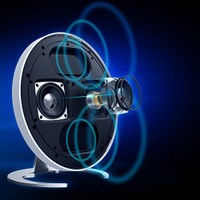 Enter iClever BoostSound BTS09 with LoudBass. Yes, the name is, well… an unfortunate hodge-podge of tech-lite phrases layered on top of something pulled from the cast-off pile at Apple. But, this could be the result of an overseas marketing dept and the realities of today's global economy. While English may be the ad hoc language of international commerce in tech, English speakers may not necessarily be the target market.
But there is no doubting the product behind it is solid – boasting an uncomplicated design and a solidly built speaker with formidable specs. At first glance, the speaker looks like it might actually be a small desk fan. But since a fan's primary function is to push as much air as possible, taking design cues from a fan might actually be … iClever. (See what I did there?)

The speaker itself is enclosed in white plastic, while the front grille and stand are made from aluminum. The construction of the speaker system feels very solid and stable due in equal parts to the quality of the materials and the simplicity of the design.
Controls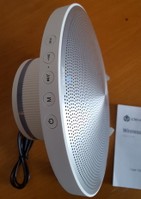 An array of buttons with icons imprinted each run along the top of edge of the speaker, making them easily accessible and intuitive. You'll have no difficulty discerning power on/off, skip forward or back, and pause/play. Take a quick glance through the manual and you'll learn some of the more advanced functions, like double-tap to take a call if you're using Bluetooth on your phone. You can also turn on a mood light setting where the whole back of the speaker glows an indigo blue. You can adjust the intensity of the blue back-light by continually quick-tapping the power button.

Along the underside of the white plastic driver enclosure are input options, including 3.5-mm jack, USB for charging (not an input) and a slot for a micro-SD or TF card.

It's a complete package that provides better sound than you'd expect from the $70 asking price on Amazon.com.

The manufacturer documentation promotes the idea that the speaker is a bass machine… but, it's not so much. It produces loud mid-bass for a small speaker and it's tonality is… well… passable. It does sound loud and larger than its size would suggest. The next closest speaker I've listened to in this size, relative price range and feature set is Cambridge Audio's Minx GO. Although the Minx GO is close in all these areas, it has a clearly nicer tonality providing a warmer sound –  but it won't operate as loud as the iClever BTS09. Today's Cambridge Audio GO is only about $40 more than the BTS09 and will probably give you a slight upgrade in sound quality without the aggressive volume levels.

The iClever BTS09, with its wide dispersion pointed straight into the air, seems to provide a forward, aggressive sound that is sure to cut through the background noise of any crowd within range of its 20 Watt (max power rating) speaker system. It's not a polite tonality – definitely more of a functional way to hear your favorite sounds. And it's definitely not an audiophile experience, even for bass-heads. But let's face it, nobody looks to a portable speaker system when sitting back to evaluate audio quality or accuracy. The iClever BTS09 won't distort at middle-high volumes, which means it meets the all-important minimum requirement for a portable party machine.

Overall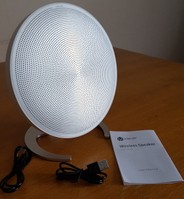 As a lover of high quality sound for music, I have to admit I appreciate having a portable Bluetooth speaker around the house. I've had one around for years, using it practically daily. But I seldom use it for music. Instead, I'm usually playing back audio-books or podcasts to accompany me as I do chores. It's easy to pick up a portable speaker and carry it with me room-to-room, keeping it in Bluetooth proximity to my phone. The odd time I do listen to music on a portable Bluetooth speaker system, it's always a background sound. I don't really "listen" like I do with high-end headphones or a component audio system.

The iClever BTS09 is durable enough to throw into a backpack and take to a friend's place, and you can be confident it will play loud enough to cut through even the most boisterous party atmosphere. But if you're playing back your favorite playlist off your cell phone, this speaker will benefit from playing around with your software EQ to find an acceptable tonality to match your music. I find the device to be a perfectly suitable budget speaker system for its intended purposes. Just don't buy into the marketing material's inference that it provides bass levels comparable to a sub-woofer. This is a budget wireless speaker that performs well for a price that won't break your bank.