2013 Consumer Excellence Award Winners
2013 Consumer Excellence Award Winners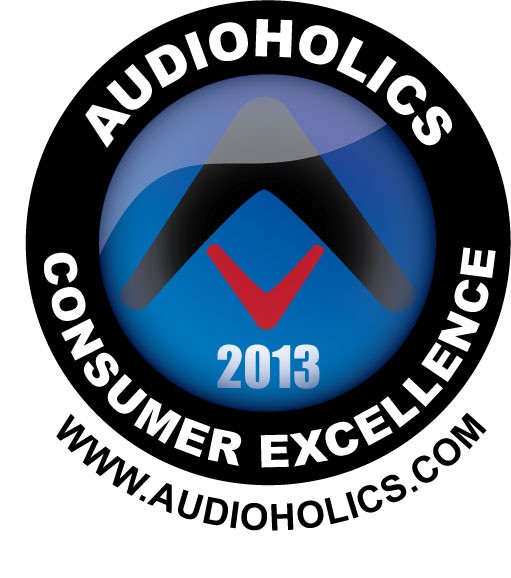 2013 Consumer Excellence Award
While the economy showed signs of recovery in 2013, manufacturers continued to innovate and release new and improved products at all price points to reach a broader market. With all of the fierce competition of manufacturers competing for your hard earned dollars, the consumer wins by having a larger product base to chose from with the latest features and technologies that only a few years ago were largely unaffordable or even unattainable at any price point.  
The prestigious Audioholics Consumer Excellence (CE) Awards program recognizes the most advanced and forward-thinking products in crucial CE categories submitted for consideration by the industry's leading manufacturers. Awards are given to products which serve consumers directly and also those products which serve to improve the business and success of the custom installer. The CE Awards is a clear benchmark award for the products which will make an impact in 2013 and beyond.  
We received so many excellent entries from all of the major manufacturers.  This made the judging process challenging.  Here are our winners for 2013 based on our criteria for judging.
Category: AV Electronics

AV Receiver
Company: Denon
Product: AVR-X4000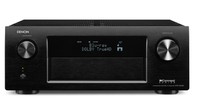 MSRP: $1,299
The AVR-X4000 A/V receiver is packed with Denon technologies that deliver superb sound and picture quality through 7.2 channels.  The AVR-X4000 can do everything we would expect of a $1299 receiver, but doesn't go too feature happy that it abandons sound quality.  With 125 wpc x 7, you've got enough power to drive a small to medium sized theater room with plenty of oomph. The advanced surround sound capabilities of the AVR-X4000 can be expanded to a maximum of 9.2 channels by adding a separate power amp.  Denon hit the nail on the head with this unit, including some new features not found on any Denon receiver (at any price point) in prior models. The AVR-X4000 packs all of the standard features one expects of an 2013 AV Receiver model (3D, HDMI/4k upscaling, assignable inputs, HDMI standby pass-though, ARC, etc, etc) while at the same time is audio centric enough to appeal to the audiophile, configurable enough for the custom installer, and feature laden enough for the Gen-Xer.
Budget AV Processor
Company: Outlaw Audio
Product: Model 975

MSRP: $549
The Model 975 offers all the latest Dolby and DTS formats including Dolby TrueHD and DTS-Master Audio along with Pro Logic IIz and DTS Neo:6 post-processing. Once decoded, the signals travel through an ultra low-noise signal path thanks to careful design and layout, and a robust power supply with a compact toroidal transformer. The Model 975 offers numerous setup options, including very flexible bass-management, and one of the most extensive collection of subwoofer-level trim controls you will come across — you can set sub trims independently for almost every surround or 2-channel mode. Perhaps the biggest surprise will come when you experience the Model 975 first hand. It has an elegant, slim-line appearance and a clutter free, black aluminum front panel. As the only product in its class with a full range of legacy video inputs, 1080p video scaling, and the latest HDMI and digital surround processing technologies, it truly delivers the features that matter most.   At $549, it's also one heck of a value giving audiophiles a cost effective alternative to the typical AV receiver solution.

Upscale AV Processor
Company: Classe
Product: SSP-800

MSRP: $9,500
SSP-800 Review (pending) |  Buy Now
The SSP-800 is a ten-channel preamp/processor, offering both balanced and single-ended connections for all channels. Audio Digital Signal Processing (DSP) is handled by Texas Instruments processors, which operate in 64-bit double precision. Floating point arithmetic is used for all audio signal calculations to ensure the most accurate results possible. All bass management filters, level adjustments and parametric EQ filters also benefit from the added precision. Two DSPs, each rated at 2800 MIPS (Million Instructions per Second) provide HD Audio decoding and the power to handle a vast array of post processing features at full resolution. Powerful DSP is only one of many of the SSP-800's outstanding qualities. Throughout the SSP-800 are examples of cutting edge technology and superior design techniques, employed in the service of better sound.

In addition to high performance, quality and technology, the SSP-800 offers the flexibility to handle a wide range of real world applications. Its ten-channel design creates the possibility of configuring two channels for additional subwoofers, as mirrors of the front left and right channels for bi-amplifying, or delivering audio to a separate room or system. Five-band manual parametric equalization is provided for each of the ten channels to help tune the system to its environment. Menu driven front panel controls allow a high degree of customization for an ideal user experience.
Audio Amplifier

Company: Emotiva
MSRP: $1,500
Don't be fooled by the pricetag of the new Emotiva XPR-1 Mono-block amplifier.  Delivering over 1 kwatt of power into 8 ohms and nearly double that into 4 ohms, this amp means business.   Fully differential from input to output, with a Class H power supply topology, ensures low noise, low distortion, high power output with high efficiency.  Although it lacks the snob appeal of some of the more expensive and prestigious brands, the Emotiva XPR-1 gives up nothing in the performance department, especially with regards to power.  It's built well with all the proper engineering in place to ensure reliable, problem free performance for years to come.   The XPR-1 truly lives up to the "Reference series" name that Emotiva has reserved for their very best products.  This is a highly recommended purchase for the audiophile looking for an amplifier with equal doses of brawn and finesse.  It is the Jedi Master of power amps that would make even an audiophile Sith Lord proud to own. 
Custom Install Product

Company: WyreStorm
Product: AMP-001-010 Digital Amplifier/Receiver/Repeater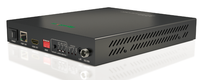 MSRP: $795
The WyreStorm AMP-001-010  is a dream come true for installers (can't you can tell it's a custom install product by the model number alone?) looking to set up reliable multi-room AV systems. It receives our 2013 consumer excellence award for it's functionality and because it's the first product of its kind. Utilizing HDBaseT, the AMP-001-010 makes multi-room audio AND video distribution a cinch. It receives an audio and video signal over HDBaseT and then converts it to HDMI for use with a display. If that was it, it would be a simple balun. But it also has a built in class D amplifier to power two speakers and an line-level subwoofer output for a cpmplete 2.1 system. There's also bidirectional control of source/display via IR and RS232 connections. There's an HDBaseT output to cascade units, and stereo audio outputs to run to, well, whatever you want. It also has analog audio inputs and can send ARC back to the main equipment location. In the end, this product makes it incredibly easy for installers to place all of the source devices in a remote location, and even eliminate a AV receiver in some situations. Think about just hooking up a few source devices to an HDBaseT matrix switch in the equipment closet and tossing one of these in each room you want a stereo system. That's a great thought.
Category: Displays
Projector Screens: Fixed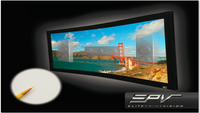 Company: Elite Screens Inc.
Product: Acousticpro 4K (Peregrine/Lunette)
MSRP: $1866
As 4k projectors come down in price, some projector screen manufacturers are starting to develop screen material specifically for 4k sources. Elite screen is one of those manufacturers. The AcousticPro 4k screen material is available on two different models sold exclusively through their dedicated CI integrator channel, Elite Prime Vision (EPV). The Peregrine is a flat, fixed screen available in sizes from 84" to 345" and 16:9 or 2.35:1 aspect ratios. The Lunette is a curved screen available in sizes from 84" to 250" and 16:9 or 2.35:1 aspect ratios. The AcousticPro4k material is a 1.1 gain matte white angular woven AT fabric. The material has a minimum damping effect of 0.91dB to -3.00dB maximum. Sliding wall mounts make for easy installation and precision-fitting ensures proper tension over the entire surface of the screen.
Projector Screens: Masking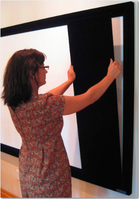 Company: Seymour AV
Product: Fixed Masking Panels
MSRP: $349
The Center Stage magnetic masking panels enable a screen to change its aspect ratio to the content and eliminate annoying gray bars. If your screen is 16:9 then a set of four panels (two top, two bottom) magnetically attach to the inside edge of the frame and mask the screen to 2.40 for a "constant width" system. If your screen is 2.35 (or similar ratio within the "scope" family), a pair of panels magnetically attach to the sides to mask it to 16:9 for a "constant height" system. For the most flexible system, if you start with a 2.07 ratio screen, a set of both (six total) will allow you to mask to 16:9 or 2.4 while keeping the image area the same for either. Seymour offers Fidelio velvet masking panels for consumers without speakers behind the screen, and Millibel A.T. panels for those who need to keep the screen acoustically transparent. Custom sizes of panel and available upon request. We think this is a great solution for people who have invested in expensive non-masking screens that they want to retain.
Projector

Company: BenQ America
MSRP: $1099
The BenQ W1070 home theater projector sports quite a few traditionally high-end features without the traditionally high-end price tag. First off, it supports full HD 1080p 3D from a variety of sources, including  NVIDIA 3DTV used in PCs. It also uses Dark Chip 3 (DC3) technology. In the past, this chipset was used for high-end models only. For the gamer on the go, it has built-in stereo speakers. It also sports dual HDMI inputs. To simplify installation, the W1070 comes with lens shift and preset calibration settings for improved out-of-the-box performance. The W1070 is also ISFccc-certified by the Imaging Science Foundation (ISF) with support for ISF Day and ISF Night modes. It also uses BenQ's SmartEco technology for longer lamp life. In addition, the W1070's filters never need to be cleaned or replaced. 1080p, wide 3D compatibility, dual HDMI inputs, lens shift, ISF certification, power and lamp saving modes, and a street price of under a grand make the W1070 worthy of our 2013 Consumer Excellence award.
Custom Install Product

Company: Airflex5D LLC
MSRP: $4999
Commercial grade projectors can be expensive, very expensive. If you need to project a large image in a bright room, on a curved surface, or want the same 3D technology used in the theaters right in your home, the Airflex AF5D-60 might be your ticket. It allows you to connect 2 individual projectors together to fulfill tasks that would normally require extremely expensive commercial grade projectors. It uses proprietary Q-Stack technology that is capable of aligning multiple projectors down to the pixel. It handles de-interlacing, edge blending and scaling and can accommodate up to 1920 x 1200 resolution. If you want to go really nutz, multiple AF5D-60's can be used in unison to take advantage of 4 or more projectors at once. There's also a passive 3D option with a choice of either a linear or circular format.
Category: Portable/Lifestyle

On/Over Ear Headphones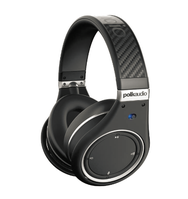 Company: Polk Audio
Product: UltraFocus 8000
MSRP: $349
Polk's UltraFocus 8000 Active Noise Canceling headphones stand out from the competition on a number for fronts. First off, the noise cancellation algorithm was taking into account when tuning the drivers, helping overcome some of the usual drawbacks of active noise cancelling (ANC) systems. It also has a built-in microphone and 3 button control for iOS devices. That part's not too special....except for the fact that the mic and control are on the side of the headphones themselves, not on the cord. And the built-in mic isn't just good for phone calls, there's a Push-To-Hear ambient control that stops your music and amplifies outside sounds, this way you don't have to take off the headphones to hear what's going on around you. Finally, it only uses a single, flat 3.5mm cable to help reduce tangles. And the cord is detachable so it can be replaced if it ever shorts out. The UltraFocus 8000 can also collapse to fit into the included travel case. All in all, the innovative design features, cool look, and affordable asking price (considering all that you get) is why the UltraFocus 8000 get a 2013 Consumer Excellence award.

In-Ear Headphones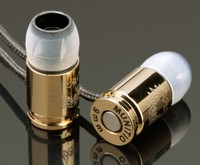 Company: MUNITIO
Product: NINES
MSRP: $169
MUNITIO's aim (so many puns with this product) with the NINES was to bring together high-performance audio with everyday functionality, in a design that makes a statement at first glance. Monster is pretty proud of the unique look of their Turbine headphones, but they don't hold a candle to the first impressions the NINES get. Made to look exactly like a 9mm bullet, they come in black, silver (avoid if you are a vampire, buy if you are hunting vampires), or gold. They sport a single 9mm driver with a neodymium magnet. There's a 3-buttom in-line mic/controller for use with iOS devices, and the cord itself is Kevlar reinforced (not for use as a bullet-proof vest). The body is machined from a solid piece of high-density copper alloy and given a titanium-coated finish. It comes with a carrying case, multiple tips, and a set of ear-hooks for use during "intense" situations. Although you may be able to find headphones that match the sound quality of the NINES (The $169 price range has some stiff competition), you certainly won't be able to find any with a bolder look.

Lifestyle System

Company: Aperion Audio
Product: Allaire ARIS
MSRP: $297 +$77 for wireless card
We had a chance to listen to the Allaire ARIS Wireless Speaker system at our 2012 Audioholicd GTG, and were impressed with its sound quality and functionality. Featuring dual 1" tweeters, two active 4" drives, and two 4" passive radiators, it can put out some good sound. It has a 3.5mm jack so basically anything can hook up. But it's the upgradable wireless card that makes this unit truly unique. Unlike most wireless speaker systems, the ARIS is designed for Windows. For those people on the Microsoft ecosystem or with a new Windows 8 tablet, this is the speaker for you. For those with Android or iOS devices, the ARIS work with DLNA, so you're in luck too. Aperion's DLNA app allows you to stream content stored on your network to the ARIS . Here's the only drawback, the $297 base price does not include the wireless card. Instead, the unit has to be hardwired to your network with an Ethernet cable. The wireless card is an extra $77.

Speakers
High-end Floorstanding Speakers

Company: Legacy Audio
Product: Focus SE
MSRP: $9,650/pr
The Legacy Audio Focus SE speakers aren't exactly new, but Bill Dudleston's 25th anniversary edition adds the dual Air Motion tweeter (AMT) and super tweeter to make this something special. We spent a lot of time with these speakers during our review, and loved every second of it. Dual 12" woofers provide deep and powerful bass, eliminating the need for a subwoofer in all but the largest rooms. Two 7" Rohacell reinforced-Silver Graphite drivers fill in the midrange, and Dual Air Motion tweeters provide the high frequencies. We found very little not to like about these speakers. The looks, the build quality, the sound quality, it's all top notch. At just under $10k/pair there is a lot of speaker in the Focus SE. But there's also a lot of competition. Still, we think the Focus SE rises above most of the competition and provides a listening experience unmatched by most speakers anywhere close to its price range.
Speaker System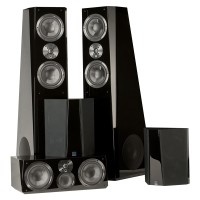 Company:  SVS
Product: Ultra Speaker System
MSRP: $3,699 
Dammit, I think SVS may have rigged the awards. Well, that, or they simply consistently make stellar products. Okay, it's the latter. This system earned our respect on paper and during listening tests. Pricing is: SVS Ultra Tower $1999/pr; SVS Ultra Bookshelf $999/pr; SVS Ultra Center $699/ea; SVS Ultra Surround $1199/pr. At those prices, they're not entry level, but should be well withing the grasp of most enthusiasts. And a few grand spent on these will go much, much farther than a few grand spent on most other speaker systems. Every piece of the system was meticulously designed and uses high-quality parts. No cheap plastic grill, you get MDF. No cheap vinyl wrap, you can choose between piano gloss black or real black oak veneer for the same price. No cheap plastic trim rings around the tweeter and woofers, they use metal. From the side mounted bass drivers on the Ultra Tower to the W(T/M)W driver configuration on the Ultra Center, audio performance was SVS's top priority in designing the entire Ultra system. Checkout our original preview for a detailed look at the design or our review to see our hands-on impressions.
High-end Subwoofer

Company: RBH Sound
MSRP: $5,299
Subwoofers come in all shapes and sizes; unfortunately, subwoofers tend to be unsightly black boxes that belt out bass notes without regard to detail and accuracy. Not the SX-1212P/R, RBH's flagship Signature SX Reference Series subwoofer. Available in satin black, and soon to be available in Sandalwood or any of RBH's 30 custom wood grain veneers, the SX-1212 is designed to be a reference standard for larger home theater and critical listening environments. It features dual 12-inch long-throw subwoofers stacked vertically in the cabinet's front baffle, and is powered by a 2,400 (continuous rated) Watt Class D amplifier mounted in the cabinet's rear baffle. The amplifier features XLR signal inputs and outputs as well as a two-position DSP switch that enables or disables the integrated low-pass filter. The SX-1212 is tuned to 18Hz via a 6-inch flared port mounted in the bottom of the cabinet. The SX-1212P/R is designed to accurately reproduce bass with all of the subtle nuance and lifelike detail one would expect from a reference-grade subwoofer.
Budget Subwoofer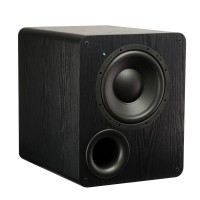 Company:  SVS
Product: PB-1000
MSRP: $499
It's no secret, we love subwoofers. And we love the PB-1000 for its amazing price/performance ratio. The PB-1000 has a single long-throw 10" front-firing driver and a 3.5" port with inner and outer flares. This configuration allows for a lower frequency response of 19-270 Hz +/- 3 dB compared to the 24-260 Hz +/- 3 dB response of the SB-1000 (its $499 sealed counterpart). The cabinet is 18.4" (H) x 15" (W) x 18.4"(D) with overall dimensions of 18.9" (H) x 15" (W) x 19.9"(D)(includes feet, grill, amplifier). Powered by a 300 watt RMS/700 watt peak DSP controlled Sledge STA-300D, the SB-1000 has plenty of power for the 10" driver. And let's say for some crazy reason you want to return it, or it breaks, or you want to upgrade, SVS's Bill of Right guarantees you a great customer experience. Let's recap. Great price, check. Great performance, check. Great customer service, check. Three checks and the PB-1000 breezes into a winning spot in out 2013 Consumer Excellence Award competition.
High-end Soundbar

Company: MartinLogan
Product: Motion Vision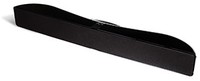 MSRP: $1499
Most soundbars sound like glorified TV speakers. It's a simple fact. Well, an opinion, actually. But an opinion held by many a audiophile. But the MartinLogan Motion Vision busts out of that mold. And that's not just our opinion. Nearly every AV magazine has reviewed the Vision (ours, of course, is the most thorough review ;)), and we have personally talked with many of those reviewers. Everyone agrees, this thing rocks. It's not cheap at $1499, but it packs a lot of power and many impressive design elements. There are three Folded Motion Tweeters and four 4" drivers with a total of seven dedicated amps. It can be used without a subwoofer and still put out an impressive amount of bass. Seriously, it can. But if you want to really rock the bottom octaves you can utilize the line level LFE output or use one of MartinLogan's wireless subwoofers. While we found that it really hit its stride with music, movie performance was also commendable. If you are looking for a great sound experience but want to avoid the clutter of a full AV system (we don't think it's clutter, but youre spouse might), the Motion Vision is quite likely your answer.
Table Top Soundbar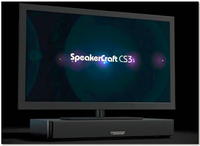 Company:  SpeakerCraft
Product: CS3 TV Speaker
MSRP: $599
"SpeakerCraft, they make in-wall and in-ceiling speakers, right?" Yes, they do, but they also make a range of other home theater products. One of those other products is the CS3 TV speaker. Unlike a traditional soundbar (if you can even consider a product category that is only a few years old to have a traditional design), the CS3 does not set in front of the TV. It sets under the TV. This can save space on a TV stand, lift up the TV a bit so you can rest your feet on the coffee table without blocking the view, and and avoid blocking the IR sensor on the TV as can happen with traditional designs. It has two 1" tweeters, four 3" midrange drivers, and two 5 1/4" subwoofers. Yep. Dual 5 1/4" drivers in a soundbar, with dual front firing ports. It also has built-in Bluetooth for use with smartphones and tablets. In essence, it's designed to take up next to zero space on your TV stand, replace the TV speakers and act as a music system for your portable devices. This is a great solution for areas in your home where you have limited space, a smaller TV, or don't need a full 5.1 experience.