2012 Audioholics Product of Year Award Winners
2012 Audioholics Product of Year Award Winners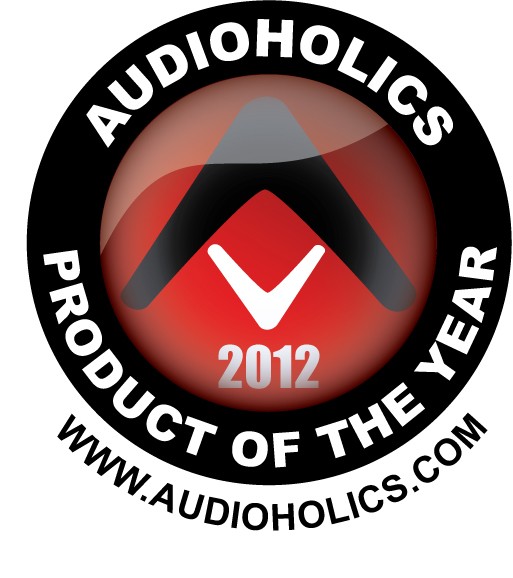 Audioholics 2012 Product of Year Awards
2012 was yet a second strong year of economic recovery in the A/V industry. Many of the major A/V manufacturers built upon successes of past generation products with a model line refresh with either minimal or no cost increase to the consumer. Getting more performance without a cost increase is always a win in our book.  This year we've also seen an array of incredibly high performance budget gear hit the mainstream from the likes of Emotiva and Pioneer. A newcomer subwoofer brand named Power Sound Audio headed up by former SVS founder Tom Vodhanel launched an incredibly high value performance line of subs. After a 10 year sabbatical, Status Acoustics, the high end division of RBH Sound, decided it was time to unleash a reference level, cost no object speaker system into the high end realm.  Classé, a brand of solid reputation, warmed our hearts with their cool running, rugged line of amplifiers and Oppo once again reigned king of the hill with their new line of Universal Blu-ray players.
Basically, if you are contemplating an upgrade to your home theater, the following products should help you accomplish that goal of achieving sonic and visual nirvana. If that doesn't happen then you should at least find yourself drooling over what might be...you know, if you save your pennies...or hit the lottery...or inherit a fortune from your long lost reclusive uncle in Oregon.  Our picks were based on our staff favorite review products for 2012 and/or direct experience we've had with the products for professional installations.
Award: Entry Level A/V Receiver
Yamaha: RX-V473 A/V Receiver | Info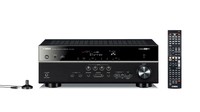 While we didn't do a formal review of this receiver, we have used it on a few personal installs for friends and family with great success.  The RX-V473 is packed with features and performance not too common at this price class of A/V receiver.  On the video side it has 4 HDMI inputs / 1 output with 3D support and 4k pass-thru.  It supports all the latest HD audio codecs (ie. Dolby TrueHD, DTS, HD) and boasts 80wpc x 5 with a fully discrete amplifier output stage for every channel.  Of course Yamaha's YPAO room correction system is incorporated and the receiver supports Airplay for your streaming pleasure.  Don't forget to download the free Yamaha App on your smartphone so you can impress your friends and family when you show them you're in total control of your receiver using your phone!
MSRP: $449 | Buy Now
Award:  Entry Level A/V Processor
Emotiva UMC-200 A/V Processor | Review

Want to upgrade to separates but can't afford it?  Emotiva proves to blow that notion out of the water with their new UMC-200 A/V processor.  Don't be fooled by its entry level price or compact form factor.  This baby is packed with all the latest chip technologies including: AD 7623 HDMI switch, with Xpressview switching to provide fast, clean input selection, twin Cirrus 32bit DSP's to handle multi-point crossovers and full native support of 192kHz/24 bit audio in EVERY mode of operation.  The UMC-200 features 4 HDMI 1.4 inputs / 1 output and supports all the latest HD video and audio formats.  Advanced Emo-QGen2 speaker calibration is incorporated and the UMC-200 even offers Zone 2 and Zone 3 audio support.  About the only thing missing is legacy video switching support and the high asking price.  We have one in for review now so stay tuned for our full report.
MSRP: $699 ($599 sale price, includes shipping) |  Buy Now
Award: Two-Channel Amplifier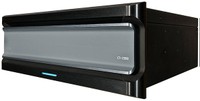 Classé CT-2300 Two-Channel Amplifier | Review
The Classé CT-2300 300wpc/600wpc (8/4 ohms, respectively) two-channel power amplifier is well engineered from inside and out. Classé's unique ICTunnel keeps the amplifier running cool under all operating conditions making it an ideal option for rack mounting. Feed this baby the very best speakers you can afford and it will rewarded you with a sonic landscape not achievable by lesser designed amplifiers. From its benchmark test results to its pristine sonic virtues, I found my time with this amplifier to be a pure delight. Multi-channel users should also consider the matching CT-5300.
MSRP: $6,500 | Buy Now
Award: 5.1 Budget Loudspeaker System

Pioneer SP-PK52FS | Review

What would you say if we told you that a company historically known for their A/V electronics has redefined the loudspeaker market with their budget speaker line designed by industry veteran Andrew Jones?  Now take your amazement one step further when we tell you that for under $650 you get a pair of four driver 2.5-way tower speakers, a matching three driver MTM center channel and pair of two-way bookshelf speakers with an 8" 100 watt powered subwoofer.  From a sound quality standpoint, the SP-FS52 towers alone are worth the admission price of the entire system.  These speakers utilize design elements not found in some pricier so called "high value" Internet Direct brands including vented pole pieces on their woofers, real ferrite magnet motors on their tweeters, air core inductors in their crossovers and braced cabinets.  Their cabinets are even contoured for added rigidity.  While they won't win awards with their looks, they more than make up for it with detailed rich sound that simply defies their meager asking price.  If you're looking for a budget tower speaker for around $500/pair, save your money and just buy the SP-FS52's for $260.  This has to be one of the best bang for the buck speaker system we've ever heard.  Stay tuned for our review of this system once we can stop gawking at the price/performance ratio and can commit to writing it.
MSRP: $629 |
Buy Now
Award: Flagship Loudspeaker System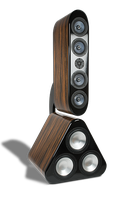 Status Acoustics Titus 8T Tower Speakers |  Review
It isn't often that we review a product that fundamentally changes the way we listen and experience audio. Status Acoustics, the premier line of RBH Sound, has managed to do just that with their new flagship Titus 8T floorstanding loudspeaker system. Standing nearly 6ft tall weighing in at a whopping 350lbs, these are true heavyweight champions.  With almost a decade in development, you can be assured no stone was left unturned in any aspect of their design.
The sound of the Status Titus 8T speaker system transcends their physical cabinets, which is grandiose and in your face when called to do so, yet delicate like the petals of a rose beckoning you to carefully listen, rewarding you with pure unadulterated audio perfection. If you're in the market to assemble a cost-no-object audiophile two-channel or multi-channel system, we can't imagine anyone not being completely satisfied with the new Status Acoustics Titus 8T speaker system. These are truly what we consider to be "speakers for life". Highly recommended!
MSRP: $50k/pr | Buy Now
Award: Subwoofer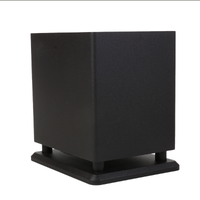 Power Sound XV15 Subwoofer | Review
Upstart home audio company Power Sound Audio's entry into the internet direct subwoofer arena a few months ago with the PowerX line of subwoofers has been accompanied by lots of speculation and excitement. Their middle model in the PowerX line, the XV15 subwoofer, is a large 15" down firing vented unit weighing in at a substantial 92lbs, with a 500 watt class D BASH amplifier, heavily flared Aero-port, black sand textured finish, heavy duty U.S. made driver and a 5 year comprehensive warranty. Additionally the PowerX line is assembled in the U.S. from U.S. made components with the exception of the amplifier. Somehow the price for the XV-15 is held to just $799 and that includes shipping. We found that the XV15 sounded clean, composed and dynamic with music, while possessing extension well below 20Hz in room with plenty of headroom to make its presence felt in a large space on movie night. Even more important than the impressive parts list of the XV15 is the manner in which those parts are tuned to work together in a well rounded finished system.
MSRP: $799 (free shipping) | Buy Now
Award: Television

Samsung UN55ES8000F Smart TV | Video Review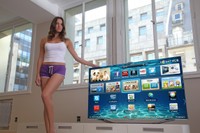 For $2400, there's a lot to like about the new Samsung 8000 Series televisions—particularly the supermodels they are using on their TV spots. But seriously, we want to encourage new technology like voice and motion control—though that's not to say that it's perfect. Samsung has a compelling and impressive system...one that makes for not only a great party trick, but which we found ourselves actually using. Picture quality on the ES8000F is superb. For the best picture, we recommend using the Movie mode. When we measured it, white levels were most accurate (close to D65) and colors were vibrant, particularly when room light levels were dimmed. The Samsung ES8000F has all the markings of being a step towards the future of television control. With a little more refinement and advances in voice and gesture recognition technology, it might end up being a giant leap.
MSRP: $2400
|
Buy Now
Award: Projector

Epson Pro Cinema 6020UB | Video Preview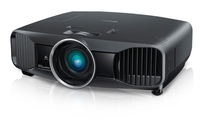 Epson has updated their projector lines from the Pro Cinema 6010UB to the new Pro Cinema 6020UB. Basically, the company has made some updates in the contrast ratio and the new projectors have jumped up from 200,000:1 to over 320,000:1. On top of that Epson has spec'ed the new projectors so that they have 2400 lumens of White Brightness and Color Brightness—which is a new SID spec that debuted earlier this year. Epson has also tweaked the pixel brightness so that 3D images are brighter and better compensate for the losses due to the active shutter glasses. And those glasses? They still include two pairs, but they went from IR technology to RF technology and are now rechargeable. In fact, they'll run for 40 hours and you can get 3 hours of run-time from a quick 3 minute charge.
MSRP: $3999
|
Buy Now
Award: Earbuds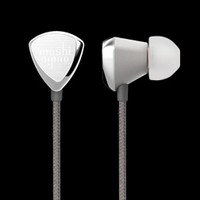 Moshi Audio Vortex Pro | Review
The Moshi Audio Vortex Pro earbuds aren't without their issues, but in the end, they are a serious upgrade in sound quality from any of the stock earbuds and are certainly worth the asking price. They have a ton of bass, a forgiving top end, and don't care what bitrate you used when encoding your music. If you are wondering what you get when you spend $150 on a pair of earbuds, you get the sort of sound quality that makes you wonder why everything else you own sounds so bad. With a standout design and a "look at me" aesthetic, people will definitely notice your earbuds. And if you just spent that sort of money on a pair of in-ear headphones, that's definitely what you want.
MSRP: $150
|
Buy Now
Award: Desktop Bluetooth Speaker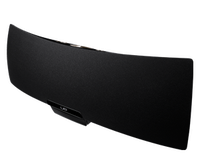 Logitech UE Air Speaker | Video Review
AirPlay has been a technology we've been extremely impressed by. If you're in the apple ecosystem it's bound to be a part of your life if you're buying current AV products and love the idea of streaming music wirelessly. Logitech just released their first AirPlay-enabled speaker, the Logitech UE Air Speaker. The UE is Logitech's abbreviation of a company they purchased back in '08, called Ultimate Ears. The Air Speaker, which looks like the business end of a Hammerhead shark, is pretty cool-looking, with minimal buttons and an integrated iPhone/iPod dock that retracts into the base when not used. Now, the Air Speaker costs $400. It's like the only negative thing we can say about it. It's an impressive wireless AirPlay-enabled speaker - we just hope you can afford it. One thing's for sure, it'll beat the pants off that overpriced clock radio you see advertised on late night infomercials.
MSRP: $400
|
Buy Now
Award: Universal Blu-ray Player

Oppo BDP-103 | Video Review
Oppo has hit another one out of the park. The BDP-103 may not be light years ahead of the BDP-93, but it is ready for 4K conversion and the Marvell Qdeo processing is one of the best systems on the market in our testing. The player has some other whiz-bang features like 2D-to-3D conversion and improved performance in networking and streaming services like Netflix, YouTube, etc.  Plus we like the cosmetic enhancements the new BDP-103 and 105 players flaunt.  They have a very Lexicon look to them ;)  Audiophiles who emphasis  analog audio performance will want to also consider this player's bigger brother, the BDP-105. 
MSRP: $499 |  Buy Now
See also:
Confused about what AV Gear to buy or how to set it up? Join our Exclusive Audioholics E-Book Membership Program!
Recent Forum Posts:
jaksonricha posts on December 20, 2012 01:56
I'd like to see the Apps on the Samsung TV
Reefdvr27 posts on December 19, 2012 20:43
Congrats to Tom and Jim from PSA. They are class acts with customer service and they build one heck of a sub. I have dual XV-30's and simply put, these subs are incredible.
agarwalro posts on December 17, 2012 22:00
The Pioneer Speaker set is the product of the year.

IMO, Oppo's price for entry is a bit too much now.
agarwalro posts on December 17, 2012 21:50
gene, post: 934281
It should be fixed now. Hit refresh.
Looking good now.
Also, I'd like to see the Apps on the Samsung TV. Can you provide the full size copy of the picture used .
gene posts on December 17, 2012 20:19
agarwalro, post: 934158
There seems to be a web page formatting issue with Budget Loudspeaker System text being and the Flagship Loudspeaker System text.
It should be fixed now. Hit refresh.
Post Reply