Perlisten THX Dominus In-Wall Speakers Design & Measurements!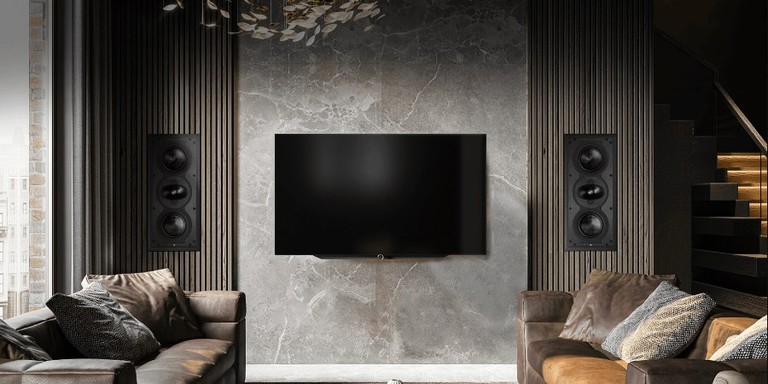 Perlisten In-wall THX Dominus speakers
Summary
Perlisten THX Dominus In-Wall Speakers - Our Analysis
It's hard to believe that just two years ago, we'd never even heard of Perlisten Audio. It's fair to say that the company has taken the world of high-end audio by storm. I can't think of any competitor that has achieved so much so quickly after its initial product launch. And while some new loudspeaker companies come to market with a single design, Perlisten burst through the gates with a whole line of speakers and subwoofers that compared favorably with the best of the best. Consider these quotes from our own loudspeaker reviewer James Larson, and from Stereophile's Kalman Rubinson:
Its distortion output above 20Hz is the cleanest I have seen on any sealed subwoofer and pretty much any subwoofer I have yet measured. … The D215s puts up a remarkably good performance level, and it is pretty much untouchable for undistorted sound above infrasonic bass regions. If you want one of the most advanced and accurate subwoofers on the planet per decibel of output as well as per cubic foot of space, the D215s has to be my first suggestion.
— James Larson, Audioholics
It's rare to find an audio product, let alone a loudspeaker, that is beyond reproach. The S7t is one such loudspeaker. … Overall, the Perlisten S7t is the best speaker I've heard in this room.
— Kalman Rubinson, Stereophile
Perlisten's speakers and subs have earned the highest respect from the two-channel Hi-Fi crowd and from the high-performance home theater crowd. The next step, it would seem, is the world of custom-installed home theater and discreet in-wall audio. At CEDIA 2022, Perlisten showed off not one, but two lines of in-wall speakers, mirroring its S-Series and R-Series of freestanding speakers. The new S-Series and R-Series in-wall speakers utilize the same advanced technologies as their in-room counterparts, promising perfect timbre-matching across the whole Perlisten product line. And just as the original S-Series speakers were the first to achieve THX Dominus certification, the new Perlisten in-wall speakers are now the first in-walls to satisfy THX's most demanding standard. THX Dominus demands more than double the output levels of the THX Ultra specification, and effectively provides the "missing link" between large home AV speakers and the huge, high-powered audio systems used in the world's best movie theaters. So far, there are 5 unique speaker designs in Perlisten's in-wall arsenal, each of which is based on a comparable model from the company's existing S-Series and R-Series lineups.
S7i ($7,495 each)
Based on the S7t tower speaker, the flagship S7i was the world's first in-wall loudspeaker to be certified for THX Dominus.
S5i ($6,495 each) & S4i ($3,995 each)
The S5i (left) is based on the S5m and is THX Dominus certified for LCR duties. The S4i (right) is based on the S4b and is THX Dominus certified as a surround speaker, and THX Ultra certified as an LCR speaker.
R4i ($2,495 each) & R5i ($2,995 each)
(Left)The R5i is based on the R5t tower. (Right) The R4i is based on the R4s and R4b. Both speakers are THX Dominus certified as a surround speaker, and THX Ultra certified as an LCR speaker.
Note: The S7i, S5i, and R5i are all available in vertically-oriented versions (for left and right channels) and in horizontal versions for center-channel use.
This truly confirms our commitment to the custom integration channel and I'm proud that our team can present yet another first with our new flagship in-wall model S7i. It marks the first time a manufacturer is able to achieve THX Certified Dominus in an in-wall model, especially one designed for the largest private theaters of up to 6,500 cubic feet/184 cubic meters. Perlisten Audio is committed to the custom integration channel. You'll soon see several additional in-wall models in the coming months, each of which are created to give installation professionals high performance with demonstrably improved in-wall speakers for their largest projects.
— Dan Roemer, CEO, Perlisten Audio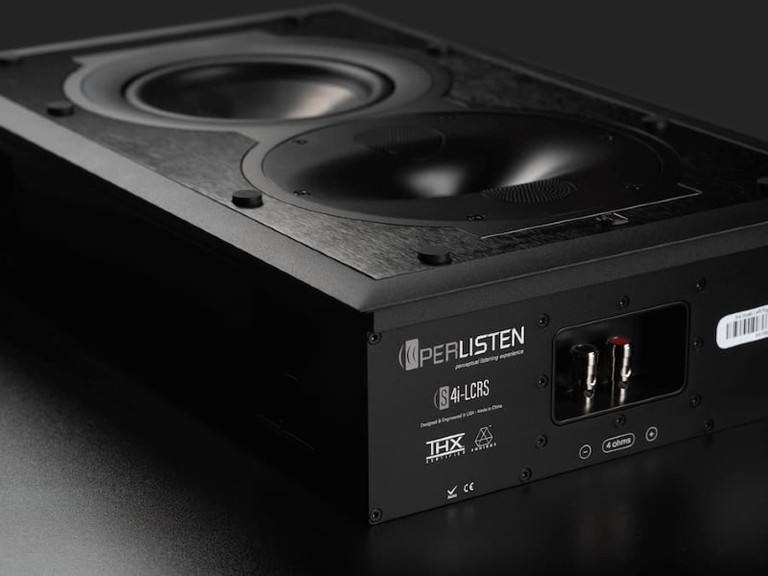 All of the new in-wall speakers feature fully-enclosed aluminum cabinets just 4 inches deep, with a "bituminous damping layer to ensure the frequency response is consistent in any installation," according to the company. The integral aluminum extruded rear enclosure not only helps ensure consistent performance in various installations, but also minimizes sound leakage to adjacent rooms. The flagship S7i is approximately 41 inches tall and about 12 inches wide. The smallest models are equally wide but only about 19 inches tall. All use Perlisten's patent-pending Directivity Pattern Control (DPC) waveguide with three small, "beam-forming" dome drivers handling the mids and high frequencies. This unique arrangement, which helps control both vertical and horizontal dispersion, was reportedly the result of 18 months of R&D. In the S-Series models, the DPC Array utilizes one 28mm beryllium dome and a pair of 28mm Textreme TPCD (Thin Ply Carbon Diaphragm) ultra-lightweight domes. The low frequencies are reproduced by 180mm (7.1-inch) Textreme TPCD woofers. In the R-Series models, the DPC-Array uses three 26mm soft domes. The silk diaphragms were designed in-house, and the material was chosen for its ability to deliver smooth and effortless mids and highs. In the R-Series, the lows are handled by 165mm (6.5-inch) woofers made from a proprietary HPF (Hybrid Pulp Formulation) material, which brings "new technology to one of the oldest materials used in loudspeaker design," according to Perlisten. HPF is a mix of long fiber hardwood, bamboo, and wool. It offers a detailed, full-range response without coloration, thanks to its unique combination of strength, mass, and damping.

Design Overview and Q&A with Perlisten

Audioholics contributing writer James Larson had a chance to see the new Perlisten in wall speakers in person and remarked that the back box for the new in-wall speakers is absolutely bonkers. It is an enormously thick piece of extruded aluminum sheeting, and it is build like a tank. The thick back piece makes these in-wall speakers pretty heavy though so plan to have someone help you with the install. There are aluminum spacers inside the cabinet to make it extremely rigid, and overall the build quality is second to none in the in-wall world.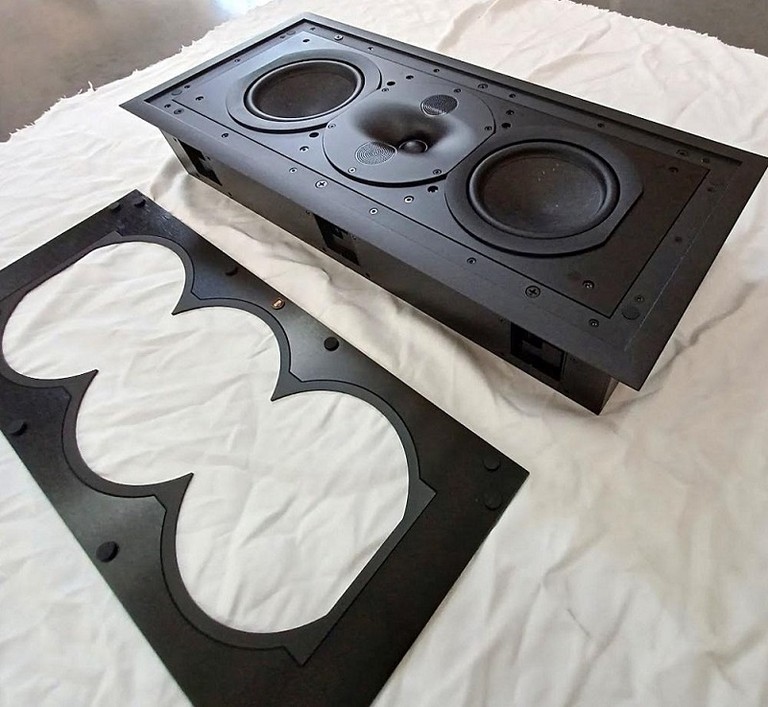 Each in wall speaker comes with a plate that goes on top of the speaker box. The plate is magnetically adhesive, and the magnetic force is very strong. In fact, Perlisten supplies a tool to pry the front plate off without risking damaging anything, The plate is there to make the front baffle totally flat which eliminates any sources of edge diffraction.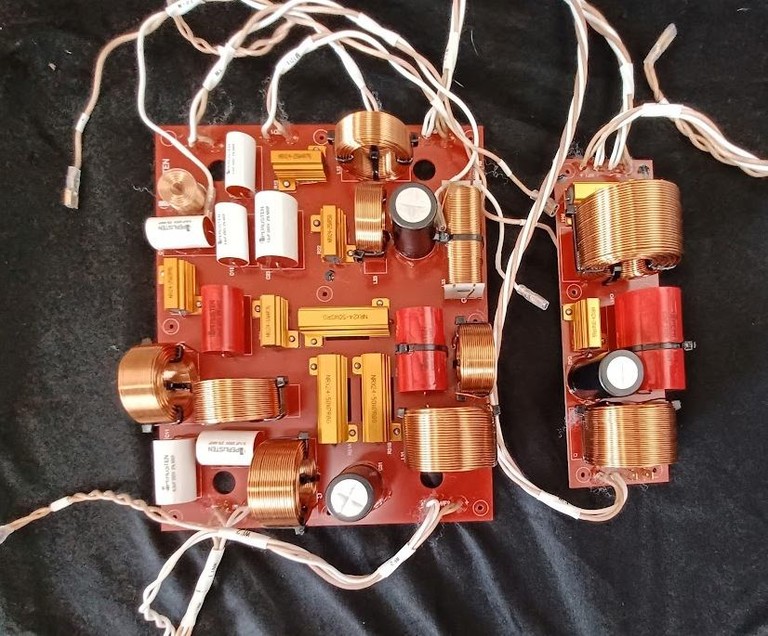 Most in-wall speakers with sealed back-boxes suffer from a big mid-bass boost since the woofers are crammed in such small enclosures. This is not a problem with the Perlisten in-walls. In the above picture you can see the crossover circuit with a main board and a small board. That small board is there to create a flat mid-bass response in the in-walls.

I had the chance to ask Perlisten's Dan Roemer a few questions via email.
JG: What are the challenges involved in designing in-wall speakers compared to regular in-room speakers?
Dan: Of course, if you want to fit into a standard stud wall bay, there is a restriction on depth. Driver and enclosure design have far more constraints. Bass is difficult to do well and vibrations into the wall are concerns. Also, sound transmission to adjacent rooms often times is a big concern and will come into play when an in-wall speaker is spec'd for an install.   
JG: Are there any sonic or technical advantages to in-wall speakers compared to regular speakers?
Dan: The main advantage of in-walls is the inherent 2pi (1/2 space). Effectively, there is no baffle "step" response like you find on cabinet speakers. This offers 6dB more low frequencies as compared to the same drivers in a cabinet (S5i compared to S5m, for example). Also the radiation pattern is all "forward."   How a designer uses this difference varies; (it can be) one of 3 ways.  All of which have different requirements from the crossover, and different pros/cons:
1.  You can choose to take full advantage of the SPL gain for overall speaker sensitivity. This is how we designed the R4i.
2. You can choose to extend the low frequencies and lower LF distortion while maintaining sensitivity. This is how we designed the S7i (which uses a rather small, sealed enclosure).
3. Or you can do a blend of both. This is how we designed the S5i – which allows this model to meet the 92dB SPL requirement for THX Dominus. … When the midrange and tweeter units have considerably higher inherent SPL compared to the woofer(s) — as is the case with the S4i vs S4b, or S5i vs S5m — I can maintain the desired frequency response and increase the overall system SPL. You will notice an S5i is ~92dB and THX Dominus for LCR. While there is 6dB LF gain, I only used ~3dB for SPL. The rest was used for bandwidth extension.
At this point, Dan directed me to an interesting video from the Erin's Audio Corner YouTube channel, in which Erin listens to and measures a number of in-wall speakers from respected manufacturers including Revel, KEF, Martin Logan, Bowers & Wilkins, M&K, and Focal. For almost every speaker, Erin noted a significant boost in the low frequencies. Dan said that, while Erin places the blame on a mismatch between the woofers and the cabinets, the real issue is likely that the designers didn't properly deal with the extra 6dB of LF within the crossover, since doing so can require some serious components and costs. "Everything comes down to design trade-offs," Dan said.
A common trait I'm seeing with every (sealed) in-wall speaker: they've all got a boost on the low frequencies. And I don't really understand why that's the case. I wish companies wouldn't do that: putting what I assume is high-Q, large-Vas woofers in a relatively small cabinet… bumps up the resonance, or bumps up the mid-bass… and just lights up lower vocals, especially lower male vocals. Let's not buy speakers with a high-Q mid-bass bump that just increases resonance in the vocals and makes them sound really boomy and muddy. So, that's my plea to manufacturers. As you continue to make more speakers, don't do that!
— Erin Hardison of Erin's Audio Corner
Now, back to the interview:
JG: Did anything surprise you during the development of the in-wall products?
Dan: While we knew the aluminum enclosures and combo steel/HDF frames would be inert, we were amazed by just how little energy is transferred to the wall, stud bay, and adjacent rooms. This speaks to the rigidity of the assembly and damping (we add bitumen layers internally) to mitigate as much vibration as possible. This detail has been well appreciated by the integrators we have worked with.
JG: Do you recommend in-wall speakers for 2-channel music?
Dan: I assume you mean 2-channel Hi-Fi. And yes, I do indeed recommend in-walls for this, especially when the customer/room requires it. However with a few caveats. We must assume the designer has dealt with the response properly. Also, the full CTA-2034 and polar plots are just as important, as are many, many more details. (CTA-2034 is a standard method of measurement for loudspeakers that describes how to determine a speaker's frequency response, directivity, and maximum output capability.) Lastly, a subwoofer is a requirement too. So starting from here (e.g., S7i), high fidelity can be achieved. 
JG: Do you plan to make in-wall subwoofers?
Dan: This and in-ceiling speakers were the most asked questions at CEDIA. In-ceiling speakers are well into development (1 to 1.5 years now) and should be launching sometime in Q2 of 2023. The in-wall subs are in process here, but there is no exact schedule yet. I will say, we have some pretty cool stuff in the pipeline.
JG: Is there anything else you would like people to know about Perlisten? 
Dan: I like to say the founders (5 of us) are made up of audio nuts, that like to do nothing but develop the best products for people who are nuts about audio. We've all been doing this for 20 to 30 years and have many new ideas to bring to the market as Perlisten products. With this passion, and the engineering and manufacturing capabilities to go with it, there is a long list of innovative, exciting products in the pipeline (we are planning as far out as 3-4 years).
In a recent video about Dirac Spatial room correction, our friendly neighborhood acoustics expert Matthew Poes said that he has already ordered the flagship Perlisten S7i in-wall speakers for his own system. Given Matthew's extensive experience designing ultra-high-performance home theaters, that's quite an endorsement.
Audioholics Measurements for the Perlisten S7i In-Wall Loudspeakers
By James Larson
Perlisten Audio was kind enough to invite us over to their headquarters in Wisconsin to measure their in-wall speakers, and since we were curious how their in-walls compared to their free-standing speakers, we eagerly accepted their invitation. If their in-walls proved to be as high-performing as their tower speakers and stand-mount speakers, the in-wall speaker market would have a very formidable new option in Perlisten. Let's now see what they can do…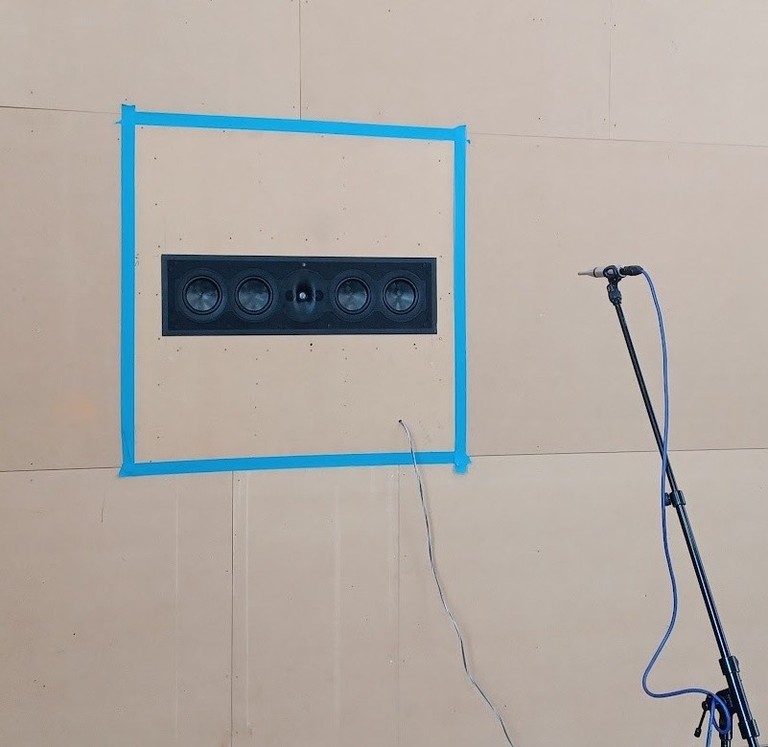 The Perlisten S7i speakers were measured in free-air at a height of about 6 feet at a 2-meter distance from the microphone, with the microphone raised to a 6' elevation that was level with and aimed at the tweeter center. The measurements were gated at 6-milliseconds. In this time window, some resolution is lost below 600 Hz and accuracy is completely lost below 300 Hz.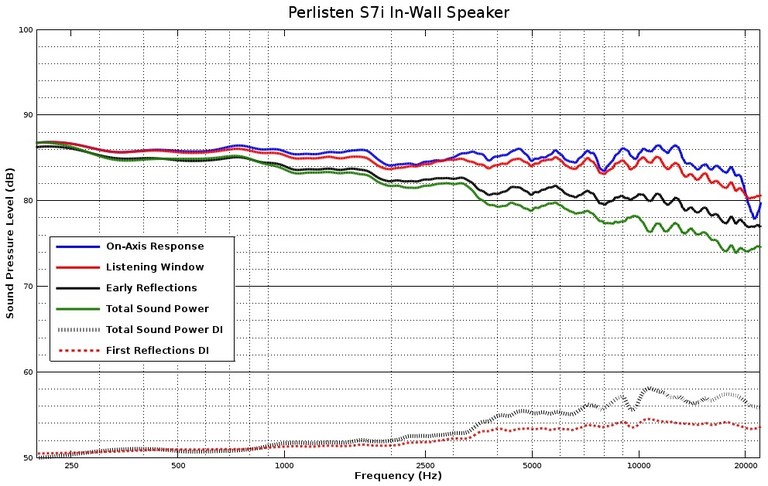 The above graph shows the direct-axis frequency response and other curves that describe the speakers' amplitude response in a number of ways. For more information about the meaning of these curves, please refer to our article Understanding Loudspeaker Measurements Part 1. The above response is what we have come to expect from Perlisten: extraordinarily linear and well-controlled. This speaker is the in-wall variant of the R7t speakers that we recently reviewed, a speaker that measured superlatively, so it should not come as a surprise that the S7i measures similarly well. The problem with analyzing a response curve grouping like this is that everything is so well-controlled that there is not much in the way of a weird eccentricity or oddness to talk about. It is all outstanding. This is what would be hoped for in an in-wall version of a Perlisten speaker, and these measurements show that not much is lost in tonality by moving the speaker to an in-wall form factor.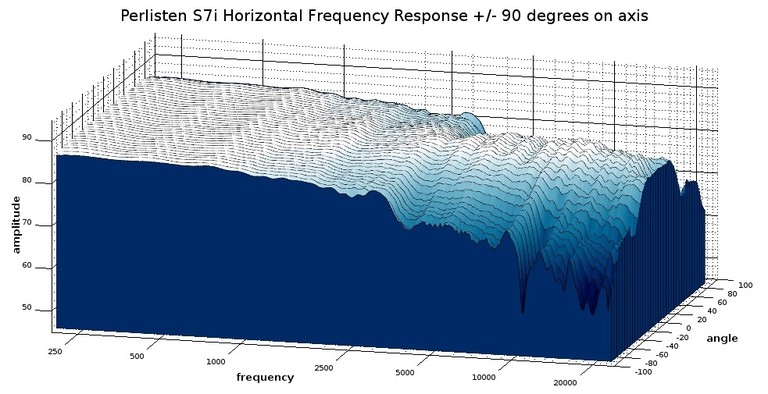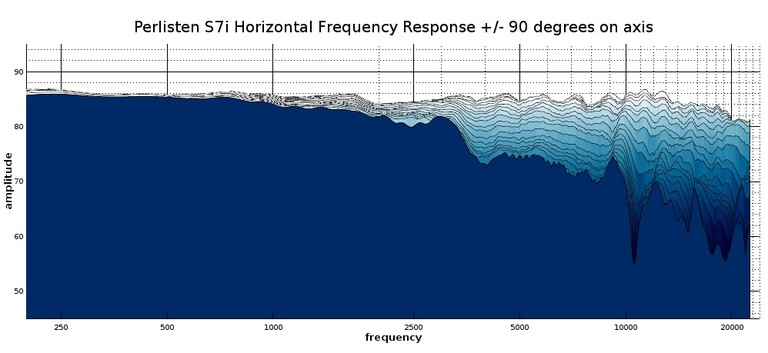 The above graphs depict the S7i's direct-axis and horizontal dispersion out to a 90-degree angle in five-degree increments. Information on how to interpret these graphs can be read in our loudspeaker measurement article. This gives us a clearer look at the nature of the horizontal off-axis behavior of the S7i. Again, a beautifully neutral response. There is generally a good correlation between the off-axis response to the on-axis response, but there are a few small divergences. These incongruencies are not likely to result in anything audible and are interesting to note more for academic curiosity. One aspect we have seen in other Perlisten speakers is a narrowing of the horizontal directivity at around 3kHz, and we see that here. If the user's room is acoustically lively with no sidewall treatments, that might result in a somewhat warmer sound signature compared to other speakers, but the circumstances that it would theoretically result in anything audible would be rare. Anyone shopping for high-end in-wall speakers like these is probably looking for something to put in a home theater that will have some acoustic treatments, so that scenario isn't likely to ever occur (and even if it did, I doubt that anyone would find it objectionable). We also see some narrow ripples at far off-axis angles that I am guessing are reflections within the waveguide on the tweeter, but these are such high-Q creases at such high frequencies that they wouldn't be audible at all. This is not a knock on the waveguide; Perlisten's waveguide is doing an excellent job of controlling the tweeter's dispersion overall, and this is one of the better waveguides that we have seen.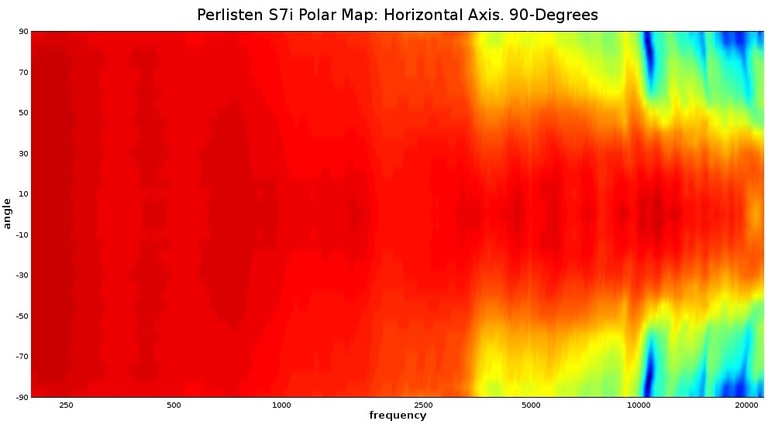 The above polar map shows the same information in the preceding graphs but depicts it in a way that can offer new insight regarding these speakers' behavior. Instead of using individual raised lines to illustrate amplitude, polar maps use color to portray amplitude, and this allows the use of a purely angle/frequency axis perspective. The advantage of these graphs is they can let us see broader trends of the speaker's dispersion behavior more easily. More information about interpreting this graph can be read in our loudspeaker measurement article.
In this graph, we can see how the horizontal dispersion narrows just above 3kHz, and I would assume this is because the midrange drivers are winding down their contribution to response leaving just the tweeter to take over. The tweeter is being constrained by the waveguide above that point, and the waveguide does a remarkable job of controlling the tweeter's directivity. The response stays strong up to 20kHz out to a 40-degree angle. This shows one of the interesting features of waveguides; they don't just constrict dispersion, they can also expand dispersion in very high treble frequencies. If the R7i's dome tweeter was simply set on a flat baffle, its dispersion would be wider at lower frequencies but narrower at higher frequencies. So, we would see way more off-axis energy at 5kHz but the dispersion would be narrowing a lot more above 10kHz than what we see here. The waveguide employed by Perlisten is very carefully shaped to keep an even dispersion pattern throughout the tweeter's bandwidth.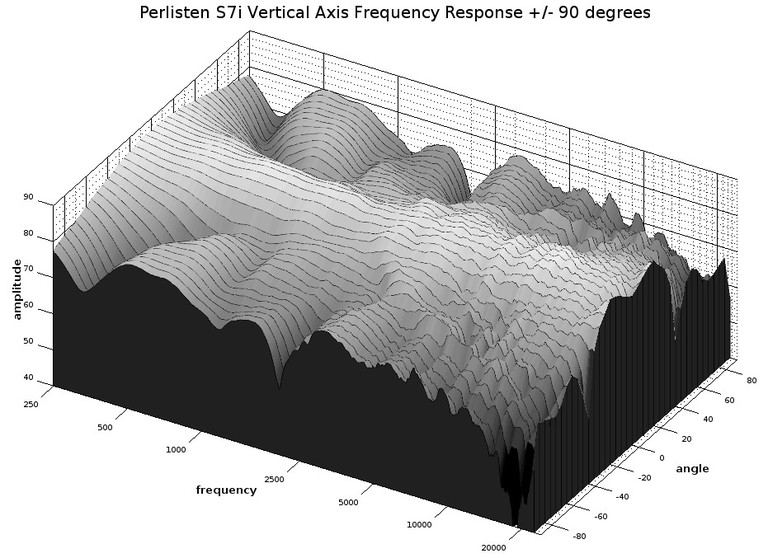 The above graph shows the S7i's response behavior along its vertical axis where zero degrees is directly in front of the tweeter, negative degree values are below the tweeter, and positive degree values are above the tweeter. Of course, since this speaker is symmetrical at the point of the tweeter on both the horizontal and vertical axis, its behavior will be the same above and below the tweeter. While the far off-axis responses show a lot of comb-filtering effects from all of the drivers interfering with each other due to the distance difference at over-lapping frequencies, the important aspect to note is that they are all far down in amplitude compared to the central beam of the intended listening axis. That means that this speaker will be far less acoustically reflective on floors and ceilings than typical speakers. This is Perlisten's DPC technology at work constricting the vertical dispersion at all frequencies except for bass.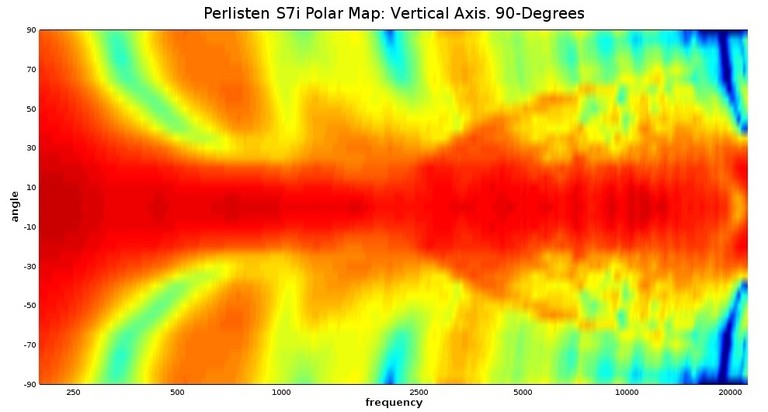 The above polar map exhibits the vertical dispersion of the S7i. Here we get a better look at the beamwidth of the vertical dispersion. The S7i maintains a very consistent beam at a +/-20-degree angle from the tweeter, offering coverage for any reasonable listening position even in rooms with very prominently raised rear seating. Outside of the 20-degree angle, slight comb-filtering lobes appear over the response, but they are too narrow in width and low in amplitude to have any audible impact. Very few speakers have as controlled directivity on the vertical axis as Perlisten does with their DPC technology. That makes this a great solution for rooms without much acoustic treatments on ceilings and floors and all that much better on rooms with treated floors and ceilings. Perlisten's DPC technology substantially reduces vertical reflections as a point of concern for in-room acoustics.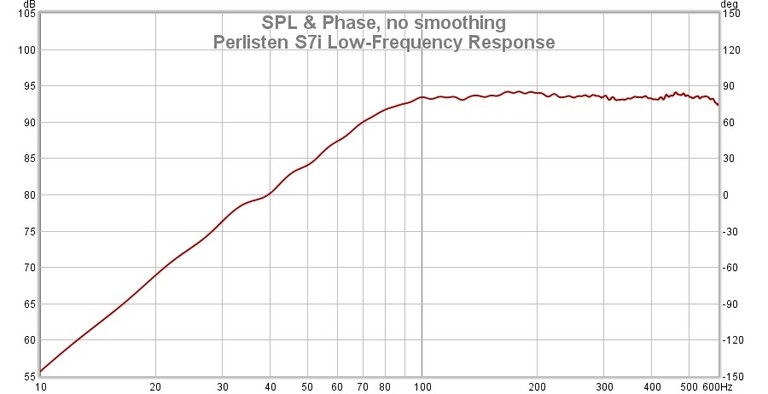 The above graph shows the S7i's low-frequency response. This was measured by placing the microphone very close to the bass driver cone. Since this is a sealed speaker, this technique can be used to gauge the response in this range since all of the acoustic output emanates from the cone, and it will be omnidirectional up to about 250Hz. The S7i response is beautifully linear down to below 90Hz, where we see a traditional sealed 2nd order rolloff. While a response like this will get some low-end boost from room gain, it will still benefit from the addition of subwoofers. In fact, this type of a low-end response makes the S7i very easy to integrate with subs since there is not as aggressive phase rotation as would be seen in a ported loudspeaker. This is one of the reasons why THX mandates a 2nd-order roll-off on the low end in order to secure their certification.
One noteworthy aspect of this response is the lack of a mid-bass bump that can be seen in so many speakers with back-boxes (examples can be seen discussed at Erin's Audio Corner Youtube channel: Hi-Fi In-Wall Speaker Shootout). Perlisten has tamed any would-be response rise in this region with a special addition to the crossover circuit. It's almost as if many other loudspeaker engineers left baffle-step compensation in their designs but forgot that there is no baffle-step transition in an in-wall speaker. Perlisten was thankfully cognizant of this circumstance and have designed their speaker accordingly. The S7i should have a very natural bass sound without any boominess or excess bass seen in other in-wall loudspeakers. Its low-frequency response is very nearly perfect where the inclusion of a subwoofer is a given.
Measurements Conclusion
While I didn't have a chance to hear the S7i play anything other than test tones, the measurements strongly suggest that it is very much on the level of the S7t speakers that I enjoyed so much. The only major difference in the response is that the S7t has more bass extension, but that would be expected out of its much larger enclosure and ported design. Our measurements closely match those taken by Perlisten, so I would take that as strong evidence that their other in-wall speakers perform as advertised.
Naturally, in-walls are at a disadvantage with respect to free-standing speakers since free-standing speakers can be easily repositioned in-room for fine-tuning the sound with respect to the in-room acoustics. But the S7i presents itself as a superb option for those who want the cleaner appearance of an in-wall or don't want to sacrifice the floor space that free-standing loudspeakers require. Were I constructing a high-end home theater using in-wall speakers, they would be very high on my choices of speakers.

Unless otherwise indicated, this is a preview article for the featured product. A formal review may or may not follow in the future.