Pro Audio Technology SR-28212ai Fullrange Loudspeaker: 130dB Output, Only 6" Deep!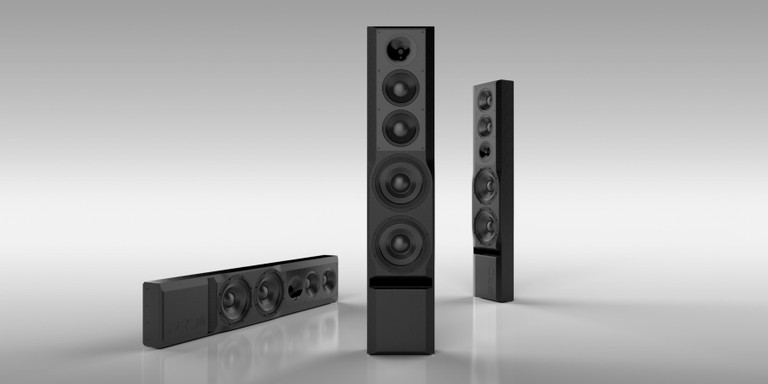 Pro Audio Technology SR-28212ai
Summary
Sensitivity: 102dB LF / 106dB MF / 108dB HF
Power Requirements: Tri-amplification via PRO Amplified Loudspeaker Controller
Frequency Range: 22Hz – 22kHz, -6dB
Max Output: 131dB
Nominal Impedance: 4-ohms LF / 4-ohms MF / 8-ohms HF
Dimensions: 68" H x 14" W x 6" D
Weight: 117 lbs
Executive Overview
If you were putting together a mega-buck home theater, what speakers would you choose? I'm a 2-channel guy at heart, so my first inclination would be to go with a speaker brand from the world of traditional Hi-Fi. Focal's 1000 Series in-wall speakers would do nicely, as would the KEF Ci5160REF-THX in-walls (which cost a cool $10k each), supported by some in-wall subs from JL Audio. But if you're more into pro audio, DIY audio, or home theater, you might go in a completely different direction and still achieve fantastic results. When the blockbuster film director Michael Bay (Armageddon, Transformers) built his cost-no-object home theater in 2015, he chose speakers from QSC. And that should come as no surprise, since QSC makes the speakers (and processors, and amplification) used in many of the world's best cinemas and post-production facilities. The company might not be on my radar at all — I'm just an everyday audiophile — but for Michael Bay, QSC was an obvious choice. The loudspeaker department at QSC was built from the ground up about 20 years ago by Paul Hales, who now runs two companies of his own: Theory Audio Design and Pro Audio Technology. If you're into high-performance home theater, there's a good chance that you're familiar with Hales and his designs. (In fact, even if you're a 2-channel guy like me, you might recall the Hi-Fi speakers sold under the name Hales Design Group, back in the 1990s). Theory Audio Design makes compact and stylish speakers with size-defying dynamics — perfect for a living room or family room where the speakers would be on display for everyone to see. Meanwhile, Pro Audio Technology is all about big, powerful speakers that deliver high output and high fidelity for the very best dedicated home theaters. The newest and most interesting product from Pro Audio Technology (hereafter referred to as PRO) is the SR-28212ai, which "creates an entirely new loudspeaker category," according to the company. The SR-28212ai ($10,000 each) is unusually versatile, and can function as a full-range home theater speaker (for LCR or surround channels), an LFE-channel subwoofer, and a sub for surround/height channels (via bass management), all at the same time. Outside the context of home theater, PRO says the SR-28212ai is accurate enough to serve as a studio reference monitor, yet powerful enough to shake the dance floor in a night club. So what exactly makes the SR-28212ai so special?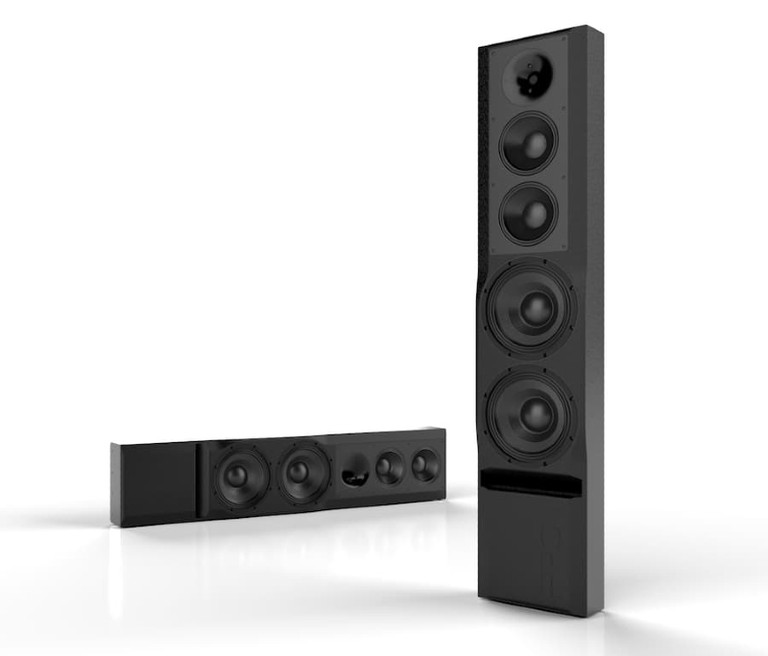 PRO describes the SR-28212ai as "the highest-performance, most versatile loudspeaker system" the company has ever produced. Simply put, it's a large-format, 3-way multipurpose loudspeaker with a built-in subwoofer system, all packed into a wall-mountable enclosure just 6 inches deep. Although the SR-28212ai needs outboard amplification, it can't be used with just any amplifier. The speaker requires tri-amplification via a PRO Amplified Loudspeaker Controller (ALC) unit, which handles the speaker's crossover duties via DSP. Because the ALC also handles bass management, the SR-28212ai can act as three loudspeakers in one: a high-output, full-range loudspeaker for LCR or surround channels, a main subwoofer for the LFE channel, and a bass-management sub to support smaller in-ceiling speakers used for Dolby Atmos effects. In addition to offering this unique level of flexibility, PRO says that the SR-28212ai is the "most acoustically ambitious" design in the company's history, with the ability to deliver "ultimate accuracy, resolution, and unrestricted dynamics." The driver complement starts with a wide-bandwidth 1.75-inch advanced polymer "Ultra-Purity" compression tweeter, which sits inside a proprietary wide-dispersion axi-symmetric waveguide. The high frequencies are "clean, pure, and coherent, with no trace whatsoever of compression driver harshness," according to PRO. The SR-28212ai is the first PRO speaker to use this custom Theorem waveguide, which is said to ensure "textbook on and off-axis dispersion of critical high frequencies."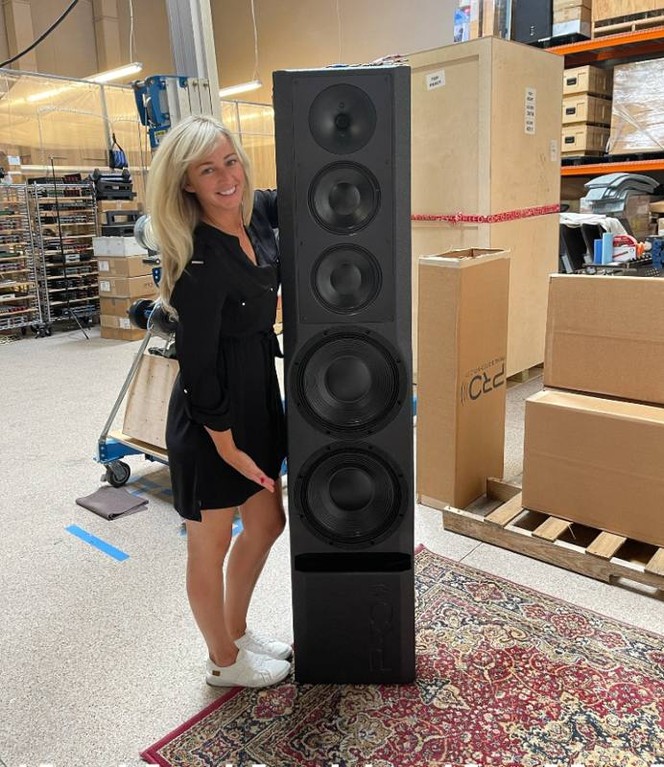 The Lovely Erin Phillips Standing Beside the Pro Audio Technology SR-2812ai
Moving down the frequency spectrum, two 8-inch midrange drivers take over from the tweeter, delivering ultra-high output thanks to their 2.5-inch voice coils. The bottom end is reproduced by a pair of "professional-grade" 12-inch subwoofers with 4-inch voice coils. PRO says that the SR-28212ai "produces surprisingly full-range, visceral sound typically only found in much larger loudspeakers," despite the fact that the speaker's cabinet is a mere 6 inches deep. How is this performance achieved? There are a few factors at play here. First, the SR-28212ai is tri-amped to maximize the performance of each driver section in the system. This is not uncommon in commercial and professional audio systems, but is hardly the norm in residential audio. And without a passive crossover network in the signal path, the SR-28212ai is incredibly efficient. The low-frequency section has a rated sensitivity of 102dB; the midrange section is rated at 106dB; and the tweeter is rated at 108dB. Working as a whole, the SR-28212ai is capable of a massive 130dB of output! I think it's fair to say that this is indeed impressive performance for a speaker just 14 inches wide and 6 inches deep, but don't let the svelte proportions fool you — this is not a small speaker. The SR-28212ai is 68 inches tall and weighs 117 pounds, making it easily big enough to play power forward on the JCC basketball team that my dad coaches.
By leveraging the bass-management capability of our ALC model amplified loudspeaker controllers, a single SR-28212ai loudspeaker system can serve as a full-range surround loudspeaker (for front, center, or rear channels), an auxiliary LFE system subwoofer, and a surround speaker bass-management subwoofer, simultaneously. For example, in space or budget-constrained systems, three 6-inch deep (speakers) can operate as the LCR speakers and three main LFE subwoofers. There is no need to buy or locate separate subs.
— Paul Hales, President and Product Designer, Pro Audio Technology
Now, back to the SR-28212ai's versatility. The speaker ships with PRO's pivot brackets, allowing it to be mounted to the wall and then aimed precisely at the reference listening position. In this type of installation, the customer would choose the straight-firing axi-symmetric waveguide. But in some rooms where depth constraints are an issue, a customer might need to mount the speaker flush to the wall, or even inside it. In scenarios where the speakers themselves can't be pivoted away from the wall, the customer can order the SR-28212ai with an asymmetric waveguide that aims high frequencies at a 40-degree angle to the loudspeaker's main axis when the speaker is mounted flat. The angled asymmetric waveguides can be rotated in 90-degree increments to aim the high frequencies in any direction: up, down, left, or right. The tweeter and midrange drivers are built into a module that can be inverted, so the user can choose to have the tweeter closer to the center of the baffle (as shown in the horizontal speaker in the image above), or on top of the midrange drivers (as shown in the vertical speaker). This flexibility allows the SR-28212ai to be used as a horizontal center-channel speaker mounted underneath or above a large TV, with either the straight-firing waveguide or the 40-degree option, as determined by the specifics of the installation. In another scenario, the flippable mid-tweeter module could allow an installer to mount the speakers upside-down on the side and/or rear walls of the theater. This would place the speaker's subwoofer section near the ceiling, enabling it to augment the bass for height/effects speakers, while the inverted mid-tweeter module would place the midrange drivers and tweeters at the proper height relative to the listeners' ears.
I'm not aware of a more powerful or flexible loudspeaker system anywhere. Combined with our ALC bass-management and mixing capabilities, there is almost no application it cannot handle.
— Paul Hales
The SR-28212ai loudspeakers are available now at PRO dealers worldwide. The speakers are designed, engineered, and manufactured in the USA, and come with a confidence-inspiring 10-year warranty. For most people, $10,000 is an awful lot to spend on just one speaker, but it's clear that PRO has designed the SR-28212ai to compete with the best of the best from all areas of the audio industry. So, what speakers would you choose for your fantasy home theater? Share your thoughts in the related forum thread below.

Unless otherwise indicated, this is a preview article for the featured product. A formal review may or may not follow in the future.
Confused about what AV Gear to buy or how to set it up? Join our Exclusive Audioholics E-Book Membership Program!
Recent Forum Posts:
MR.MAGOO posts on December 03, 2021 19:20
panteragstk, post: 1521357, member: 61217
Maybe he thinks someone will try to bury him in it. Granted, at the 6" depth that'd make for an unpleasant task.

at 6' tall and 6" deep it probably requires some "optional extra cost accessory" add-on bracing kit to keep it from falling over.
3db posts on December 03, 2021 14:42
Danzilla31, post: 1520828, member: 85700
But can she hit 130db with multiple drivers tho bro?

P?ss her off and let's see what happens!!
panteragstk posts on December 02, 2021 19:33
TLS Guy, post: 1521110, member: 29650
Why? My front left and right are slightly taller than me, the rear backs are much taller. Just calculate wavelengths and frequency.

Maybe he thinks someone will try to bury him in it. Granted, at the 6" depth that'd make for an unpleasant task.
TLS Guy posts on December 01, 2021 21:38
MR.MAGOO, post: 1521087, member: 77706
I'm always suspicious of any speaker taller than I am.

Why? My front left and right are slightly taller than me, the rear backs are much taller. Just calculate wavelengths and frequency.
lovinthehd posts on December 01, 2021 21:38
TLS Guy, post: 1521106, member: 29650
No! The master bedroom comes off the great room, and the master bath off the master bedroom.

This home was designed as a nursing home prevention project.

I was frustrated as to how after often months of work in acute care, patients who could have gone home could not because of architectural barriers. So I got privileges at our rehab hospital which was in Grand Forks, but was for the whole state. That allowed me to manage care from crisis to home and be heavily involved in adaptive equipment and home adaptation. I brought those lessons into the design of this home. You just never know. Basically nursing homes are OK if you don't know you are in one!

I have my own nursing home avoidance plan Nice to have good audio, tho…..
Post Reply