Super Bowl XLIII Party - Throw a Memorable Bash
Super Bowl XLIII Party - Throw a Memorable Bash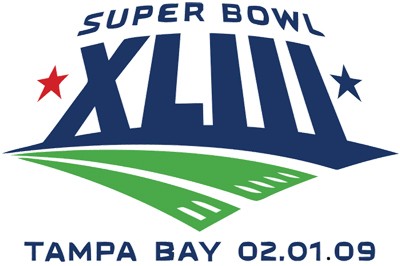 Throwing a successful Super Bowl XLII party
Anyone can throw a Superbowl party. I mean, just turn on the tube, grab some chips and roll - right? Well, yeah, that's pretty much how it looks in a nursing home, but if you want to have a really fun time - something that will go down in the annals of history as a memorable event that impacted lives (or more likely, pocketbooks, as our friends try to duplicate some of our systems in their own houses) you may need a bit more than the old 27-inch Toshiba and a bucket of wings.
You need to use technology to its fullest. You need HDTV... and you need your screen to be big. In our Superbowl party adventure we have 3 oversized front projector systems, 3 flat panels and multiple audio systems and zones to bring out the audio for each. The idea is simple - use the Superbowl party as an event that showcases some of the latest, greatest equipment available on today's market. After all, this is Audioholics. If we can't make use of some cool loaner gear to show off during the game what good are we?
Last Superbowl Before the Analogue Cut-off
Of note to AV enthusiasts, Super Bowl XLIII will be the last Super Bowl to be telecast in the United States in the analog NTSC television format before the nationwide digital television transition scheduled for later this year. This makes it one of the final analog US broadcasts of a major sporting event - barring congress actually passing the June 12 extension.
NBC will be broadcasting the game live - and this is the network's first Super Bowl broadcast since 1998. Let's hope they get it right, though NBC is certainly no stranger to the NFL or doing HD. Al Michaels and John Madden (who has now announced a Superbowl for every major network) will be giving the play-by-play from the booth and Andrea Kremer (token female) and Alex Flanagan will serve as the sideline reporters. This year's pre-game show is slated to be five hours long (the longest in history) and will be hosted by Bob Costas. I think next year they'll just start at The Today Show and keep going...
Let's Back Up a Little and Start With the Food
Each year we talk about the food associated with the game. This year is no different, except that I want to present the food options in a manner consistent with ease of delivery. You don't have to spend oodles of time in the kitchen to come up with meals, snakes and delectable niceties that will impress everyone. Here are a few of my favorite "quickies" that work well for any party:
The Chili Cheese Connection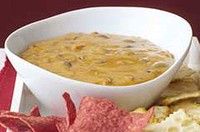 This one is almost too easy as to be unfair. Want to impress at a party? Show up with an oversized bowl of chili cheese with a couple bags of Scoop size Fritos corn chips. To make this dish you simply buy two cans of chili (we prefer Stagg if you can get it - tons of meat and excellent flavor) and 16 oz of Velveeta "cheese food". Empty the chili into a large bowl. Cut the Velveeta in cubes and dump it in. Microwave for a few minutes. Stir, taste, nuke it some more if needed. Serve. That's it. It's incredibly unhealthy and tastes really really good (going down). Look, I said it was easy, not healthy.
PS. You can't mess this up. Seriously. Too much cheese or chili? Impossible. Add bacon. Drizzle lettuce. Top it with black olives. Dress it up and make it your own. And yes, I'm pretty sure this recipe is on the side of the Velveeta packaging.
The Cheese Plate
Look, you didn't hear it form me, but I'm a big fan of cheese and crackers - so why not bring along some port whine and cheddar cheese with crackers? The best crackers are ones that are flavorful and thin, yet robust enough that they don't shatter when you spread on the cheese. It also helps to leave the cheese out a bit so it gets soft and spreadable. If you're adventurous there are some excellent hard cheeses available in most deli areas of your local supermarket. These are often delicious, but expensive. Your budget, your call.

My Favorite Hors D'oeuvres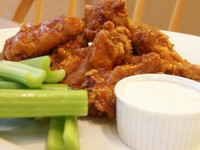 You cant go wrong with some of these staples. They may sound tired, but everyone is sure to put them on their plate and a good hors d'oeuvre is one that runs out by the end of the night. Check out some of my favorites:
Shrimp – You can get these frozen and already peeled, or you can buy a platter that even comes with cocktail sauce. Either way, shrimp is an easy choice and will run out before many other selections.

Meatballs – I have several friends that make this delectable dish - each completely unique, from Swedish style to honey glazed. They all rock. If you are coming to my house you should bring these in a crock pot. Lots of them.

Taquitos - I can get a little tired of these, but they are a good appetizer food. As a result, I only eat them at the Superbowl party each year. Bring some hot sauce and/or salsa to go with them. You can typically find these sold in boxes of like 1000 at Costco, SAMs and BJs whole sale clubs.
Ordering Delivery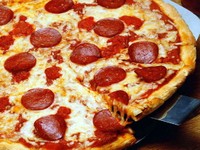 If you're in a pinch, one of the cool things you can do is order food for delivery or pickup on the way to the big game. This can take many shapes, but the most common items are:
Pizza - Bring it, order it, make it. Either way, pizza is a great addition to any Superbowl party. Words you will never hear at a Superbowl party: "Oh, man... pizza again!"

Hot wings - You can pick these up from the local hot wing place, Hooters, Wild Wings, or "fill in the blank here" restaurant. Even our local Publix Supermarket offers ready-made wings all heated up and seasoned to perfection. I love hot wings. My friends love hot wings. Your friends love hot wings. Of course, the best hot wings I've ever had were home-made. If you're "that guy" you outdid yourself and I applaud you. Next year you can come to my house. Don't wait for an invite, just hand me the wings and walk in. Oh, and DON'T forget to bring blue cheese dressing - chunky.

Sub sandwiches - Go on, eat fresh. With $5 subs common and even greater discounts available for party-sized platters, sub sandwiches always make a great item for bringing along to a party.

There is plenty more that can fit in here, but let's move on to the AV equipment and the real reason we enjoy throwing a massive annual Superbowl party.
What not to bring:
Vegetable plate - look unless you're trying to impress the ladies, bringing healthy food to a Superbowl party is like bringing a towel into a swimming pool. Tale a day off and have fun. You can jog it off later.

Brownies... with blue cheese filling. It's a long story.
That's all I got. Seriously, just bring some food.

croseiv posts on February 01, 2009 16:42
Thanks for the pointers! Getting ready to have a little gathering myself.
mperfct posts on January 30, 2009 09:58
Great article. This sounds like the party to be at, and if I were close and knew how to do hot wings, I'd be there. Hell, I'd even bring two dishes. Like maybe some ham/cheese rollups, with med/hot salsa and sour cream.

GAME ON!
Post Reply
Confused about what AV Gear to buy or how to set it up? Join our Exclusive Audioholics E-Book Membership Program!