Super Bowl XL Party at Audioholics!
Super Bowl XL Party at Audioholics!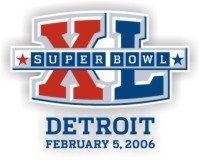 Throwing a Super Bowl Party
Last year we threw an incredibly fun Superbowl party and had over 25 people in attendance. This year we wanted to outdo ourselves - a challenge to say the least, but one that we felt we could overcome. I mean, this is Superbowl XL, or "Extra Large" as it's being called, so we can't skimp on any of the details. In this year's article we wanted to focus not only on the audio and visual entertainment (though that is the focus of this piece) but also the other amenities and special touches that make for a really successful and entertaining Superbowl party.
The Friends
A Superbowl XL party is nothing without friends and loved ones to share it with. Use this event to draw in people you know and love as well as an opportunity to get to know people you may not have spent much time with in the past. Lots of people go "hard core" on the Superbowl and want to shut themselves in a room with no disturbances - and we've provided for that here - but in general, this is a great opportunity for fun and fellowship. So invite all your friends, and your friends' friends... and your neighbors - this is a PARTY!
The Food
Food is a HUGE item on my list of what to take care of for a successful Superbowl party. You cannot, I repeat CANNOT leave this up to chance. Having good food is absolutely critical as it provides a means of gluing the event together. I mean, what if the Superbowl is as one-sided as the playoffs - at least there will be good food!
Here is what's on the menu at our house. Treat it as a "suggested list" for those of you looking to bring together some great culinary pleasures for your guests:
Shrimp appetizers - a must for any serious party, and don't forget the cocktail sauce!
Hot wings - this is simply a Superbowl staple. You can't throw a football party without hot wings. In South Carolina I'm pretty certain it's a crime punishable by imprisonment and the revocation of your "refrigerator on your lawn" rights .
Pizza - Get a sheet of pizza (they come by the sheet around here) or two if you're really expecting a crowd. Pepperoni is the thing since about 90% of everyone I've ever met likes it and the topping can be removed by those who don't.
Chili-cheese dip - M y friend M ike gave me a great recipe for Chili that I embellished by using a meatier base. Take a couple cans of chili and add Velveeta cheese (lots of it). Nuke it for a couple minutes and stir. Um, that's some good stuff. Don't forget some dippable chips!
Drinks - Get a generous supply of coke and diet cola products in 2 liter bottles. Don't go generic here - it'll only save you a couple dollars and some of that stuff will strip paint. Since I'm in the South I also supplement with a healthy supply of sweet tea (about 1 cup of sugar per gallon - stir in while boiling) and lemonade. I also set up a BYOB policy for alcohol, so that usually takes care of itself. You can adjust accordingly.
As for the rest - let your guests bring a food or drink item to the game as well. I'm sure they'll have some creative concoctions and this will provide diversity and a greater selection on top of your base preparations.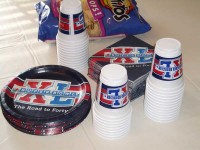 And don't forget to get some decorative disposables. You can go to your local party store and pick up Superbowl XL plates, cups and napkins to add some color to the event. They will also likely have some balloons for each of the teams that you can hang in the room to add a touch of decoration to the main room. This is something I missed last year and wanted to add it in to this year's party to spark a more thematic feel. It also makes clean-up easy and simple.
The Source: ABC's High Definition Adventure
This year's Superbowl is slated to be the most advanced in terms of technology and use of HD cameras. NEP Supershooters is the company bringing three mobile trucks to cover the game. This is the same HDTV configuration used to shoot M onday Night Football, but with additional trucks for even more cameras and source coverage. For example, the third truck will be dedicated to covering the half-time show featuring the Rolling Stones.

Technology will include Thomson Grass Valley WorldCam cameras using Canon lenses. Sony slow-motion cameras (capturing video at 180 fps) and a Panasonic SkyCam and POV camera will also be used. Sony is even providing a Cinealta HDW-F900 camera to archive material in 1080p/24 for later use.
The unexpected news is that there will also be a hi-def RF camera. This camera will be able to go places never seen before due to the limitations of cabling. We're talking potential locations that include the stands, behind the benches, around concession areas - you name it. There were some technical hurdles, but they seemed to have figured out workarounds - we'll have to see.
If you've ever wondered how the camera crews are able to zoom way in and lock on to such detail without having a jerky image, Canon's advanced Optical Image Stabilization system is built into the lens and allows extreme close-ups over long distances. Now these lenses are going to be incorporated into almost every hi-def camera used at the game. Make no mistake, this is going to be one high-tech show!
The Zones: Audio & Video Viewing Areas
M y friend Tom Gaige came over to help me figure out the best way to place all of the AV equipment. This is hard work - and it's better to have some pre-planning before you start to move furniture and large display systems. We decided to go with a slightly different approach overall for Superbowl XL, providing more coverage and greater flexibility than last year's setup.

Zone 1: Grand Central Station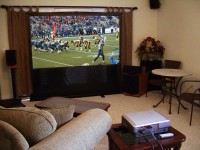 Last year we placed all of the displays along a single wall in the main viewing room. This worked well, but for this year's game we decided to try a different approach to optimize the angles. By utilizing a Da-Lite Deluxe Insta-Theater 90" screen we were able to spread the viewing area out a bit. The 90" projection screen went against the east-facing French doors and the 42" Pioneer plasma display was positioned along the adjacent wall closer to the food table. By doing this we freed up the living room for a more flexible arrangement of seating and also provided a better "wow" factor once you entered the room. A nice side effect was that you could now also continue to view the large projection screen - even from within the kitchen (a favorite hang-out last year). This means that "kitchen gnomes" will have access to 3 different displays depending upon where they stand.
Gear List for Zone 1
Sanyo PLV-Z4 LCD Front Projector (1280x720p) info
Da-Lite Deluxe Insta-Theater 90" Screen info
Pioneer PDP-42A3HD 42" Plasma HDTV info
Yamaha RX-V2600 A/V receiver info
Aperion Audio Intimus 6 Series info
Scientific Atlanta Explorer 3250HD
Impact Acoustics interconnects and speaker cables info
Gefen Component Video Extender LR info
As noted above, we utilized the popular Sanyo PLV-Z4 LCD front projector along with the Da-Lite portable screen which proved to be an excellent combination. The Da-Lite Deluxe Insta-Theater screens are absolutely mind-blowingly convenient to use. You simply open up the aluminum case and pull the projector screen up from the floor. It raises and lowers with "one-finger" ease and has a gain of 2.2 which allowed me to get some extra brightness out of the Sanyo for the Superbowl. With a screen like this I can't see why more people don't opt for projection screen-based home theater systems in their homes. You can bring this unit out and put it away in mere seconds and it stores easily in a closet. It even has a carrying case (optional) to help you sling it over your shoulder and take it to a friend's house for a quick movie night or Xbox party.
We were able to get component video from one side of the room to the other by using a single existing RJ45 (Cat5e) run and Gefen's Component Video Extender LR . This ingenious device makes the act of extending component video a piece of cake - especially for those who have their houses wired with some extra RJ45. All it takes is a powered transmitter box - the receiver can remain passive.
The desired goal of this room is to allow all Superbowl attendees to congregate in a large open area to watch the game. It delivers multiple unobstructed views of the game on two large screens; and food, another important aspect of any successful Super Bowl party, is also nearby.
Zone 2: The Stats and Updates Center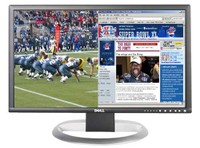 OK, it may be distracting for some, but if you are really into the Superbowl (or even the commercials) you may want to log in and check out Superbowl.com or NFL.com at some point during the game... And what if some awesome, awe-inspiring commercial leaves you hanging until you "log in to see what happens"? I'm sorry, but not in my house! We set up a station using a Dell 24" 1080p LCD display (review pending) and one of Audioholics' H TP Cs to take care of that in a jiffy. This is one monstrous PC display, but it also features composite, s-video and component inputs for those wanting to have it serve dual purpose as a television. Because of this, we'll make it switchable from PC to TV by feeding it off of our main component video line...
Gear List for Zone 2
Dell 2405FPW 24" 1080p LCD Display/Television info
Gyration Ultra RF Remote & Keyboard
Audioholics Custom HTPC
Zone 3: The Kitchen "Hang Out"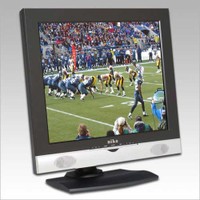 Some would say that it's almost inevitable that you will have a small congregation of people camping out in the kitchen. Those people would be absolutely correct. This happened last year and we prepared for it again this year with a small, but adept 20" Niko LCD television. This is a great little TV (review pending) that can be had for under $300, representing the very entry level at this size. It's especially great for use in secondary bedrooms or if you need an extra display in, say, the kitchen.
Gear List for Zone 3
Niko OTP-2011R 20" LCD Television info
Zone 4: Hardcore Fans Only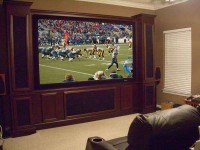 This Reference System has come a long way since Superbowl XXXIX . In place of the piecemeal and temporary system we held previously, we now have a refined, finished RBH Sound CinemaSITE system , complete with a pair of SI-1010/P in-wall subwoofers that can pressurize this room to ridiculous levels. The temporary seating has been upgraded to Berkline reclining leather chairs and the room now features a complete, timbre-matched 7.1 surround system.
As with any multi-zone Superbowl party, you are going to want a place where people can get away from the talking and just focus on the game - this is that room. We've dedicated Reference System 2 to those who simply don't want to be disturbed. The question is - can we pry their butts out of those leather seats once the game is over?
Gear List for Zone 4
Yamaha LPX-510 3LCD Projector review
Stewart Filmscreen Luxus Deluxe Screenwall with Studiotek 130 screen review
RBH Sound CinemaSITE Loudspeaker System info ; First Look
RPG Diffusers Absorption Panels and Skyline Diffusers info
Impact Acoustics Interconnects and Speaker Cables info
Scientific Atlanta Explorer 8300HD DVR
Some of the technical merits of this room include a Room Analysis from Rives Audio and room acoustics by RPG Diffusers, Inc. On the gear side, all source components support HDM I and we can supplement the capabilities of the AVR-4306 with a PureLink 4x1 HDMI Switcher . The Emotiva MPS-1 assures that there is power to spare and the image is pristine thanks to the Yamaha LPX-510 and DVIGear's SHR HDMI cables.
Sitting in this room, you experience the sports action like nothing else out there. Time Warner Cable provides most games in Dolby Digital EX and the result is like being at the game. Crowd noise surrounds you in the room and the action comes directly off the screen thanks to the excellent job RBH Sound does with their SI-6100 center channel and main speakers. Hits and crunches are real (though the networks have a lot to learn about using the LFE channel in live broadcasting) and the seating helps you to relax and really enjoy the on-screen action. You can be sure that I'll pull away at least part of the time to sit back and recline in one of the Berkline seats for some intense football action.
Zone 5: Alternate Viewing for the "young-uns"
This is for all the "little people". After some thought we decided to once again break all the rules and set up a dedicated room for children, including a babysitter to camp out and make sure the adults are able to enjoy themselves (and make it to the party). What do kids need? A DVD player, a clean room and some square footage to run around and be kids. This Zone is upstairs and far away from the game action so as to allow the adults time to enjoy the party without having the children underfoot. It's a nice compromise and a great way to get some people to come who otherwise might not be able to make it.
Gear List for Zone 5
Denon DVD-3910 DVD player review
Toshiba 32" CRT television
Brookstone Wafer Thin CD System w/ M P3 review
Wow, so what do we hopefully have after all of this? Well, we're looking forward to achieving several goals:
Creating a "wow" factor
Showing off some cool toys for people to experience and play with (for a lot of people this is their first "up close and personal" experience with anything over 32" in size)
Enjoying and eating large quantities of good food, and
Having a generally nice time fellowshipping with friends
Will it go as well as we planned it? That remains to be seen - we'll let you know (and we'll be sure to post pics of the in-game excitement!) Until then, it's time to start prepping some food... and in case you're wondering who I'm rooting for - I'm hoping this isn't the second year in a row a Pennsylvania team goes home empty-handed. Go Steelers!
Confused about what AV Gear to buy or how to set it up? Join our Exclusive Audioholics E-Book Membership Program!