Throwing a Memorable Super Bowl Party
Throwing a Memorable Super Bowl Party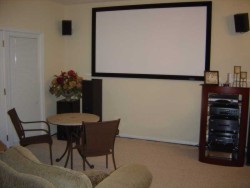 Throwing a Memorable Super Bowl Party
Planning a Super Bowl party for your friends is hard enough. There's plenty to worry about: food, drinks, food, seating, food - you get the idea. Add to that the reputation associated with being part of Audioholics and you have some pretty high expectations to meet. If you really want to throw an all-out Super Bowl party that will be remembered, you'll need to focus on the home theater aspect of the event. After all, good food only goes so far. You have to remember the general rule: the guy with the biggest screen wins.
To compete with, and stand apart from, the sports bars and other RPTV-equipped establishments and homes that will be showing off the game, we decided to provide an all-encompassing Super Bowl experience involving 5 (five) distinct zones, each of which allowed guests to roam practically anywhere in the house without missing any football action. The goal was to immerse the participants in the game, with oversized high definition images and all-encompassing surround sound. Fortunately for us, we had lined up several products for review that would work well in accomplishing our goals for this Super Bowl extravaganza. My friend Tom came over and helped put the final touches on the five systems this week - and boy did we have a lot of work to do! Outlined below are the Zones and equipment we configured for this year's Super Bowl XXXIX party at Audioholics:
Zone 1: Grand Central Station
Desiring to have a very large, open area whereby we could allow the maximum amount of people to participate, Zone 1 takes Reference System 3 and expands it. We decided to shift the high definition television to the right and widen the front sound stage to cover the entire room. The result is a dual high-definition presentation and 5.1 surround that covers the entire 20' x 24' living area. To an extent, we sacrificed (as we did in nearly all zones) sound quality and imaging for coverage and convenience. The two high definition displays include a 55" Mitsubishi WS-55813 rear projection CRT display and a Maxx LCOS 1400 which we projected onto a Stewart Studiotek 130 Luxus Deluxe ScreenWall. 5.1 surround sound is being provided by a Yamaha RX-V2500 receiver which is driving RBH Sound Signature Series loudspeakers.
Gear List for Zone 1
Maxx LCOS 1400 Front Projector (1400x1050p) review
Mitsubishi WS-55813 55" HDTV (1080i) review
Stewart Filmscreen 100" Studiotek 130 Luxus Deluxe ScreenWall review
Yamaha RX-V2500 A/V receiver review
RBH Sound Signature Series speakers (1266-LSEs, 661-LSE, 61-LSEs, 1010-SEP) info
Scientific Atlanta Explorer 8000HD DVR
Cobalt Cable 40 foot "Ultimate" component video cable (RCA-BNC)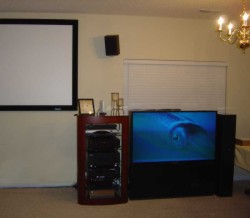 Leaving the Stewart ScreenWall where it normally is, Tom and I moved the Mitsubishi HDTV to the right, creating a veritable wall of high definition video for the big game. The right front RBH Sound 1266-LSE was also moved to open up the front soundstage and provide greater coverage to the listening area. HDTV coverage of the game will be provided by Time Warner Cable, who inked a deal with the local Fox affiliate (WFXB) to provide the Super Bowl in HD just five days before the scheduled game! Their provided Scientific Atlanta Explorer 8000HD DVR delivers decent quality video from its analogue component video outputs. The component video cable supplied by Cobalt Cable provided excellent connectivity from the front of the room to the projector we located towards the rear of Zone 1.
The desired goal of this room is to allow all Super Bowl attendees to congregate in a large open area to watch the game. It delivers multiple unobstructed views of the game on two large screens; and food, another important aspect of any successful Super Bowl party, is also nearby. We tried to bring some of the sports bar feel back into the room by positioning two of our outdoor bistro sets in the room to strategically break up the floor space. This also gave us some more table room for snacking while enjoying the big game.
Zone 2: Stats and Online Action
I decided to hang Ad Notam's 30" LCD Magic Mirror on the rear wall of the main viewing area (Zone 1). This TV is just plain cool and I wanted to create the effect that everywhere you looked you still see elements of the game. This display is wired up to Reference System 3's H TP C and provides access to statistics and information from Superbowl.com as well as access for guests to follow-up with websites that might be tied to the game or commercials. A Gyration wireless RF Media Center Remote & Keyboard allows guests to browse the web at their convenience from anywhere in the room - just pick up the keyboard and go. With a native resolution of 1280 x 768, this screen has plenty of real estate to complement the live action with fun online, real-time content - like voting for the game's MVP.
Gear List for Zone 2
Ad Notam TV 30.0 LCD Television with Magic Mirror review
Gyration Media Center Remote & Keyboard
Audioholics Custom HTPC
Confused about what AV Gear to buy or how to set it up? Join our Exclusive Audioholics E-Book Membership Program!