Yamaha RX-V2500 Receiver Review
Yamaha RX-V2500 Receiver Review
by
Clint DeBoer
—
November 01, 2004

Contributors: Gene DellaSala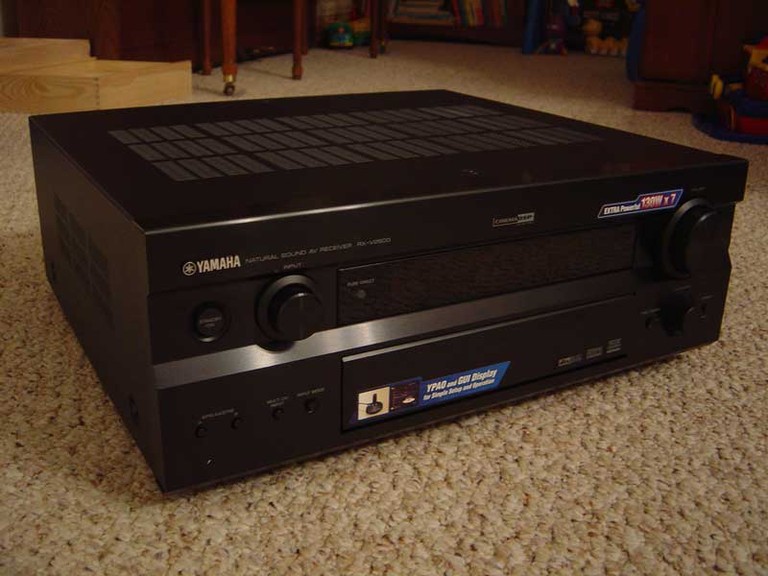 Yamaha RX-V2500 Receiver
7-Channel Powerful Surround Sound (130W x 7 RMS) [8 ohms, 20 Hz-20 kHz, 0.04% THD]

Digital ToP-ART and High Current Amplification

Pure Direct Switch for High Quality 2-Channel and Multi-Channel Sound Reproduction

192 kHz/24-Bit DACs for All Channels

YPAO Automatically Sets Best Sound for Any Room, Any Speaker Placement

Dialogue Lift for Enhanced Dialogue Sound

9-Channel Speaker Outputs with Zone 2 Out

On-Screen Display with GUI (Graphical User Interface)

Main / Zone 2 Front Panel Power Switching

Zone 2 S-Video Output Terminal

Accurate Touch Volume Control

Audio Delay for Adjusting Lip-Sync (0-240 ms)

Digital Tone Controls for Bass and Treble

Rec Out/Zone 2 Selector

Selectable 9-Band Subwoofer Crossover

Subwoofer Phase Select

Speaker A, B or A+B Selection (Front L/R)

SILENT CINEMA and Virtual CINEMA DSP

Direct-Access (Macro-Command, Learning and
Preset Capable) Remote Control Unit with Macro-
Command Buttons and Illuminated Buttons

Dimensions: 17.125" W x 6.75" H x 17" D
Pros
Three (3) HDTV-compatible component video inputs
Accurate YPAO automatic speaker setup
Presence channels & Yamaha DSP
System memory with 6 storage banks (2 retrievable from remote)
Dialogue lift with presence channels
Independent volume trim for each input!
Cons
Auto Setup sets aggressive crossover frequency
No IEEE 1394/Firewire interface
Remote button labels limit usefulness of backlighting
No parametric EQ bands below 62.5Hz
Yamaha RX-V2500 Introduction
2004 marked a year when SpaceShipOne broke the status quo and became the first private company to successfully launch a reusable manned vehicle into space and return it safely home. That kind of innovation and leadership garners a tremendous amount of respect. Yamaha Electronics Corporation seems to understand the importance of product innovation and leadership. With the RX-V2500, it is apparent they continue to make tremendous strides towards product improvement and the development of new technologies.
It's been over two years since a Yamaha RX-V series receiver has occupied Reference System 3. As you can imagine, I was pleased to be able to integrate the RX-V2500 and see what surprises Yamaha has come up with in the last several revisions since my experiences with the RX-V3000 receiver.
Having just reviewed the Denon AVR-3805, I was anxious to test out Yamaha's YPAO system to see if it was a more productive setup and parametric EQ option for basic room correction. I also wanted to see how well the 130 watts/channel amplification could drive the 4-ohm RBH Sound 1266-LSE main speakers which require quite a bit of power to sound their best.
Yamaha has certainly not been sitting on its laurels of late. In fact, Audioholics completed a rather thorough review of the RX-V2400 receiver when it came out and I was pleased to note the following improvements from that model:
Additional 10 watts/channel for 130watts/channel (20Hz - 20kHz, 0.04% THD, 8-ohms)
DTS: Neo 96kHz
Pure Direct Mode
GUI Interface
Updated YPAO Equalization modes and shortened test time
Manual PEQ settings
Subwoofer phase select
Additional component video input
New remote control with backlit buttons
Shuttered optical connections
Improved components
The Yamaha RX-V2500 receiver was powering RBH Sound 1266-LSE Signature Series speakers in a 12 x 20 listening room in Audioholics' Reference System 3. Below is the configuration utilized for this review:
I'll address power issues later, but the Yamaha sufficiently powered my 4-ohm main speakers without any noticeable strain.

Confused about what AV Gear to buy or how to set it up? Join our Exclusive Audioholics E-Book Membership Program!