Elac Launches Redesigned Uni-Fi 2.0 Loudspeaker Range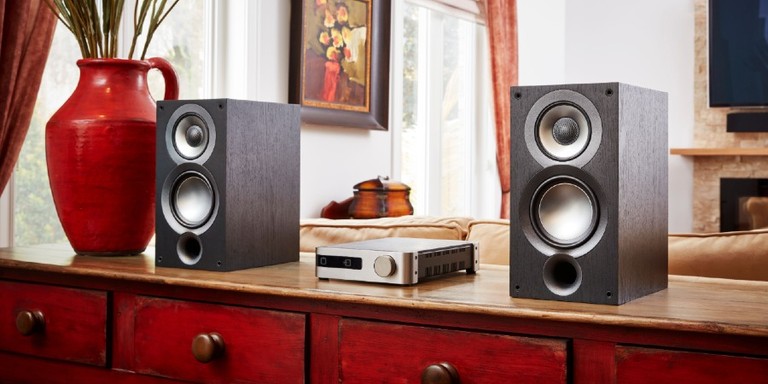 Elac Uni-Fi 2.0
Summary
Product Name:

UB52 3-way bookshelf speaker, UF52 3-way floor-standing speaker, UC52 3-way center-channel speaker

Manufacturer:

Elac

Review Date:

December 17, 2020 00:00

MSRP: $600/pair - UB52 3-way bookshelf speaker, $1,200/pair - UF52 3-way floor-standing speaker, $400/each - UC52 3-way center-channel speaker
First Impression:

Pretty Cool
Elac UB52 3-way bookshelf speaker
MSRP: $600/pair
Frequency Response: 46Hz to 35,000Hz
Nominal Impedance: 6 Ω
Sensitivity: 85 dB @ 2.83v/1m
Dimensions (WxHxD): 7.28" x 13.62" x 10.83"
Weight: 18.26 lbs each
Elac UF52 3-way floor-standing speaker
MSRP: $1,200/pair
Frequency Response: 42Hz to 35,000Hz
Nominal Impedance: 6 Ω
Sensitivity: 85 dB @ 2.83v/1m
Dimensions (WxHxD): 7.28" x 38.58" x 10.83"
Weight: 43.34 lbs each
Elac UC52 3-way center-channel speaker
MSRP: $400/each
Frequency Response: 48Hz to 35,000Hz
Nominal Impedance: 6 Ω
Sensitivity: 85 dB @ 2.83v/1m
Dimensions (WxHxD): 24.42" x 7.28" x 10.83"
Weight: 25.74 lbs each
Executive Overview
The first time I heard the mighty (and mighty-expensive) TAD Reference One loudspeakers was at the 2008 Consumer Electronics Show in Las Vegas. While bouncing around the high-end audio exhibitions in the Venetian resort, I wandered into the room sponsored by tube-amp specialist VTL, where two enormous monoblocks were driving the strapping yet elegant TADs to produce the best sound I had heard at the show. I had no idea who Andrew Jones was at the time, but I made a point to seek out the TAD room, where Andrew himself was showing off a prototype of TAD's Compact Reference One Monitor. That speaker would go on to be another hit for the Japanese company, despite a substantial price-tag of $37,000 per pair. When Jones began focusing on more affordable designs — first for TAD's parent company Pioneer, and later for Elac — his attitude toward loudspeaker design and his sonic priorities remained unchanged. After years of designing no-cost-object gear, it was Jones's talent for designing great-sounding speakers at bargain-basement prices that elevated him to rockstar status in the audio world.
If you ever have the opportunity to attend one of Jones's presentations at an audio show, a few things will be readily apparent — aside from the fact that he's a brilliant designer. First, Andrew is a gregarious and likable guy who clearly enjoys meeting people and talking about his work. Without trying to be, he's the best kind of salesman; he is so passionate and knowledgable about audio that it's hard not to get excited about his speakers, whether they cost $300/pr or $80,000/pr. Second, he seems genuinely interested in getting feedback from anyone and everyone, and he uses these firsthand critiques to further hone his craft and create even better products to please the widest possible audience. At his current role, creating superb yet affordably-priced speakers for Elac, Jones also relies on the invaluable but oft-overlooked source of market research that is the customer service department. In an interview with audio writer and YouTuber Steve Guttenberg, Jones explained that when Elac owners call or write to customer service with questions, concerns, or problems, he wants to know about it. For example, owners of Elac's first-generation Debut and Uni-Fi bookshelf speakers often called in to ask how far into the room the speakers needed to be placed, worrying that the rear-facing ports would cause problems with bass performance if the speakers were too close to the wall behind them. Another common question was about amplifier compatibility. Jones likes to demo even his most affordable speakers with high-powered amps costing thousands. Would a $600 AV receiver be able to drive a low-impedance, low-sensitivity design like the first-generation Uni-Fi with authority and gusto? These questions must have been on Jones's mind when he set out to design Elac's all-new Uni-Fi 2.0 line, which the company describes as "the latest chapter in coherent concentric sound." The range includes the UB52 bookshelf speaker ($600/pair), the UF52 floor-standers ($1,200/pair), and the UC52 center-channel speaker ($400/each), all of which should be available to audition at Elac dealers by the time this article is published.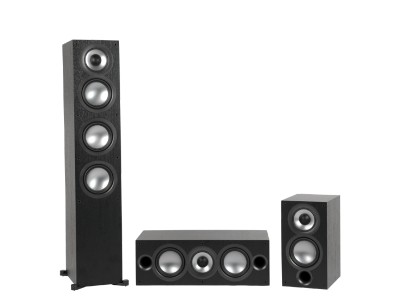 When comparing the Uni-Fi 2.0 speakers to their predecessors, a few differences jump out right away. Perhaps the most noticeable physical change is the location of the ports on the bookshelf and center-channel models. Gone are the rear-facing ports that caused customers to worry about placement in acoustically-compromised locations, such as close to a wall, or — heaven forbid — inside a media cabinet. The front-firing ports on the Uni-Fi 2.0 models allow for greater freedom of placement, according to Elac. The UF52 towers are still rear-ported, but it stands to reason that customers who opt for floor-standers will likely have a bit more real estate to work with. (In my experience, even front-ported speakers will fare much better when given some breathing room from boundary walls.) Comparing spec sheets reveals another big change from the first generation Uni-Fi speakers. While the originals presented the user's amp with a 4-ohm load, the Uni-Fi 2.0 models have a nominal impedance of 6 ohms. The sensitivity spec remains the same at a fairly low 85dB, but according to Elac, the higher impedance of the new speakers makes them compatible with "virtually all AV receivers." In order to accomplish this, an entirely new 3-way crossover was required. The Uni-Fi 2.0 crossover network is reportedly an "enhanced design" that offers improved response linearity and better driver integration, all while making the speakers easier to drive. Jones told CNET's Ty Pendlebury that the chunky 1.5-pound crossover is so large that it has to be glued into the cabinet.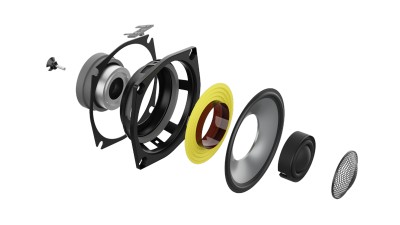 Clearly, these updates show that Andrew Jones and his team at Elac are paying attention to the desires and concerns of their customers. But Uni-Fi 2.0 isn't just a tweaked version of the original Uni-Fi; it's a completely new design from the ground up, including all new custom-designed drivers. Perhaps that should be expected from a company that describes itself as "passionate about driving innovation and refining its existing products." It's certainly to be expected from Jones, who never seems to rest on his laurels for more than a few months. The concentric tweeter/midrange driver found on all three Uni-Fi 2.0 speakers still features a 1-inch soft dome tweeter and a 4-inch aluminum midrange, but the drivers themselves have more in common with those found in Elac's premium Navis range of active loudspeakers than with the drivers used in the original Uni-Fi series. The new tweeter features a wider surround, which reportedly enhances extension both at the top and at the bottom of the tweeter's frequency range, resulting in improved blending with the midrange driver. The crossover point between the two drivers is at 2kHz, versus 2.6kHz in the original Uni-Fi. The new midrange driver features a larger-diameter voice coil, which not only creates the extra room required to accommodate the wider surround for the tweeter, but also exerts greater control on the midrange driver's aluminum cone. The cone itself sports a new geometry and a new low-profile surround. An all-new neodymium magnet assembly does the heavy lifting.
Based on feedback from dealers and end-users, along with changes in the market, we have completely re-designed the entire line-up. Newly developed drivers, waveguides, cabinets, and networks result in a line that is easier to setup, offers greater compatibility, and delivers significant performance improvements.
 — Andrew Jones, vice president engineering, ELAC
Low-Frequency information, below 200Hz, is handled by an all-new 5.25-inch aluminum cone woofer. (The UB52 bookshelf speaker has one woofer, while the UC52 center-channel speaker has two, and UF52 floor-stander has three.) The cone is made from a single piece of dish-shaped aluminum, resulting in improved stiffness. Behind the scenes are an oversized magnet, a large-diameter voice coil, and extended pole piece, which work together to deliver "improved accuracy and bass dynamics," plus "a smoother response and greater transparency," according to Jones and company.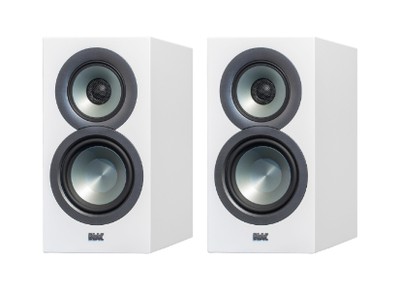 Providing robust support for these new drivers, the all-new cabinets are engineered with thick MDF outer walls and strategically-placed internal bracing to add stiffness and reduce cabinet vibration — and the audible colorations that come along with it. The cabinets are wrapped in black ash vinyl, which arguably looks nicer than the grey vinyl wrap found on the original Uni-Fi series, but not as nice as the satin painted finishes found on the Uni-Fi "Slim" series, which was launched a few years ago for the European market. The Slim series eventually proved popular here in the U.S. as well, despite costing up to 50% more than the regular Uni-Fi speakers, and without any sonic differences whatsoever to distinguish them from the originals. Although some audiophiles are loathe to admit it, sometimes looks matter nearly as much as sound. The Uni-Fi 2.0 speakers do borrow their svelte form-factor from the Slim series; the new speakers are slimmer, taller, and deeper than their original Uni-Fi counterparts, which look a bit squat and dumpy by comparison. Elac has not yet revealed whether the Uni-Fi 2.0 line will be offered with an upgraded finish option for an upgraded price. But earlier this year, Elac launched a speaker line called Debut Reference, based on the company's current entry-level Debut 2.0 models. The Debut Reference uses the same basic design as the Debut 2.0 speakers, but with higher-quality finishes, better-built cabinets, and tweaked drivers. Will we see a Uni-Fi Reference line in the near future, or will Andrew Jones's next creation be something else entirely?

Confused about what AV Gear to buy or how to set it up? Join our Exclusive Audioholics E-Book Membership Program!