Pioneer EX Loudspeaker Series
Pioneer EX Loudspeaker Series
Filed under: Loudspeakers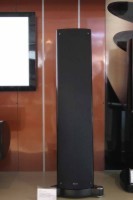 Pioneer Electronics (USA) Inc. announced a new line of premium speakers at CES this year. The EX Series consists of floor-standing, compact monitor, center loudspeakers and a subwoofer: S-1EX, S-2EX, S-7EX and S-W1EX.
Established as a speaker manufacturer more than 65 years ago, Pioneer developed the ES Series using Technical Audio Devices' (TAD) 30 years of professional speaker expertise. The renowned design technology includes a beryllium diaphragm tweeter mounted concentrically within a magnesium coned midrange driver and the Precision Curve cabinet design that functions to enclose the listener in a "virtual sphere" of pure 5.1 surround sound perfection.
"This speaker series is the result of proven engineering and design efforts previously only found in our flagship TAD Model 1 speaker, but now available for consumers seeking a best-in-class product that can deliver superb, natural sound in their home entertainment center," said Andrew Jones, director of speaker engineering for Pioneer Electronics (USA) Inc. and TAD Home Audio. "From their advanced driver design and cabinet construction to their precise audio reproduction capability, these speakers do more than offer dynamic sound for movies and music, they deliver an experience."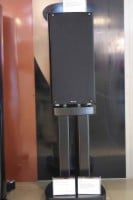 High Quality Loudspeaker Construction
The EX Series Speakers' sound is a direct result of the specialty construction and high-quality materials used in their making. The loudspeakers feature TAD's exclusive concentric tweetermidrange speaker driver that ensures accurate, consistent sound all around the speaker and throughout one's entire listening area. The midrange cone is composed of lightweight and strong magnesium and the tweeter dome is made of vapor-deposited beryllium. Beryllium, the lightest strongest metal, allows the tweeter to deliver outstanding performance to well beyond the frequency limits of conventional tweeters.
The bass driver cones feature one-piece cone/dust-cap construction from a sandwich of woven aramid fiber and carbon fiber that increases the driver's strength and significantly improves its sound reproduction capability. This driver also employs a neodymium magnet and large diameter voice coil that greatly increases the unit's power handling capability.
The tweeter/midrange and bass drivers all feature an "air-flow designed" basket frame that allows free airflow behind the cone and around the voice coil preventing sound distortion for a captivating audio experience.
All three pairs of loudspeakers support an impressive 200 watts of total power.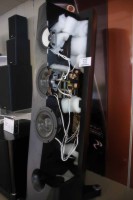 Innovative Cabinet Design
Extensive research was conducted in the development of the EX Series Speaker cabinets. Each cabinet is crafted from multiple layers of curved, laminated MDF. Pioneer's Precision Curve Design makes them inherently sturdier and more rigid than flat panel counterparts. The curved enclosures resist the sound generated from within the cabinet to decrease distortion. In addition, the products feature Perfect Time Alignment Design, where the front baffle surface is curved with a 3m radius that, along with a backward slope, ensures perfect time alignment of sound delivered to the listener from all the speakers in a multi-channel system, resulting in the ideal audio experience.
The S-1EX, S-2EX, S-7EX and S-W1EX will be available in March 2006 at the suggested prices of $4500/ea, $3000/ea, $3800/ea and $1700/ea, respectively.
Specifications:
S-1EX

Driver Topology: dual 7" woofers, 5 12" midrange with integrated 1 3/8" beryllium tweeter
Frequency Response: 28-100kHz
Impedance: 6 ohms
Dimensions: 16 58" x 50 1/2" x 24"
Weight: 145lbs

S-2EX

Driver Topology: 7" woofer, 5 12" midrange with integrated 1 3/8" beryllium tweeter
Frequency Response: 35-100kHz
Impedance: 6 ohms
Dimensions: 11 716" x 22 1/4" x 16 3/4"
Weight: 61lbs
S-7EX

Driver Topology: dual 7" woofers, 5 1/2" midrange with integrated 1 3/8" beryllium tweeter
Frequency Response: 34-100kHz
Impedance: 6 ohms
Dimensions: 32 516" x 11 7/16" x 16 3/4"
Weight: 86lbs
S-W1EX

Driver Topology: 12" woofer, 12" passive radiator
Frequency Response: 24-4kHz
Dimensions: 16 15/16" x 18 14/16" x 16 15/16"
Weight: 76lbs
When purchased from an authorized dealer, consumers receive a limited warranty for one year with Pioneer products and two years with Pioneer Elite products.

Listening Impressions:
We managed to catch a demo Pioneer was giving on their new 1080p displays at their booth. The room was acoustically controlled and light controlled. They had a complete 5.1 setup with their new EX speakers with theater seating throughout the central portion of the room. We sat towards the middle right and prepared to be dazzled. They started the demo with a DVD-A 5.1 mix of Dire Straits "Money for Nothing". The EX speakers did a great job enveloping the listener with a consistent soundfield tonally and spatially. The vocals were clear and concise despite the center channel being below the seated level from where we were seated. The main towers had a very relaxed and natural sound to them. The overall system fidelity was very high, though the subwoofer didn't quite have the slam and extension we were expecting. This could be due to setup, though it was a relief that Pioneer was one of the few manufacturers that didn't crank the sub 10-20dB too hot for a wow effect. Overall we were very impressed with the speaker system and considered it to be the best multi channel music demo we heard on the CES show floor.
For more information pelase visit www.pioneerelectronics.com .