ELAC Debut F5, C5, B5 Loudspeakers First Impressions
ELAC Debut F5, C5, B5 Loudspeakers First Impressions
The ELACs came relatively well packaged. However, the F5s had a bit of play inside the box that concerned me. When I opened up the packages, I noted that none of the speakers were double-boxed as you'd normally find with more expensive audiophile speakers.  All speakers came intact and it was time to get them unpacked and set up.
The Elac Debut series build quality defies their asking price.
While the ELAC Debut speakers may be budget priced, their build quality typically defied those expectations. Upon first glance, I noted that Debut speakers did not have the typical wood veneer or piano black high gloss finish. "Oh no," you're thinking. "These aren't plastic are they?"  No, you don't need to worry. Instead, the ELAC Debut models have a unique, textured, and black vinyl covering over the speaker cabinet. The unique vinyl covering is impeccably put together and gives the speakers a look and feel that they are far more expensive than their MSRP would imply.  

The vinyl is only skin deep. Under the veneer of each speaker is an MDF cabinet with the tower and center channel models incorporating extra bracing. I will say that the ELAC cabinets felt more solid than competing speakers in this price range. I was curious so I knocked my knuckles on the cabinet to see just how the enclosure sounded. Ideally, it should make a high pitch thud sound indicating the cabinet is rigid and inert. However, the ELACs delivered a distinct echo (no surprise here given the cost). I was expecting it to sound a bit more inert but I'm also used to reviewing top dollar speakers with budgets of each speaker far exceeding the cost of this whole system.

The focus on quality didn't stop with the physical build but extended to the design elements. "My design objective was to achieve the most accurate sound possible in speakers that deliver performance far exceeding their cost," said Jones. "I've employed materials and design specifications not found in speakers in this price range. From cone materials to driver geometry to subwoofer amplification, we built serious value into the Debut series".

The Debut speakers utilize custom designed drivers. The woofers are made of aramid fiber cones that ELAC says provide superior strength to weight ratio over other materials. Choosing the aramid fiber cones gave more design flexibility and achieved a smoother extended response. The speaker designs also feature an oversized magnet and a vented pole piece.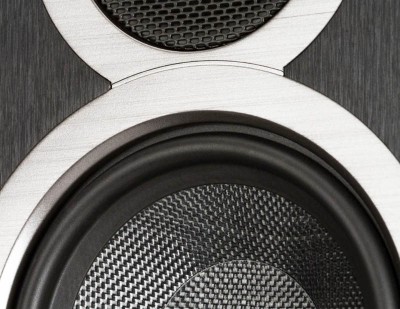 Detail view of the ELAC Debut's aramid fiber cones
The Debut series uses a silk dome tweeter. It's recessed in a waveguide with a deep spheroid profile. ELAC says that the waveguide delivers improved directivity control and shields the tweeter wavefront from cabinet diffraction.   Research has shown that this is important for maintaining off-axis performance consistent with the on-axis so that the early reflections can combine beneficially at the listening area to expand the spaciousness and soundstage.

The crossover network brings the respective divers together and it's the one area that budget speakers often don't get right.  ELAC says that they have a refined, multi-element crossover which provides a perfect blending of drivers to deliver a coherent audio experience traditionally found on speakers costing substantially more. That's typical marketing lingo, of course, but the point is well taken and we'll see how well that performs in real-world listening tests.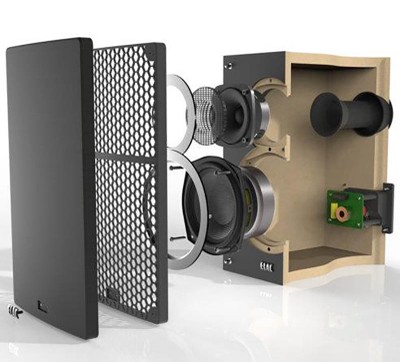 View of the ELAC Debut B5's cabinet structure, crossover network, and ported cabinet.

The F5 is a three-way, bass-reflex design speaker with a 5.25-inch woven aramid-fiber cone midrange and two 5.25-inch woven aramid-fiber cone woofers. The drivers are crossed at 3,000Hz and 100Hz and are rated to deliver a frequency response down to 42Hz.

The F5's little brother, the B5, is a two-way bass reflex speaker. It sports a single 5.25-inch woven aramid-fiber cone driver that is crossed at 3,000Hz and is rated to play down to 46 Hz.

The C5 center channel is a two-way bass-reflex design. The drivers are laid out in a typical MTM configuration and not the W(T/M)W configuration that we'd like to see for installations where the seats are more than 30 degrees off-axis. At this entry-level price point, however, just about every single center channel speaker is an MTM design.
For further discussion on this topic see: Vertical vs Horizontal Center Channel Designs and Center Channel Designs Alternative Perspective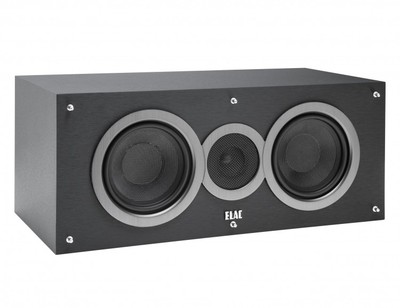 The ELAC C5 center channel speaker has an MTM design
The two woofers in the C5 are the same diameter as the towers—5.25-inches—and have the same 3,000 Hz crossover. For a center-channel speaker, the frequency response is a very respectable 48hz.

The speakers' other details and accessories followed the same theme. For example the acoustically transparent grilles are made of plastic but latch on to the speaker with metal pegs protruding from the front speaker baffle.  Yes, you don't get magnetic grilles, but you're not getting cheap plastic pegs.. I've had speakers costing upwards of $3,000 a pair in for review that had far cheaper grilles with plastic pegs than the ones included with the Debut speakers. The binding posts likewise were basic but high quality. All in all, whatever materials and manufacturing trade-offs ELAC may have had to do in order to hit their price points, at first glance, the design team made very wise choices.
Confused about what AV Gear to buy or how to set it up? Join our Exclusive Audioholics E-Book Membership Program!
Recent Forum Posts:
frankusa87 posts on January 01, 2018 12:51
Jason Oland, post: 1156094, member: 80532
Elac f5 or Klipsch Reference Premiere RP-250? for 5.2.2 system 12x14 room 75 percent movies 25 percent music.

go with the f6s I just purchased them wow great sound..you will not go wrong ..
frankusa87 posts on January 01, 2018 12:48
I just purchased the elac f6s they sound great… not just for the price.. Andrew jones proves it again you dnt have to spend a ton of money to get great sound. great review you guys are spot on…with your reviews thanks
Tankman posts on May 23, 2017 18:43
Carl08, post: 1159125, member: 80314
If it sounds too good to be true it probably is. Proceed with extreme caution. If they say to contact them before you buy, DONT BUY
I have been seeing that on everything thats posted for sale on Amazon's site. They post a link to some email to them and they post some ridiculously low price. You know it's a scam. You would think as big as Amazon is they would remove them dudes and block them from posting BS like that.
dgbarry posts on May 23, 2017 15:45
The ratings would be more believable if appearance was rated lower. Every review I've read, in regards to these Elac models, specific reference has been made in regards to the looks being very average. As a result, they should receive an "average" rating in response to this aspect. By rating them higher, it makes me question what else is being overrated?
Toml1946 posts on November 18, 2016 19:27
everettT, post: 1159131, member: 78951
They have a history of great deals but no service after the sale fwiw.
Hope one would not need after-sale support, but things do go wrong.
This would indeed be a great deal, or maybe a simple misprint of their asking price. Think I may lean toward Crutchfield in this case.
Post Reply