ELAC Debut F5, C5, B5 Loudspeakers Conclusion
ELAC Debut F5, C5, B5 Loudspeakers Conclusion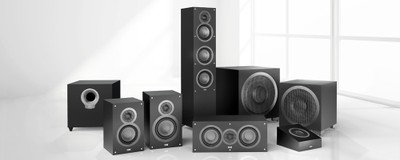 The ELAC Debut family of speakers and subwoofers
If you've been cash-strapped and wanted to get great sound at home, then put pen to paper and drop Andrew Jones a big thank you note. The ELAC Debut is a darn great speaker line. What a superb example of mixing science and art to produce a true masterpiece. Certainly, at this price point, the Debut speakers have their flaws, but I never did find a real Achilles heel. Those flaws never undermined the many strengths of the setup. That's a real testament.

So that there's no doubt, I'll say it plainly: The ELAC debut is an audiophile and home theater bargain. While the ELAC Debut won't dethrone $5k/pair or even $2k/pair competently designed speakers, it will give speakers at least twice or even three times their price a serious run for their money--knocking a few off their perch along the way. Highly recommended!
The Score Card
The scoring below is based on each piece of equipment doing the duty it is designed for. The numbers are weighed heavily with respect to the individual cost of each unit, thus giving a rating roughly equal to:
Performance × Price Factor/Value = Rating
Audioholics.com note: The ratings indicated below are based on subjective listening and objective testing of the product in question. The rating scale is based on performance/value ratio. If you notice better performing products in future reviews that have lower numbers in certain areas, be aware that the value factor is most likely the culprit. Other Audioholics reviewers may rate products solely based on performance, and each reviewer has his/her own system for ratings.
Audioholics Rating Scale
— Excellent
— Very Good
— Good
— Fair
— Poor
| Metric | Rating |
| --- | --- |
| Build Quality | |
| Appearance | |
| Treble Extension | |
| Treble Smoothness | |
| Midrange Accuracy | |
| Bass Extension | |
| Bass Accuracy | |
| Imaging | |
| Soundstage | |
| Dynamic Range | |
| Fit and Finish | |
| Performance | |
| Value | |
Confused about what AV Gear to buy or how to set it up? Join our Exclusive Audioholics E-Book Membership Program!
Recent Forum Posts:
frankusa87 posts on January 01, 2018 12:51
Jason Oland, post: 1156094, member: 80532
Elac f5 or Klipsch Reference Premiere RP-250? for 5.2.2 system 12x14 room 75 percent movies 25 percent music.

go with the f6s I just purchased them wow great sound..you will not go wrong ..
frankusa87 posts on January 01, 2018 12:48
I just purchased the elac f6s they sound great… not just for the price.. Andrew jones proves it again you dnt have to spend a ton of money to get great sound. great review you guys are spot on…with your reviews thanks
Tankman posts on May 23, 2017 18:43
Carl08, post: 1159125, member: 80314
If it sounds too good to be true it probably is. Proceed with extreme caution. If they say to contact them before you buy, DONT BUY
I have been seeing that on everything thats posted for sale on Amazon's site. They post a link to some email to them and they post some ridiculously low price. You know it's a scam. You would think as big as Amazon is they would remove them dudes and block them from posting BS like that.
dgbarry posts on May 23, 2017 15:45
The ratings would be more believable if appearance was rated lower. Every review I've read, in regards to these Elac models, specific reference has been made in regards to the looks being very average. As a result, they should receive an "average" rating in response to this aspect. By rating them higher, it makes me question what else is being overrated?
Toml1946 posts on November 18, 2016 19:27
everettT, post: 1159131, member: 78951
They have a history of great deals but no service after the sale fwiw.
Hope one would not need after-sale support, but things do go wrong.
This would indeed be a great deal, or maybe a simple misprint of their asking price. Think I may lean toward Crutchfield in this case.
Post Reply