EMPtek ES1010i Subwoofer Review Listening Tests
EMPtek ES1010i Subwoofer Review Listening Tests
I actually put together an entire EMPtek 7.2 speaker package for my sister-in-law that consisted of 2 x E55ti towers, 1 x E56Ci center, E55Wi side surrounds, 2 x ES1010i subwoofers and 2 x RBH Sound TK-615 in-ceiling back channels. This system is powered by a Yamaha RX-A1010 A/V receiver and Oppo BDP-93 Blu-ray player. All speaker cables (14AWG x 4), HDMI and interconnects are furnished by Blue Jeans Cable. An article on this system install is forthcoming. The ES1010i's are diagonally corner-loaded (one front left corner, other right rear corner) of the room. All speakers were set to "Small" with a crossover of 80Hz, except the main E55ti towers which were run at full-range. This system was placed in a family room roughly 15' x 20' open to the rest of the house. So the listening space was rather large for a subwoofer of this size and output capability.
After pulling measurements at the primary listening seats, I did some quick listening tests in two-channel to make sure I achieved proper integration between the front speakers and subwoofer(s). Success. By running the E55Ti's full-range, the system was able to produce a very full sounding bass response and seamless transition between the front towers and the subs. Although the ES1010i's output is rather limited below 30Hz, room gain was my friend as you can see with the measurement below taken at the primary listening area.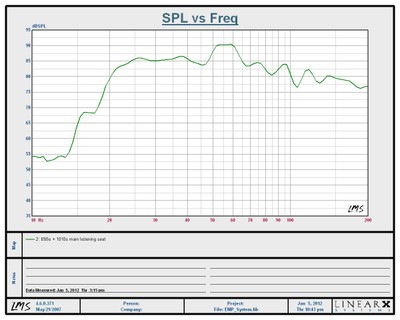 In-Room Frequency Response of (2) ES1010i subwoofers + E55ti Towers at the Listening Position
This measurement was pulled at the primary listening area 12ft from the front of the room. This is a very linear response achieved maintaining +-5dB from 20Hz to 100Hz. The modified ES1010i subs with longer port tubes would have produced 2-3dB more gain in the 25-30Hz region for this install, so you can expect more performance than what I was able to achieve on products shipping to actual customers.
Blu-ray: Animusic HD
This Blu-ray disc is a true treat for progressive rock fans. It's computer generated music animations done to classic progressive rock tunes encoded in DTS HD. My favorite is track #5 "Cathedral Pictures" which is a tribute to ELP's "Pictures of an Exhibition". This track is full of low frequency effects that, on a really good home theater system, will shake the foundation of your floor during high playback levels. It's particularly thunderous towards the end of the track when the pipe organs shoot out projectiles like massive canons from a battleship. On my reference system, it's kind of a freaky feeling, since it shakes your very core by hitting some inaudible, but felt, frequencies below 20Hz. The ES1010i subs did a good job belting out the low end with plenty of slam, but they couldn't reproduce the amount of very low tactile energy felt on my $5k/ea Velodyne DD-15+ subs. The EMP's did manage to produce a very full sound and never strained to produce what they couldn't do thanks to a well executed limiter. Track #9 "Heavy Light" showcased the EMP subwoofer performance. As the monolithic structure erected the EMP's woofer pumped out satisfying room filling bass. The sound of the light halo's hitting the bass drum had oodles of slam, making the entire system sound larger than life. Having two ES1010is playing into the room with EMP's E55ti flagship towers was a thing of beauty both in sight and sound. My sister-in-law couldn't believe she was achieving this level of performance in a system I assembled for her on a relatively modest budget. I was a bit surprised by this performance since I may have initially underestimated this sub just by perusing the online specs on the EMP website. EMP was truly delivering solid bass performance for music on the cheap. Now I wanted to see how they would fare for movie playback.
Blu-ray: Toy Story 3
Arguably the best of the series, Toy Story 3 delivers superb audio and video quality with a compelling storyline that just keeps you wanting to come back and watch it to reminisce about your youth. The opening scene where Woody battles the Evil Dr. Pork Chop has deep bass aplenty. From the explosion of the bridge to the rising of Rex or the soaring of the massive engines of Dr. Pork Chop's Zeppelin, the EMP ES1010i subwoofers got a good workout and opportunity to strut their stuff. I found the bass was very meaty and at times perhaps a bit overemphasized in the 50-60Hz range which may have partly been exaggerated since I was running the E55Ti towers full-range and thus doubling up bass in this region. However this provided a lot of 'wow' effect which my sister-in-law certainly appreciated, and in her room was most definitely needed. The ES1010i did a great job of producing ample impact at sustained high output levels without mucking up the experience. Had it not been for my reference of hearing this scene on higher caliber subs, I wouldn't think the EMP's were missing a beat, but in reality, there wasn't as much tactile response as I was used to hearing. This is nothing surprising given the size and price of this subwoofer. In fact, I'd say it's pretty par for the course from other products of similar stature that I've reviewed in the past. If you want meaningful output below 25Hz, it's gonna cost you in enclosure size and price and often aesthetics (unless you're willing to pony up some extra coin for a premium finish and contoured shaped cabinet).
Confused about what AV Gear to buy or how to set it up? Join our Exclusive Audioholics E-Book Membership Program!
See also:
Recent Forum Posts:
KEW posts on November 29, 2012 22:02
FWIW, compared to 2ea 10" drivers, a 12" driver has 28% less and a 15" driver has 12.5% more surface area.
gene posts on November 29, 2012 19:53
ES1010i Subwoofer Room Rating
Guys;
i fear our room rating may have given people pause considering this subwoofer.
Please realize I used sweep data instead of CEA data to extrapolate a room rating. This usually tracks fairly well above where the sub is driver limited depending on the extent of the limiter circuit.
That being said I updated the review as follows and hope this adds some clarity:
Although we didn't use CEA 2010 test data to certify the room rating for the ES1010i subwoofer we extrapolated using RMS sweep data. The EMP ES1010i subwoofer achieves the Audioholics Bassoholic "Small" room rating which means that this sub is recommended as maintaining adequate headroom in small sized spaces less than or equal to 1,500 cubic feet and/or users who usually listen at a moderate volume level.

Editorial Note about Room Rating of the ES1010i Subwoofer:

While the ES1010i subwoofer didn't receive our "Medium" room rating at 25Hz, it passed it for all other frequencies (30Hz to 80Hz). This is a really excellent budget sub with a lot of usable output. It sounds great and looks great. In fact, the ES1010i, if corner-loaded, would easily measure out enough at 25Hz to achieve our "Medium" room rating.
Folks at our GTG event were very impressed with the output of this sub as I've also seen by fellow owners here.
raynist posts on June 30, 2012 16:17
spyboy, post: 892552
After clicking on "More Information" I found the $499.00 price, however, the $599.00 price when you first click on this product is yet another example of sloppy practices and a lack of quality control. :o
Strange. I pointed this out to them a few weeks ago. They made the change and now it says $599 again??
theJman posts on June 30, 2012 01:11
gene, post: 892640
You're free to start your own website and do your own product testing. Until then stop trolling or find another forum to complain on.
spyboy stop trolling and do his own testing? Not likely. He merely travels from forum to forum harassing others who put forth the effort he won't (or can't). It's his MO, everywhere he goes.
gene posts on June 29, 2012 20:52
spyboy, post: 892604
I didn't even bother to note that the resonance between 50-55Hz is a fairly serious anomaly. Just looking one would think that this sub is tuned to 52Hz.

I have to tread lightly because you decided to have someone in your family get an entire EMP Tek set-up. Why you didn't have someone else on your staff test this sub mystifies me. I saw all the reviews you have done for EMP TEK. EMP TEK is one of your regular advertisers, no wonder they wanted you to be the first to test this product. IMHO in the future you should recuse yourself instead of continuing to review EMP TEK products.

All the same I don't think there is any rush by other sites to highlight EMP TEK products. In a shootout at any of the different prices (especially $499) there is some pretty good competition.

In the end it still comes down to cosmetics and WAF, and not performance.

PS How does one find out when you are having a promotion like the one on this product?

PPS Do you have any idea if EMP TEK is going to take any steps to improve its quality control? No matter the price a subwoofer with the wrong driver is really sloppy.
You're free to start your own website and do your own product testing. Until then stop trolling or find another forum to complain on.
Post Reply