EMPtek ES1010i Subwoofer Review Introduction
EMPtek ES1010i Subwoofer Review Introduction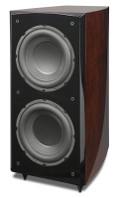 If looks could kill, EMPtek would have a family of serial killers on their hands with their latest Impression Series products because they simply look that good.  This is true about their loudspeaker products and subwoofers as well.  The contoured sleek cabinets and premium looking finishes just adds a wow factor you typically don't find at these price points.

If you've been reading this site regularly for the last year or so, you'd know we've gone off the deep end (no pun intended) on reviewing subwoofers. Audioholics readers love bass and I'm no exception. Since the launch of the EMPtek brand (under parent company RBH Sound), they've been producing attractive, high value loudspeaker products. But, their subwoofer line always seemed a bit lacking. EMP (let's drop the Tek for simplicity) is hoping to change that with their new ES1010i subwoofer offering. The ES1010i is a dual 10" compact bottom-ported 250 watt subwoofer with an Internet direct price of $499 shipped to your door. There are many well established ID brands putting out great products at this price point. The question is, will EMP be considered competitive among them? Read this review to find out.
Build Quality and Features
Although the EMP ES1010i sub is rather lightweight for its size, its internal build quality indicates that it isn't too shabby. Rather than using the square hollow box I often find with subwoofers at this price point, EMP employs a rigid and thick cross brace, plenty of insulation and a double thick front baffle. The side walls are a bit thin at 0.6" but EMP didn't cut corners on the front baffle, sandwiching two 0.6" sheets of MDF to yield a whopping 1.2" thick layer. This is arguably where you need the most rigidity in a subwoofer since you've got heavy recessed mounted drivers affixed to it. The contoured shape of the cabinet also really gives a classy look to this product which should win over points with your significant other. The ES1010i is available in two finishes: red burl (as reviewed) and black ash. I feel the red burl looks particularly stunning from a distance but don't mistake it for the type of finish you would get in a multi thousand dollar unit. Only upon close inspection do you notice its flaws which are certainly far more forgiving than other units I've seen at this price.
 EMP ES1010i Internal Look (left pic) ; bottom firing ports (right pic)
There are two 3" bottom firing port tubes which appear to be constructed from thick cardboard material. The ports are flared on the outside of the cabinet (good) but not in the inside (not so good). My review units had the standard size port tubes. EMP has since then made a running change to lengthen the ports to increase low end bass extension which is discussed in greater detail in the measurements portion of this review.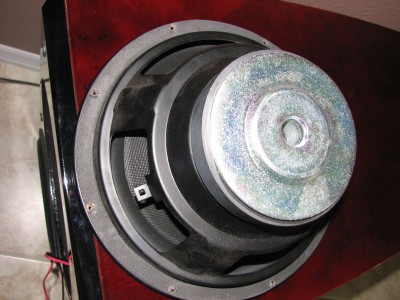 EMP ES1010i Subwoofer Driver
The ES1010i employs two 10" poly matrix cone (fancy term for a type of plastic construction) drivers each with a 1" wide butyl rubber surround, a stamped frame with a fairly hefty motor structure (40 oz) and vented pole piece, and a 2" voice coil. This driver is similar to the one found on their ES10i subwoofer but is 8-ohms instead of 4-ohms and has a slightly higher complaint spider to the lower resonance frequency allowing the sub to play down lower thus increasing its extension. While this driver is rather generic in construction, strength in numbers helps by placing two of them into the enclosure to increase output while also lowering distortion.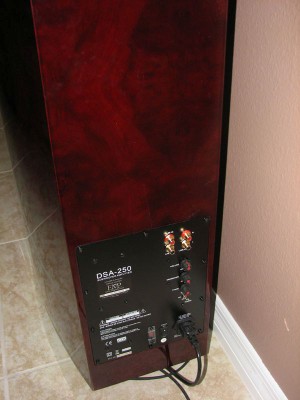 EMP ES1010i Back view
The ES1010i plate amp model # DSA-250 is a 250 watt linear Class D amplifier with continuous variable phase and crossover control (surprising at this price point). The subwoofer crossover is adjustable from 50Hz to 150Hz but can also be defeated by utilizing the LFE input of the sub. The ES1010i also has stereo L/R inputs and outputs. The sub has auto-on capability and a detachable power cord. It also features an analog limiter to ensure that, no matter how hard you drive it, you cannot cause it to misbehave or destroy itself.
Confused about what AV Gear to buy or how to set it up? Join our Exclusive Audioholics E-Book Membership Program!
See also:
Recent Forum Posts:
KEW posts on November 29, 2012 22:02
FWIW, compared to 2ea 10" drivers, a 12" driver has 28% less and a 15" driver has 12.5% more surface area.
gene posts on November 29, 2012 19:53
ES1010i Subwoofer Room Rating
Guys;
i fear our room rating may have given people pause considering this subwoofer.
Please realize I used sweep data instead of CEA data to extrapolate a room rating. This usually tracks fairly well above where the sub is driver limited depending on the extent of the limiter circuit.
That being said I updated the review as follows and hope this adds some clarity:
Although we didn't use CEA 2010 test data to certify the room rating for the ES1010i subwoofer we extrapolated using RMS sweep data. The EMP ES1010i subwoofer achieves the Audioholics Bassoholic "Small" room rating which means that this sub is recommended as maintaining adequate headroom in small sized spaces less than or equal to 1,500 cubic feet and/or users who usually listen at a moderate volume level.

Editorial Note about Room Rating of the ES1010i Subwoofer:

While the ES1010i subwoofer didn't receive our "Medium" room rating at 25Hz, it passed it for all other frequencies (30Hz to 80Hz). This is a really excellent budget sub with a lot of usable output. It sounds great and looks great. In fact, the ES1010i, if corner-loaded, would easily measure out enough at 25Hz to achieve our "Medium" room rating.
Folks at our GTG event were very impressed with the output of this sub as I've also seen by fellow owners here.
raynist posts on June 30, 2012 16:17
spyboy, post: 892552
After clicking on "More Information" I found the $499.00 price, however, the $599.00 price when you first click on this product is yet another example of sloppy practices and a lack of quality control. :o
Strange. I pointed this out to them a few weeks ago. They made the change and now it says $599 again??
theJman posts on June 30, 2012 01:11
gene, post: 892640
You're free to start your own website and do your own product testing. Until then stop trolling or find another forum to complain on.
spyboy stop trolling and do his own testing? Not likely. He merely travels from forum to forum harassing others who put forth the effort he won't (or can't). It's his MO, everywhere he goes.
gene posts on June 29, 2012 20:52
spyboy, post: 892604
I didn't even bother to note that the resonance between 50-55Hz is a fairly serious anomaly. Just looking one would think that this sub is tuned to 52Hz.

I have to tread lightly because you decided to have someone in your family get an entire EMP Tek set-up. Why you didn't have someone else on your staff test this sub mystifies me. I saw all the reviews you have done for EMP TEK. EMP TEK is one of your regular advertisers, no wonder they wanted you to be the first to test this product. IMHO in the future you should recuse yourself instead of continuing to review EMP TEK products.

All the same I don't think there is any rush by other sites to highlight EMP TEK products. In a shootout at any of the different prices (especially $499) there is some pretty good competition.

In the end it still comes down to cosmetics and WAF, and not performance.

PS How does one find out when you are having a promotion like the one on this product?

PPS Do you have any idea if EMP TEK is going to take any steps to improve its quality control? No matter the price a subwoofer with the wrong driver is really sloppy.
You're free to start your own website and do your own product testing. Until then stop trolling or find another forum to complain on.
Post Reply