CVHD 5.1 - Listening Tests and Conclusion
CVHD 5.1 - Listening Tests and Conclusion
One can't help but love saying to one's wife, "I'm sorry honey, I just have to watch Ghost Rider tonight… it's for a review." But in the long run, movies aren't nearly as taxing (or as easy to use for evaluation purposes) as multi-channel music so I did a bit of both.
DVD: Ghost Rider


Nicolas Cage and Eva Mendes star is this waste of two hours of my life. Unoriginal plot, uninspired writing, and a lot of forced "acting" (if you want to call it that) hamstrung this movie out the gate. While the scenes with Ghost Rider were cool, lines like, "Keep to the shadows" are so ridiculous when spoken to a character whose head is on fire even in light of what happens later in the story that you can't help but wonder who edited the script. Maybe there were just making it up on the spot… who knows? There are plenty of good surround effects in this movie (especially the fight with the air demon dude) and for the most part the CV surrounds did a fairly good job. They had no ability to blend into the background for general effects but pans were spectacular and convincing. Volume wise, I pushed these speakers as loud as I dared at that time of night and they never hiccupped. It did seem, at first, that the center channel was a little weaker than the surrounds but I never experienced this in any of the other listening tests so I chocked it up to the movie.
DVD: War of the Worlds


Tom Cruise and Steve Spielberg team up to give us this grainy, end of the world tale which, in my opinion, is nothing more than a thinly veiled excuse for seeing how much LFE you can shove in one movie. Entertaining? Yes. Fine cinema? Not so much. The heat ray scene, always a sub killer, sent the poor CVHD-12s sub into convulsions. For the most part it held up pretty well, but during the lowest LFE the sub was reduced to a rumbling buzzy mess. The impact and SPL the Cerwin-Vega! sub was able to deliver was impressive and there was plenty of tactile bass during most of the scenes, so for the majority of first-time purchasers, this is going to be an enjoyable experience.
DVD-A: Blue Man Group - The Complex (Read the Review)


If I had to pick a single multi-channel disc to use for testing, this would be right at the top of my list. Plenty of low tones, lots of different sounds in different registers, tons of quick percussion, and a slew of surround pans all serve the make this one of my favorite test discs. While the CVHD 5.1 set tried its best to keep up with this demanding music, the surrounds seemed to have a hard time representing some of the highest notes accurately. While it had no problems getting loud, cymbals and higher timbre notes seemed flat and lifeless. The bass was good and strong though.
DTS-CD: Don Henley - The End of Innocence (Read the Review)


For those that have read my review, I wasn't a big fan of this album - except for the most popular tracks which seemed to be mixed by a completely different person than the rest of the album. In this vein, I checked out the three decent tracks finding that, in all but one case, I was pleasantly surprised by the experience. The near title track ("The End of the Innocence") was actually mixed in 6.1 and makes me wonder why the rest of the album doesn't sound this good. The track is so engaging, so immersive, that even if you don't like the song, you'll find yourself listening to it over and over.
While this is a fairly bass-heavy track to begin with, the CVHD-12S sub was simply overpowering (not so on the other two decent tracks on the album) so much so it was distracting. I felt I needed to bump the sub down at least 3-5dB just to enjoy the song. The satellites tried their best to keep up but I feel they may be the weak link in this chain. The cymbals and picked guitar notes didn't have the crispness I'm used to while the soundstage seemed a bit flatter than before. This is not to say that the listening experience was unpleasant… not at all. If these were my first speakers I'd probably think they were the bee's knees. The amount of volume they can put out is fairly impressive. There isn't a receiver (or clock radio for that matter) that will have a hard time driving these speakers.
DVD-A: Queen - The Game (Read the Review)


Yet another disc with only one good song on it. I'm not sure what was going on here but "Another One Bites the Dust" is in a completely different league from the rest of the disc. The surround effects on this track are some of the best I've heard in a multi-channel recording. I wanted to see how well the CVHD's did with pans and front to rear speaker integration and this was just the disc to do it. I was very impressed with some of the rear pans and how convincing they were. The front to back integration was pretty good, though I felt the front speakers didn't quite wrap around me enough resulting in a slight hole to my right and left (at about 10 and 2). Really, though, they did pretty well.
Unfortunately, the CVHD tweeter had a really hard time with Freddie Mercury's voice. Even at medium volumes the tweeter distorted so horribly that I had a hard time listening to the track. This is, in all the listening tests I did, the only time I experienced this phenomenon so it may be specific to this album but I fear that the soft dome tweeter may not be up the task of keeping up with the output of the CVHD-12S sub.
Recommendations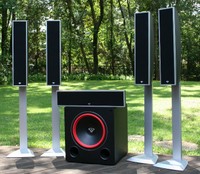 The CVHD 5.1 system is a good looking set with a fairly strong subwoofer. There are a few things I'd change:
Including a wall mount is great, but you need to give people a way of setting these speakers up without an additional purchase or drywall anchors. Table stands would be a good addition to the set.

Figure out how to make the satellites play lower so the sub isn't quite so localizable.

After you do that, make the sub can play low without distortion - it's certainly big enough.

Work on that tweeter.

If you say the grills can come off, they kinda should without making people worry about breaking the speakers.

A better manual that lets the user know about the rubber feet, the crossover on the amp and other tidbits I had to figure out for myself.
Conclusion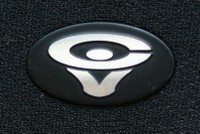 Sometimes life throws you a curve ball, and having Cerwin-Vega! contact me for a review of their $1000 CVHD 5.1 system was just such a moment. I had mentioned this set on one of the first episodes of AVRant and never thought they'd come knocking on my door. For $1000, there are a lot of speaker sets out there that are better (but probably don't have as good a sub) but I've seen this set on sale online for as little as $550. For $550, they are a very good deal. They've got their issues but as an entry level system, they are a good looking and mostly good sounding set. The sub is going to destroy any HTiB "bass module" it comes across and you can pump enough sound through the satellites to fill a large room without frying your amp. While they have their limitations, for the right person, at the right price, they could be the right set, maybe.
About Cerwin-Vega!
A member of the Stanton Group of companies, Cerwin-Vega!, Inc. is a leader in the design, manufacture, and distribution of loudspeakers for the home, mobile, and professional audio markets. Designed in the pursuit of dynamic, accurate sound reproduction since 1954, Cerwin-Vega! products are distributed throughout the world via a network of distributors and dealers in more than 75 countries.
CVHD 5.1 Speaker System
$999 set
CERWIN-VEGA!, Inc.
3000 SW 42nd Street • Hollywood, FL 33312
Phone: 1-954-316-1501 • Fax:1-954-316-1590
E-mail: [email protected]
The Score Card
The scoring below is based on each piece of equipment doing the duty it is designed for. The numbers are weighed heavily with respect to the individual cost of each unit, thus giving a rating roughly equal to:
Performance × Price Factor/Value = Rating
Audioholics.com note: The ratings indicated below are based on subjective listening and objective testing of the product in question. The rating scale is based on performance/value ratio. If you notice better performing products in future reviews that have lower numbers in certain areas, be aware that the value factor is most likely the culprit. Other Audioholics reviewers may rate products solely based on performance, and each reviewer has his/her own system for ratings.
Audioholics Rating Scale
— Excellent
— Very Good
— Good
— Fair
— Poor
| Metric | Rating |
| --- | --- |
| Build Quality | |
| Appearance | |
| Treble Extension | |
| Treble Smoothness | |
| Midrange Accuracy | |
| Bass Extension | |
| Bass Accuracy | |
| Imaging | |
| Soundstage | |
| Dynamic Range | |
| Fit and Finish | |
| Performance | |
| Value | |
Confused about what AV Gear to buy or how to set it up? Join our Exclusive Audioholics E-Book Membership Program!
Recent Forum Posts:
phuklok1 posts on October 10, 2007 12:38
Just received the cvhd system last week. To my ear, they sounded a little bright at first, but after some tweaking at the receiver and a little break in, these really sound great. Nice full sound and excellent imaging. The sub does a good job – considering has to cover a fairly wide range, I am pleasantly surprised at how really well integrated the system is. I think the system represents a great value (and also gave me back a great deal of space in my living room… LOL - although they are not your typical tiny satellite speakers).
jacquescas posts on September 27, 2007 04:36
Well i just ordered a pair online. $500.00 with delivery fee i think for a 5.1 you cant beat that quality for the price for 6 speakers.

i had some samsung HTIB speakers before so this should be a significant upgrade, i can't wait
Audioholics posts on August 08, 2007 08:56
We have no problems with Cerwin Vega and actually met a couple of the guys one year at CEDIA (when it was in Denver). We gave them a copy of the review to technically peer and didn't get a timely response (still no response in fact).
tom10i posts on August 08, 2007 00:07
RE Cerwin Vega Tech Support

You are certainly right. I has been rare in the forty or so years that I have been listening to components that a manufacturer has been so forthcoming and immediately willing to offer solutions to my problems as was Cerwin Vega. They were willing to work with me in any way that would make me a satisfied customer and that really impressed me very much. Just try to do that with several of the large mass market manufacturers located in the New Jersey area (you can easily guess who I mean.) It's impossible to even get through to tech support with them most of the time. Companies such a Cerwin Vega or Oppo are really the exceptions and I would hope that Audioholics would give them a chance, despite my experience and that of the reviewer.
STRONGBADF1 posts on August 07, 2007 20:53
Clint DeBoer, post: 293016
So there seems to be a some sort of quality control issue as well then. That should certainly be noted - this thread should do.
Not A fan?
Post Reply