Epson 6040UB Projector Setup and Calibration
Epson 6040UB Projector Setup and Calibration
I placed the Epson in my basement theater, where I typically have SVS Ultra floorstanding front speakers, SVS Ultra monitors for surrounds, and dual SVS SB13-Ultra subs at the floor-level and Beale Street in-ceiling speakers making up a canonical 7.2.4 Dolby Atmos and DTS:X setup. I used an Oppo UDP-203, 4th Generation AppleTV, and 4K Roku Premiere+, and Xbox One fed through my Denon X7200WA AVR.
I set the Epson up in front projection mode, though you have at your fingertips the typical run of rear projection and ceiling mount options for whatever installation type you are planning.  You also have the ability to adjust keystone, and tweak individual aspects of the LCD panel.
Powering on the Epson 6040UB opens up the motorized lens cover. This is a great feature to keep dust and particles away from the projector's new Pro Cinema Lens, which Epson says is an all new 16-piece glass structure optimized for 4K performance and precision that's designed and manufactured in Japan. Other competing projectors at this price-point don't often come with a motorized lens cover and for some consumers it might be the difference for choosing the Epson over a competitor.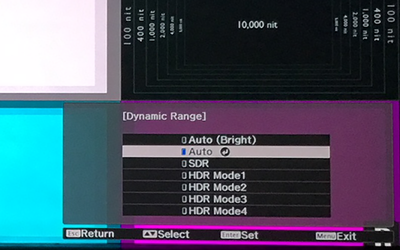 You have several HDR Modes to choose from in the Epson's setup menu.
The fan noise is tolerable and hardly noticeable in eco or low power modes. It is far more noticeable in high power mode and the Digital Cinema mode. From a distance of about 6 feet away from the projector, I could hear the fan during quiet movie scenes. While fan noise won't be an issue when you have typical audio playing, you should simply note that it will raise the noise floor in your room.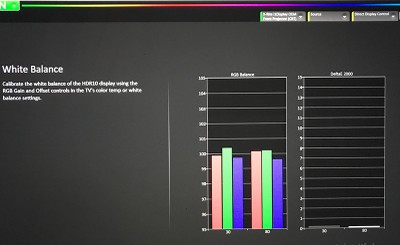 I was able to get generally excellent calibration results on the Epson 6040UB with CalMan.

I was stunned at how incredible the Epson's picture looked out of the box on both Blu-ray and 4K/UltraHD content. Images looked natural and detailed. In fact, many users might be very happy with the out-of-the-box settings.
For those who do want to dial the Epson 6040UB into their setup, you'll find all the standard calibration menus you'll need. I calibrated the Epson 6040UB with CalMan 5 using my X-Rite i1 meter and Ryan Masciola's HDR10 patterns played on an Oppo UDP-203 via USB.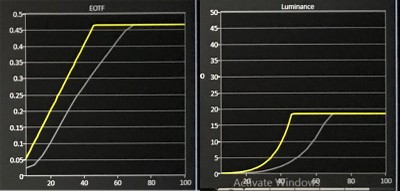 If you use CalMan to calibrate an HDR-capable projector your readings will be below target. You need to add an offset factor.
Attempting to calibrate the Epson 6040UB with CalMan 5 produced the same anomalous readings that I documented during my JVC X570R calibration. I needed to adjust CalMan by a factor of four to get the readings correct. If you want to learn more about this, reference my calibration of the JVC X570R here (http://www.audioholics.com/projector-reviews/jvc-dla-x570r-4k-e-shift4-projector-review/3) and also check out SpectraCal's forum, which covers calibrating HDR projectors with Calman.
I calibrated the Epson 6040UB for my 1.1 gain screen so all my comments regarding the projector's performance pertain to that setup.
Though I had the projector for many, many months, I did the majority of my viewing over the past three months due to a health issue in my family. During that time, Epson came out with a new firmware for all HDR-enabled Epson models, which included the Epson 6040UB.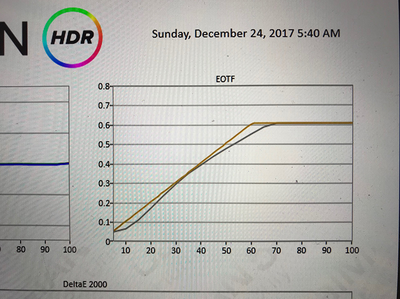 Adjusting by a factor of four per SpectraCal's recommendations for HDR projectors brought the meter readings to normal levels.
The new firmware updates the projector to version 11. Epson scheduled a time slot to review the important changes in the new firmware with me. I strongly advise that anyone who owns a 6040UB update to the new firmware. The firmware is available as a free download from Epson's site and you load the firmware via USB.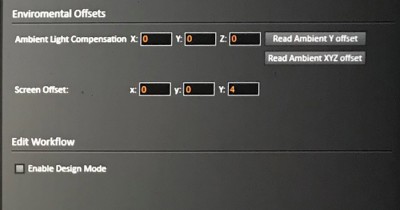 In order to get correct meter readings with the Epson 6040UB, I had to offset my readings by a factor of four as detailed in CalMan's support forums.
The first thing that Epson representatives impressed upon me during our talk is that Epson is continually making changes and updates to the projectors based on user feedback. Secondly, not all manufacturers are interpreting HDR content the same way. One thing in particular that users commented on was that HDR was too dark (I tend to agree). In general, users prefer a brighter image and that's exactly what Epson did with the new firmware.  
Epson did four important things with the new firmware:
It improved the projector's brightness, clarity, and color saturation
Increased the overall white and color lumens brightness
Improved contrast and brightness in lower grey region
Increased higher perceived detail in the middle grays and darks.
In simple terms, Epson accomplishes this by changing the projector's default brightness HDR setting and then added a new, setting that ramps up the projector's brightness yet another notch.
As I alluded to earlier in this review, the 6040UB comes with four possible HDR modes. In previous firmware versions, the Epson 6040UB's default was HDR Mode 2, which was technically the medium setting. HDR Mode 1 was the bright setting. Now with firmware v11, the default, HDR Mode 2, is now the bright setting.  Changing to HDR Mode 1 introduces a new "Brightest" setting and HDR Mode 3 is the previous default. Take a look at the image table above to see what Epson has done.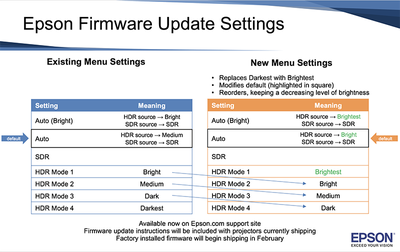 The new firmware makes a noticeable difference with HDR content. 
The default settings is now "Bright" and Epson has added a new "Brightest" setting.

Therefore, to take full advantage of the new firmware and HDR content with expanded color, Epson recommends that all users select the Digital Cinema Color Mode and HDR Auto mode. This will yield the best experience for dark viewing environments and maximize the 6040UB's performance. Epson also recommends setting the saturation to 55 and image enhancement to preset 5.
Once I completed the update, I agreed completely with Epson's decisions to make the default settings brighter. It made a noticeable difference on UHD content.
In case you're wondering, for other environments Epson recommends using Bright Cinema Color Mode and HDR Auto for a blend of quality and brightness and Bright Cinema color mode and HDR Auto (Bright) for environments with high ambient light. The drawback of those two other settings, as I mentioned previously, is that you won't get full support for DCI-P3 color.  You only get DCI-P3 color support when using the Epson's Digital Cinema color mode setting.
With the projector's firmware updated, calibration completed, I was ready-to-go.
Confused about what AV Gear to buy or how to set it up? Join our Exclusive Audioholics E-Book Membership Program!
See also:
Recent Forum Posts:
BMXTRIX posts on October 23, 2018 12:21
ProWeb, post: 1275789, member: 86586
Is Epson Home Cinema 5040UB similar to Epson 6040UB?
They are identical. The 6040 typically comes with a mount and a spare lamp and support for an anamorphic lens, which is RARELY purchased as it is over $1,000 to get and the zoom memory works better if you happen to be using a 2.35 screen.
The 6040 is black, the 5040 is white. Otherwise, my understanding is that they are 100% identical for hardware and software.
The vast majority of purchases are the 5040. Best Buy and other custom shops generally sell the 6040 as there is a bit more profit for them there, which they rightly deserve for the effort, but if you are doing it yourself, the 5040 is a fine way to go.
BMXTRIX posts on March 24, 2018 00:33
From the review:
"I used a 90-inch 1.1 gain screen and a 120-inch 0.8 gain grey screen for my viewing and could instantly call up my custom settings for each screen at the press of a button."

Generally speaking, all reviewers will be using 1.78 screens because the projectors they use will be 1.78 aspect ratio. It is unusual for any reviewer to use an odd aspect ratio that doesn't match the native ratio of the projector. If they are using a different aspect ratio, it would need to be noted. But not when they are using 1.78.

Referencing the gain also matters as that will make the image appear brighter/dimmer depending on the size that is worked with.

IMO - The use of the smaller 90" screen is almost completely out of date as people can get 75" flat panels for under two grand these days. Most people start about 100" and most manufacturers shoot for use between about 100" and 150" without much issue. About 120" seems to be a very common sweet spot for size.

When it really matters, you want to find a review that covers different lumen ratings for the projector. Both calibrated ratings, and maximum ratings to see if you will have issues. The target goal is at least 15 calibrated lumens per square foot of screen space. So, take your screen size, in square feet, based upon the aspect ratio of the projector, and then multiply it by 15. That's how many lumens you should be shooting for as a minimum. Some reviewers fail to deliver this number, and I consider that bad on their part as it is an incredibly important number in projector reviews. Nits and lux are worthless measurements, and measuring incidence light is meaningless to people buying. It is only good for calibration for that person, for that screen.
WookieGR posts on March 22, 2018 10:34
It frustrates me to no end when people reviewing projectors never say what screen they're using, it's aspect ration or its size. A 158" diag 2.35:1 home theater screen at around 12 foot wide will not the look the same as your run of the mill entry level 100" diag 16x9 screen.
Schrodinger23 posts on February 03, 2018 13:36
TheoN, post: 1231831, member: 68072
@Schrodinger23 there won't be any such problems with this projector.

As you're probably well aware, when talking about the projector side of things, some consumers hear HDR and mistakenly think that a projector can somehow generate the type of light output they see on an LED and hit 1,000 Nits.

When I spoke with the folks at Epson, the specific context they were discussing was putting the 6040UB projector in a room with poor light control. As we know, those situations are tough on projection installations. In those types of installations, where you'll need to bump up the light output to compensate for poor light control, you'll end up taking a DCI-P3 color hit.
Thanks Theo.
BMXTRIX posts on February 03, 2018 11:54
Solid review. A slight clarification is that doubling 1080p isn't 3840x2160, but somewhere in between. These 1080p pixel shifting models are only reaching halfway to 4K resolution. Which is fine as they still look really good.

Two items not mentioned that I think are really important:
PRO: The Epson has motorized lens memory and preset recall making it one of only a few projectors on the market that can support a 2.35 and 1.78 screen out of the box. (JVC being another)
CON: Only has a 10Gb/s HDMI input which limits the accepted input formats.

2018 should see a ton of entries into the 4K (faux-K) marketplace now that we finally have a 4K DLP chip on the market. So, Optoma, Vivitek, BenQ and others are lining up their DLP models with the new DLP chip inside of it and are hitting sub $2,000 price points all over the place.

The problem being that Epson does contrast worlds better, and JVC does an even better job then Epson.

I still remain firm that unless you need that extra light output, that JVC is the way to go. From their entry level RS440 on up, their use of 18Gb/s HDMI 2.0 inputs vs. Epson's 10Gb/s allows for higher color depth inputs and they are working on their 5th generation of 4K projectors vs. Epson still working with their first generation.

The best part of the article was really saying, flat out, that 4K is still, very much, a growing technology and has a lot of details to get figured out before it will be truly standardized across the board. Getting more HDR support and several true standards adopted and supported is going to be critical to the format as is ensuring full Rec2020 support on the products.

The 6040 isn't exactly a new model anymore, but it does remain one of the best. More notably in the 5040 version that comes in around $2,500.
Post Reply