Epson 6040UB Projector Video Performance
Epson 6040UB Projector Video Performance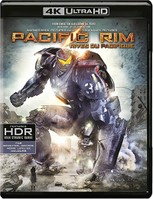 I watched countless hours of content on the Epson 6040UB. No matter what content I threw at it, the Epson's picture was consistently stunning, natural-looking, and rich.  First up, I played the UltraHD Blu-ray version of Guillermo del Toro's Pacific Rim. This is great monster movie that does homage to the classics of Japanese Cinema. This is a darkly shot movie to begin with and can tend to come across overly dark in HDR. The Epson did a masterful job of keeping the dark tone of the film without crushing blacks and losing details in deep grays. You'll notice if a projector is having trouble with this film right from the UHD menu screen. 
One of the more challenging scenes in the film takes place in the early minutes with the initial deployment of a Jaeger in the ocean waters near Anchorage, Alaska. There, Jaeger pilots Raleigh and Yancey fight the Category 3 Kaiju, Knifehead. Here, the battle takes place at night, in the ocean during a thunderstorm with some of the only light sources being lightning strikes, the Jaeger's spotlights, lights from a small fishing boat, and the bioluminescence of the Knifehead Kaiju. The Epson 6040UB did a truly masterful job of rendering this scene, so you could make out details in both grey and dark areas without crushing them. Additionally, the Epson did so without making dark areas unnaturally light.
Next up, I popped in the newly remastered Harry Potter movies that Warner Brothers had sent to me to test. In case you're unaware, the Harry Potter movies have now been released in UltraHD Blu-ray and feature both HDR and a DTS:X immersive audio mix. If you are a Harry Potter fan, then you urgently need to add these UltraHD Blu-rays to your collection.  These Harry Potter films have never looked or sounded better.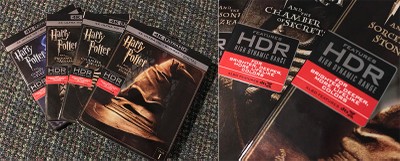 The Harry Potter films have never looked or sounded better.
For example, I played the Goblet of Fire and right from the opening Warner Brother's logo, I could see the Epson's command of grey tones come into play. The dark, opening sequence moves to a massive grim reaper skeleton next to a gravestone. Thanks to the increased detail and clarity on the the big screen I could easily make out the words on the gravestone to read "Tom Riddle," Voldermort himself.
Even though this film also has an overall dark tone, scenes didn't come across muted with their colors popped. During the dance between the three schools participating in the Triwizard Tournament, the periwinkle-blue of Hermione's dress is richly saturated and Viktor Krum's brick red colored jacket commanded my attention against the backdrop of grays and darks in the hall.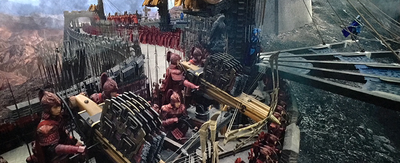 The Great Wall looked gorgeous on UltraHD Blu-ray.

Next, I turned to UltraHD Blu-ray version of The Great Wall. Yet again, the Epson did an outstanding job rendering the rich color palette of blues, yellows, reds, and purples displayed in the Chinese armor-clad warriors throughout the film. It's stunning visual content like this that makes you appreciate the future potential of home cinema.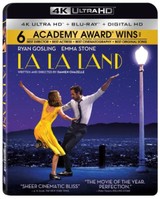 I also fired up UltraHD Blu-ray versions of La La Land, X-Men Apocalypse, Guardians of the Galaxy Vol. 2, The Mummy (the 1999 version) and Spiderman Homecoming, (though Spiderman is mastered in Dolby Vision). Each and every title looked spectacular. La La Land, with its bold selection of colors in costumes and backdrops was simply eye candy. The Epson did a superb job rendering the bright outdoor Egyptian scenes while also rendering fine details in the darkened pyramid in X-Men Apocalypse.
My only recurring observations in using the Epson during all this time were two: Even though the black level and dark grey performance of the Epson is excellent, it still falls short of some of the better projectors on the market.  And without image enhancement turned on, the image is very soft. Conversely, the drawback that I noticed by putting image enhancement to Epson's recommended setting of preset 5 yielded almost too sharp of an image. As a result, you end up getting white highlights and other sharpening artifacts that just aren't as pronounced in the original source material.
Confused about what AV Gear to buy or how to set it up? Join our Exclusive Audioholics E-Book Membership Program!
See also:
Recent Forum Posts:
BMXTRIX posts on October 23, 2018 12:21
ProWeb, post: 1275789, member: 86586
Is Epson Home Cinema 5040UB similar to Epson 6040UB?
They are identical. The 6040 typically comes with a mount and a spare lamp and support for an anamorphic lens, which is RARELY purchased as it is over $1,000 to get and the zoom memory works better if you happen to be using a 2.35 screen.
The 6040 is black, the 5040 is white. Otherwise, my understanding is that they are 100% identical for hardware and software.
The vast majority of purchases are the 5040. Best Buy and other custom shops generally sell the 6040 as there is a bit more profit for them there, which they rightly deserve for the effort, but if you are doing it yourself, the 5040 is a fine way to go.
BMXTRIX posts on March 24, 2018 00:33
From the review:
"I used a 90-inch 1.1 gain screen and a 120-inch 0.8 gain grey screen for my viewing and could instantly call up my custom settings for each screen at the press of a button."

Generally speaking, all reviewers will be using 1.78 screens because the projectors they use will be 1.78 aspect ratio. It is unusual for any reviewer to use an odd aspect ratio that doesn't match the native ratio of the projector. If they are using a different aspect ratio, it would need to be noted. But not when they are using 1.78.

Referencing the gain also matters as that will make the image appear brighter/dimmer depending on the size that is worked with.

IMO - The use of the smaller 90" screen is almost completely out of date as people can get 75" flat panels for under two grand these days. Most people start about 100" and most manufacturers shoot for use between about 100" and 150" without much issue. About 120" seems to be a very common sweet spot for size.

When it really matters, you want to find a review that covers different lumen ratings for the projector. Both calibrated ratings, and maximum ratings to see if you will have issues. The target goal is at least 15 calibrated lumens per square foot of screen space. So, take your screen size, in square feet, based upon the aspect ratio of the projector, and then multiply it by 15. That's how many lumens you should be shooting for as a minimum. Some reviewers fail to deliver this number, and I consider that bad on their part as it is an incredibly important number in projector reviews. Nits and lux are worthless measurements, and measuring incidence light is meaningless to people buying. It is only good for calibration for that person, for that screen.
WookieGR posts on March 22, 2018 10:34
It frustrates me to no end when people reviewing projectors never say what screen they're using, it's aspect ration or its size. A 158" diag 2.35:1 home theater screen at around 12 foot wide will not the look the same as your run of the mill entry level 100" diag 16x9 screen.
Schrodinger23 posts on February 03, 2018 13:36
TheoN, post: 1231831, member: 68072
@Schrodinger23 there won't be any such problems with this projector.

As you're probably well aware, when talking about the projector side of things, some consumers hear HDR and mistakenly think that a projector can somehow generate the type of light output they see on an LED and hit 1,000 Nits.

When I spoke with the folks at Epson, the specific context they were discussing was putting the 6040UB projector in a room with poor light control. As we know, those situations are tough on projection installations. In those types of installations, where you'll need to bump up the light output to compensate for poor light control, you'll end up taking a DCI-P3 color hit.
Thanks Theo.
BMXTRIX posts on February 03, 2018 11:54
Solid review. A slight clarification is that doubling 1080p isn't 3840x2160, but somewhere in between. These 1080p pixel shifting models are only reaching halfway to 4K resolution. Which is fine as they still look really good.

Two items not mentioned that I think are really important:
PRO: The Epson has motorized lens memory and preset recall making it one of only a few projectors on the market that can support a 2.35 and 1.78 screen out of the box. (JVC being another)
CON: Only has a 10Gb/s HDMI input which limits the accepted input formats.

2018 should see a ton of entries into the 4K (faux-K) marketplace now that we finally have a 4K DLP chip on the market. So, Optoma, Vivitek, BenQ and others are lining up their DLP models with the new DLP chip inside of it and are hitting sub $2,000 price points all over the place.

The problem being that Epson does contrast worlds better, and JVC does an even better job then Epson.

I still remain firm that unless you need that extra light output, that JVC is the way to go. From their entry level RS440 on up, their use of 18Gb/s HDMI 2.0 inputs vs. Epson's 10Gb/s allows for higher color depth inputs and they are working on their 5th generation of 4K projectors vs. Epson still working with their first generation.

The best part of the article was really saying, flat out, that 4K is still, very much, a growing technology and has a lot of details to get figured out before it will be truly standardized across the board. Getting more HDR support and several true standards adopted and supported is going to be critical to the format as is ensuring full Rec2020 support on the products.

The 6040 isn't exactly a new model anymore, but it does remain one of the best. More notably in the 5040 version that comes in around $2,500.
Post Reply