Epson 6040UB Projector Features
Epson 6040UB Projector Features
4K/UHD standards aside, the 6040UB is a feature-rich projector that will make installers and integrators very happy. First off, the Pro Cinema 6040UB is fast. Switching menus or modes has minimal wait time and hare-like speed. That was a far cry from the comparatively tortoise-like response of the JVC D-ILA X570R (see our full review of the: JVC D-ILA X570R).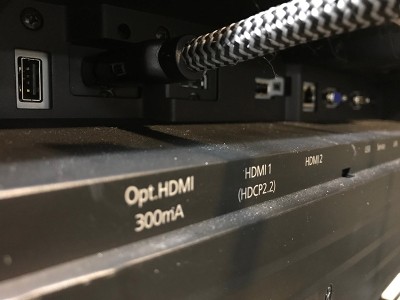 The Epson 6040UB has two HDMI ports but only HDMI 1 supports 4K/UHD content with HDCP 2.2. HDMI 2 is HDMI 1.4
This three-chip LCD-based projector boasts color and white brightness of 2500 lumens. Consumer-based DLP projectors, by contrast, may boast high white brightness, but their color brightness is far lower. That's why you'll see most high-end home theater projectors at this price point use LCD technology under the hood. Epson says that the 6040UB is capable of full 10-bit and partial 12-bit processing. Epson claims  the 6040UB can achieve a contrast ratio up to 1,000,000:1. If you use the dynamic iris setting, you'll definitely notice a lag—even in its high speed mode as the iris catches up. I noted that when I switched from dark to bright scenes or from bright to dark scenes, there was about a one to two second period where the iris would try to catch up with what was being displayed on screen. To the average consumer you see the on-screen image brightening or darkening during that period.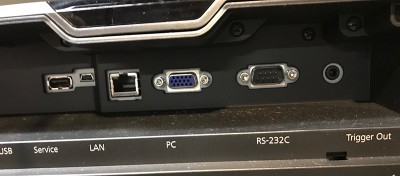 The Pro Cinema 6040UB has standard ports for installer use.
While specs are one thing, real world performance is another and this becomes an important caveat for the Epson. While the Epson is technically capable of supporting the DCI-P3 color gamut, it will only do so when switched to the Digital Cinema mode. And—importantly—the Epson can't support the full DCI-P3 color gamut when the projector is at its highest light output. Taking advantage of high light output comes at a cost of only partial coverage of the DCI-P3 color gamut. Therefore, my primary and most significant disappointment in the Epson 6040UB is that you can't have your cake and eat it too in this regard. Once again, to be fair, some other projectors use color filters to increase their color support and also take a brightness hit.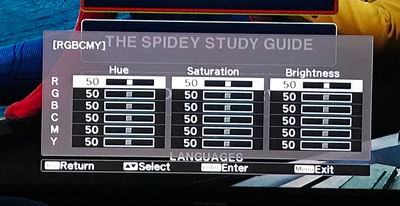 You have all the tools you need at your fingertips to fine tune the Epson's image.
The Epson's lamp is rated for up to 3,500 hours in high mode, 4,000 hours in medium, and 5,000 hours in eco mode. The throw range is between 1.35-2.84 and can project an image between 50-inches and 300-inches.  I had everything at my fingertips to calibrate the Epson on both a 90-inch and 120-inch screen at slightly different throw distances.
The Epson uses a 250W Ultra High Efficiency bulb (UHE) that will run you about $399 MSRP when you need to replace it. The Epson comes with a spare lamp in the box. That's a big deal and adds value to this package as most projectors don't give you a spare in the box.
The Epson has full support for 3D content. Therefore, if you have a collection of 3D Blu-rays, you can rest assured that the Epson will support it in 1080p. Just be aware that the 4K/UDH standard has dropped 3D and many of today's 4K/UHD displays don't support 3D any longer. Given that 3D is now relegated to legacy status, I did not test any 3D material during my review.
The Epson 6040UB remote has an orange backlight and quick access to just about anything you might want.
The Epson will perform frame interpolation to help reduce blurring, but will only do so if 4K enhancement is turned off. Frame interpolation creates computer-generated frames between the actual content frames to smooth motion. If you use frame interpolation, I suggest a low setting so that you don't get the potential for the dreaded soap opera effect that you see with aggressive frame interpolation settings. The soap opera effect makes film content looks like it was shot on a video camera or, as its name implies, look hyper-realistic like TV soap operas.
You can tweak the projector to your heart's content to make it fit whatever installation challenges you might face. The Epson's calibration tools are ISF certified.  It has a maximum vertical lens shift of ±96.3 and horizontal lens shift of ±47.1. You can save different lens positions to memory and summon the first two of them up at the press of a button from the Epson's remote.
You can save up to 10 memory presets in the Epson. The memory settings cover everything— including lens position, zoom, color settings, focus, etc. As I mentioned, the first two memory settings are keyed to dedicated buttons on the remote. I set up the projector with a throw of about 21-feet and 23-feet from my two screens. I used a 90-inch 1.1 gain screen and a 120-inch 0.8 gain grey screen for my viewing and could instantly call up my custom settings for each screen at the press of a button.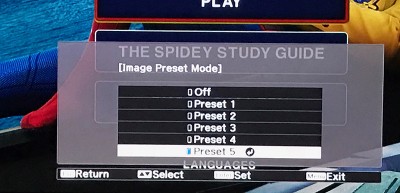 There are five presets that adjust the sharpness or softness of the onscreen image.
Speaking of the included remote, it's highly functional. There are lots of buttons that make accessing the projector's different functions easy to call up. The remote is back-lit, though I didn't like the orange-tinted back light. You call up the back-light by pressing a button in the upper right corner of the remote. The back light didn't auto-activate based with motion like my Oppo UDP-203 or Denon X7200WA remotes. Personally speaking, I would have preferred a motion activated backlit remote. Epson has IR ports on both the front and back of the unit that further enhances installation and remote operation.
On the back of the projector, you'll find two HDMI inputs. Only HDMI 1 is HDMI 2.0a and HDCP 2.2 compliant. The second HDMI input will only support HDMI 1.4. I can't imagine this will be a huge deal since most consumers will likely use an AVR in front of the Pro Cinema 6040UB for all their switching needs. There is also a 300mA USB port to provide USB power for optical HDMI connections. That's a nice perk for installers using long HDMI runs. A VGA port is provided as a convenience. For integration with home theater automation, you have an RS-232C, trigger out, and RJ45. The trigger out is typically used to engage a screen to come down when the projector starts.
There is an optional 802.11n module available for the Epson if you ever want to connect wirelessly to the projector. This type of connection is typically used for projecting wirelessly from a computer.
Confused about what AV Gear to buy or how to set it up? Join our Exclusive Audioholics E-Book Membership Program!
See also:
Recent Forum Posts:
BMXTRIX posts on October 23, 2018 12:21
ProWeb, post: 1275789, member: 86586
Is Epson Home Cinema 5040UB similar to Epson 6040UB?
They are identical. The 6040 typically comes with a mount and a spare lamp and support for an anamorphic lens, which is RARELY purchased as it is over $1,000 to get and the zoom memory works better if you happen to be using a 2.35 screen.
The 6040 is black, the 5040 is white. Otherwise, my understanding is that they are 100% identical for hardware and software.
The vast majority of purchases are the 5040. Best Buy and other custom shops generally sell the 6040 as there is a bit more profit for them there, which they rightly deserve for the effort, but if you are doing it yourself, the 5040 is a fine way to go.
BMXTRIX posts on March 24, 2018 00:33
From the review:
"I used a 90-inch 1.1 gain screen and a 120-inch 0.8 gain grey screen for my viewing and could instantly call up my custom settings for each screen at the press of a button."

Generally speaking, all reviewers will be using 1.78 screens because the projectors they use will be 1.78 aspect ratio. It is unusual for any reviewer to use an odd aspect ratio that doesn't match the native ratio of the projector. If they are using a different aspect ratio, it would need to be noted. But not when they are using 1.78.

Referencing the gain also matters as that will make the image appear brighter/dimmer depending on the size that is worked with.

IMO - The use of the smaller 90" screen is almost completely out of date as people can get 75" flat panels for under two grand these days. Most people start about 100" and most manufacturers shoot for use between about 100" and 150" without much issue. About 120" seems to be a very common sweet spot for size.

When it really matters, you want to find a review that covers different lumen ratings for the projector. Both calibrated ratings, and maximum ratings to see if you will have issues. The target goal is at least 15 calibrated lumens per square foot of screen space. So, take your screen size, in square feet, based upon the aspect ratio of the projector, and then multiply it by 15. That's how many lumens you should be shooting for as a minimum. Some reviewers fail to deliver this number, and I consider that bad on their part as it is an incredibly important number in projector reviews. Nits and lux are worthless measurements, and measuring incidence light is meaningless to people buying. It is only good for calibration for that person, for that screen.
WookieGR posts on March 22, 2018 10:34
It frustrates me to no end when people reviewing projectors never say what screen they're using, it's aspect ration or its size. A 158" diag 2.35:1 home theater screen at around 12 foot wide will not the look the same as your run of the mill entry level 100" diag 16x9 screen.
Schrodinger23 posts on February 03, 2018 13:36
TheoN, post: 1231831, member: 68072
@Schrodinger23 there won't be any such problems with this projector.

As you're probably well aware, when talking about the projector side of things, some consumers hear HDR and mistakenly think that a projector can somehow generate the type of light output they see on an LED and hit 1,000 Nits.

When I spoke with the folks at Epson, the specific context they were discussing was putting the 6040UB projector in a room with poor light control. As we know, those situations are tough on projection installations. In those types of installations, where you'll need to bump up the light output to compensate for poor light control, you'll end up taking a DCI-P3 color hit.
Thanks Theo.
BMXTRIX posts on February 03, 2018 11:54
Solid review. A slight clarification is that doubling 1080p isn't 3840x2160, but somewhere in between. These 1080p pixel shifting models are only reaching halfway to 4K resolution. Which is fine as they still look really good.

Two items not mentioned that I think are really important:
PRO: The Epson has motorized lens memory and preset recall making it one of only a few projectors on the market that can support a 2.35 and 1.78 screen out of the box. (JVC being another)
CON: Only has a 10Gb/s HDMI input which limits the accepted input formats.

2018 should see a ton of entries into the 4K (faux-K) marketplace now that we finally have a 4K DLP chip on the market. So, Optoma, Vivitek, BenQ and others are lining up their DLP models with the new DLP chip inside of it and are hitting sub $2,000 price points all over the place.

The problem being that Epson does contrast worlds better, and JVC does an even better job then Epson.

I still remain firm that unless you need that extra light output, that JVC is the way to go. From their entry level RS440 on up, their use of 18Gb/s HDMI 2.0 inputs vs. Epson's 10Gb/s allows for higher color depth inputs and they are working on their 5th generation of 4K projectors vs. Epson still working with their first generation.

The best part of the article was really saying, flat out, that 4K is still, very much, a growing technology and has a lot of details to get figured out before it will be truly standardized across the board. Getting more HDR support and several true standards adopted and supported is going to be critical to the format as is ensuring full Rec2020 support on the products.

The 6040 isn't exactly a new model anymore, but it does remain one of the best. More notably in the 5040 version that comes in around $2,500.
Post Reply