What are the Best Amplifiers in the World?
What are the Best Amplifiers in the World?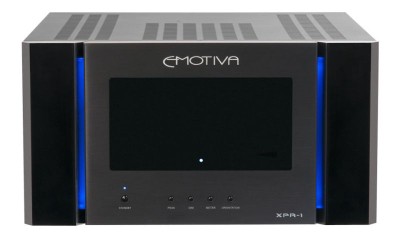 The Emotiva XPR-1.
Continuing with our series of looking at the best audio equipment on the market, today we'll take a peek at a few of the finest amplifiers on the market. This of course begs the question: what do we consider to be a great amplifier? Having ample reserves of power on tap is one requirement, as is the ability to drive a wide range of real-world loudspeaker loads (as opposed to 8 ohm test resistors) while remaining rock stable. To make our list, the amplifier(s) in question must offer power and finesses and be a model(s) we have direct experience with either on our test bench or demos at various trade shows. Of course, many amplifiers from the likes of Classe, Parasound, Krell, ATI, and more should make the cut and at least deserve an honorable mention. In order to narrow things down a bit, we've created a few categories, starting with….


Best No-Compromise Amplifier: Boulder 3050
MSRP: $205,000/pair

In most ways, the Boulder 3050 monoblock amplifier is a totally ridiculous piece of equipment. First, there's the price: $205,000/pair is enough coin to buy a house in many places. Then there's the little matter of weight: combined with its granite base, a single channel weighs a whopping 441 pounds.  While that's a testament to the build quality employed by Boulder, heaven help you getting these bad boys up a flight of stairs. Finally, the eco-villains in the crowd will gleefully rub their hands together knowing that a pair of these bad boys can soak up 12kW of power running at full tilt. So what's the payoff here? The Boulder 3050 is a fully differential design which is claimed to deliver no less than 1.5kW of pure audiophile-approved Class A power into an 8, 4, or 2 ohm load. In layman's terms, that means the Boulder 3050 delivers uncompromising sound quality and dynamics. Ridiculous? Maybe. Ridiculously awesome.
A pair of Boulder 3050 monoblock amplifiers.
Best Tube Amplifier: McIntosh MC2301
MSRP: $22,000/pair

Here at Audioholics, we're not known for being fans of tubes. Tube amps tend to be lower in power, and higher in distortion, and they typically have trouble dealing with low impedance loads compared to their solid state brethren. Fortunately, the quad-differential McIntosh MC2301 isn't like most tube amps. Rated to deliver 300W of output into 8, 4 or 2 ohms, the MC2301 can effortlessly drive practically any loudspeaker you're likely to pair it with. But let's face reality here; that's not why you'd buy the MC2301. The raison d'être of the MC2301 lays in the aesthetic appeal of its warm glowing tubes and McIntosh's iconic blue VU meter. We'll let the picture do the rest of the talking:
The McIntosh MC2301 monoblock amplifier.
Best Compact Amplifier: IQ Audio M300
MSRP: $1,495/pair | More Info 
How much audio performance can you realistically expect out of a package measuring 3.25"H x 7.75"W x 7.75"D? The answer surprised even us during our review of IQ Audio's M300 monoblock amplifier. Rated to deliver 150W into 8 ohms and 300W into 4 ohms, the M300 is an advanced, cool-running Class D design that weighs a mere 7 pounds. More importantly, unlike many other Class D amplifiers we've tested, the M300s actually sound good driving real speakers (including Gene's reference Status Acoustics Titus T8 towers), never misbehaving or losing its composure. The best part? These amps are actually affordable at just under $1,500/pair. 
The IQ Audio M300 monoblock amplifier.
Best Budget Monoblock Amplifier: Emotiva XPA-1L
MSRP: $529/each | More Info

It's no secret that we're big fans of Emotiva, and amplifiers like the XPA-1L are a big reason why. In spite of the modest price tag of $529 apiece, the XPA-1L utilizes noise-reducing, fully differential circuitry, and boasts no less than 250W of output into 8 ohms / 500W into a 4 ohm load. Want more? The first 35W of output is pure Class A, ensuring uncompromising sound quality for the vast majority of your listening sessions. And did we mention this puppy was only $529? Go ahead and try to find a comparable monoblock for even twice the price. We'll wait.
The Emotiva XPA-1L monoblock amplifier.
Best Budget Stereo Amplifier: Emotiva XPA-2
MSRP: $749/each | More Info

While the Emotiva XPA-2 lacks the fancy differential circuitry and Class A output of the XPA-1L, it offers something stereo buffs might be interested in: a whole lot of power for relatively little cost. An "ordinary" Class A/B design, the XPA-2 is rated to deliver 300W/channel into an 8 ohm load and 500W/channel into 4 ohms. If you've gone shopping for stereo amplifiers before, you'll know this level of power can command some pretty steep prices. How then can Emotiva get away with only charging $749 for the XPA-2? Honestly, we're not sure. What we do know is that the XPA-2 passed our test bench with flying colors, and delivered sound quality that made us question the need to spend more.
The Emotiva XPA-2 stereo amplifier.
Best Budget Multi-Channel Amp: Outlaw Model 7500
MSRP: $1,599/each

In the land of budget multi-channel amplifiers, the Outlaw Model 7500 is nothing less than a monster. With dual 1.6kVA transformers and 30,000uF worth of filter capacitance per channel, you can be assured that when Outlaw states the Model 7500 will deliver 200W into 8 ohms, 300W into 4 ohms with all channels driven, they aren't fudging their numbers. Beyond raw power, like the Boulder 3050, McIntosh MC2301, and the Emotiva XPA-1L, the Outlaw Model 7500 is also a fully differential design, which helps keep extraneous noise to a minimum. While it isn't the cheapest 5 channel amplifier on the market, at ~$320/channel, the Model 7500 is well worth its asking price.
The Outlaw Audio Model 7500 5-channel amplifier.
Conclusion
If you're in the market for high-powered amplification, we have good news for you. Whether you're looking for a no-frills black box or the nostalgic glow of a tube amplifier, there's no shortage of high quality components available to you. While we've listed a few of our favorites above, keep in mind this is not meant to be a comprehensive list. Do you have a favorite amplifier that you think deserves an honorable mention? Make sure to let us know on our forums!
Confused about what AV Gear to buy or how to set it up? Join our Exclusive Audioholics E-Book Membership Program!