Dayton Audio MK402BT Bluetooth Speaker Conclusion
Dayton Audio MK402BT Bluetooth Speaker Conclusion
Since the main use of the Dayton Audio MK402BT speakers will be streaming audio over Bluetooth through a phone, tablet, or computer I decided to start there as a point of reference.
iPhone Streaming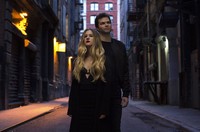 Lately I've been starting off my listening sessions with Marian Hill's electronic sleeper hit "Down". Marian Hill is not a person, but a musical Duo consisting of Samantha Gongol's and Jeremy Lloyd.  The combination of Samantha Gongol's vocals and Jeremy Lloyd's engineering of the keyboards and bass beats allows the testing of everything from simple human vocals at the beginning of the song to strong deep bass after the intro. The song started with a simple, soft four tone synthesizer rift. Samantha Gongol's vocals eased in out of nowhere and sounded clean and crisp. When the bass hits kicked in, I was surprised at the depth these small speakers were able to reproduce.  The 4" driver did an admiral job and sound filled the small room with deep, rich enveloping sound.
I next moved on to Paul Simon's "Diamonds on the Soles of Her Shoes". Again, vocals were easily heard through the harmonies of the African men's Choir. When the guitar, horns, and drums kicked in, the MK402BT effortlessly reproduced this classic song. The high frequency sounds were not quite on par with a separate system with individual components, but we again must remember that this is a sub $100 self powered speaker system.  
The last song I auditioned was Stevie Ray Vaughan's "Tin Pan Alley".  This classic test song is mainly influenced by the lengthy guitar riffs throughout the song.  The sensual moving bassline and gritty vocals all help this to be one of the best test tracks for any sound system. The MK402BT's held true even at higher volumes.

Note: Like other Bluetooth speakers I have auditioned, the Dayton Audio MK402BT Speakers vary tremendously in volume depending on the source material being streamed so always keep that in mind before cranking up  the volume when changing sources.
Pandora
There was a slight increase in volume switching from my playlist on my iPhone to Pandora, but nothing that would blow the windows out. I switched through several channels including a U2 station, which brought up "Shout" from tears for Fears, a Porcupine Tree Station, which played "Second Life Syndrome" from Riverside (which I thoroughly enjoyed), and a Maroon 5 station which played their catchy tune "Sugar". All songs played slightly louder than the songs pushed directly from my iPhone's playlist, and sounded just as smooth without signs of breakup, muddiness, or interference. Some say the there is a slightly enhanced sound when the speakers are hooked directly up to the source via the 3.5mm cord. I listened to several tracks both plugged and unplugged and could not discern any noticeable difference between the two which speaks volumes for how good the Bluetooth connection is on this system.
Conclusion
After a full review, we still like what we are seeing here with the Dayton Audio MK402BT Bluetooth powered speaker system for such a modest asking price. Of course, we don't see true Wi-Fi, built in Alexa support or wireless speaker to speaker connectivity, but at a $98/pair price point, this is to be expected.  These speakers performed almost exactly how I envisioned them to: A substantial powered speaker pair at an unusually low price! If you're looking at a breadbox sized single unit that you won't be moving around from room to room I would instead consider looking further into the true separation of sound that you get from the MK402BT. These speakers crush the cheap plastic wireless computer speakers you typically find a department stores for this price.
We hope Dayton Audio will eventually offer a slightly beefed up version of this powered speaker that has a digital input to better interface with an HDTV display. Throw in a center channel and a sub out and you've got a sound bar killer at a fraction of the price that will do justice to your music collection like no budget soundbar ever could. Highly recommended.
The Score Card
The scoring below is based on each piece of equipment doing the duty it is designed for. The numbers are weighed heavily with respect to the individual cost of each unit, thus giving a rating roughly equal to:
Performance × Price Factor/Value = Rating
Audioholics.com note: The ratings indicated below are based on subjective listening and objective testing of the product in question. The rating scale is based on performance/value ratio. If you notice better performing products in future reviews that have lower numbers in certain areas, be aware that the value factor is most likely the culprit. Other Audioholics reviewers may rate products solely based on performance, and each reviewer has his/her own system for ratings.
Audioholics Rating Scale
— Excellent
— Very Good
— Good
— Fair
— Poor
| Metric | Rating |
| --- | --- |
| Build Quality | |
| Appearance | |
| Treble Extension | |
| Treble Smoothness | |
| Midrange Accuracy | |
| Bass Extension | |
| Bass Accuracy | |
| Imaging | |
| Soundstage | |
| Dynamic Range | |
| Fit and Finish | |
| Performance | |
| Value | |
Confused about what AV Gear to buy or how to set it up? Join our Exclusive Audioholics E-Book Membership Program!