Dayton Audio MK402BT Audiophile Powered Bluetooth Speakers Only $100 Pair?!?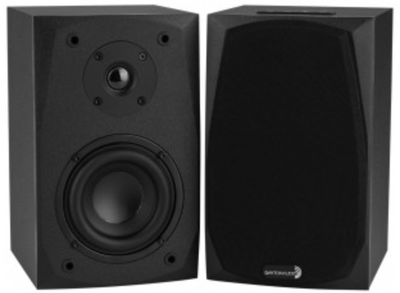 Summary
Design: 2-way vented bookshelf
Woofer: 4" high-excursion driver with a treated-paper cone
Tweeter: 3/4" soft dome
Finish: Black vinyl
Output power: 40W RMS/80W max
DC power input: 18VDC, 2A (120V AC adapter included)
Response: 60-20,000 Hz
THD+N: <0.7% • Crossover: 2.5 kHz; 2nd order low pass, 3rd order high pass
Bluetooth: 4.2
Port tuning: 50 Hz
Warranty – Parts and labor: 5 Years
Dimensions (H"xW"xD"): 9-1/2" x 5-3/4" x 6-5/8"
Executive Overview
Although the prevalence of high-quality pairs of Bluetooth speakers is increasing in the online marketplace a simple search reveals that there still is a gap between budget "toy" speakers and real audiophile quality speakers. Enter Dayton Audio and their MK402BT speakers.  For $98/pair you get a high-quality set of Bluetooth speakers with emphasis placed on sound quality and an outstanding feature set.
The drivers used in this design play a large role in this small speaker. The 4" woofer is rated to play down to 60 Hz and still retain vocal clarity. In addition, the 3/4" tweeter is designed to produce the high frequencies with a wide dispersion. These two drivers, paired with Dayton Audio's simple yet effective crossover, should create a large soundstage with dramatic imaging.The MK402BT is designed off Dayton Audio's MK402 passive bookshelf speaker which we looked at earlier this year to high acclaim by Audioholics President Gene DellaSala.
It is unusual to find a speaker in this price range to offer a crossover design of this caliber.  In fact, we've reviewed speakers in the past at nearly 5 times the price that employed nothing more than a first order network on the tweeter while running the woofer fullrange into its audible breakup mode.
Gene Della Sala - President Audioholics
The MK402BT should offer the same fantastic sound quality and articulation as the original, but with the ease of a wireless Bluetooth connection. The built-in amplifier on the MK402BT is rated to provide up to 80 watts of max output power, which should easily power these speakers to satisfying volumes in small rooms. The MK402BT also allows you to change tracks, volume, and even pause/play songs from the speaker itself.
Also like the original, the MK402 features an attractive textured, black vinyl finish that really stands out at first glance. The cabinet offers a unique geometric design for the baffle that sets it apart from much more basic speakers in its price range. The grill is removable and made of a high-quality black cloth that discretely obscures the most appealing features of this design, the drivers.
If the sound quality is anything like the original MK402 passive speaker than Dayton Audio may have a great product in the Bluetooth powered version. Buyers should be aware (or beware) that the second slave speaker is a wired version of the original that needs to be tethered to the master speaker. A speaker wire is included and a pair and high-quality binding posts are used to connect the speakers which give the option of beefing up the gauge for longer than a 10' run.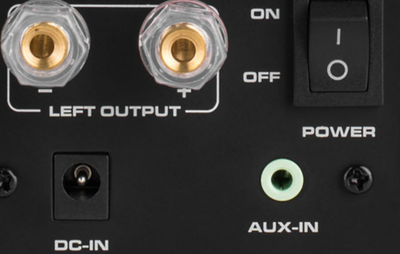 The only Inputs and Outputs for the MK402BT
Initial Impressions
We like what we are seeing here with the Dayton Audio MK402BT Bluetooth speaker for such a modest asking price. Of course we don't see true Wi-Fi, Alexa support or wireless speaker to speaker connectivity, but at a $98 price point, this is to be expected.  While I would have liked to have seen a digital COAX input on the back of the speakers or even better an optical in, they did include a 3.5mm input so you can connect up analog audio sources (including an Amazon Echo Dot). Dayton Audio is coming out with a MK442 center channel passive speaker in the near future so be on the lookout for that as well should you want to set up a complete 5.1 matching speaker system from them.
We also hope Dayton Audio will eventually offer a slightly beefed up version of this speaker that has a digital input to better interface with an HDTV display. Throw in a sub out and you've got a sound bar killer at a fraction of the price that will do justice to your music collection like no budget soundbar ever could.
Confused about what AV Gear to buy or how to set it up? Join our Exclusive Audioholics E-Book Membership Program!
Recent Forum Posts:
KEW posts on April 12, 2018 22:29
sholling, post: 1242787, member: 17835
The Edifier is $30 more but includes optical and coaxial connections.

…and a remote control, which I think is pretty useful! I guess if you are exclusively streaming from your phone or tablet, the device acts as the RC, but you would still miss out on being able to select the input source or turn the speakers on/off by R/C.
BoredSysAdmin posts on April 12, 2018 21:37
sholling posts on April 12, 2018 21:29
gene posts on April 10, 2018 00:32
We're seeing a preponderance of wireless Bluetooth speakers flooding the market right now that are either complete garbage or priced higher than most people want to spend for an office or spare bedroom. Enter Dayton Audio with their MK402 Powered Bluetooth 2-Way Bookshelf Speakers. They are based on the MK402 passive speakers which offer commendable value and performance. These powered versions should be great performers for under $100/pair making them about the only game in town at this price!

23950

Read: Dayton Audio MK402BT Audiophile Powered Bluetooth Speakers Only $100 Pair?!?
Post Reply