RBH Sound Sidekick Portable Bluetooth Speaker Review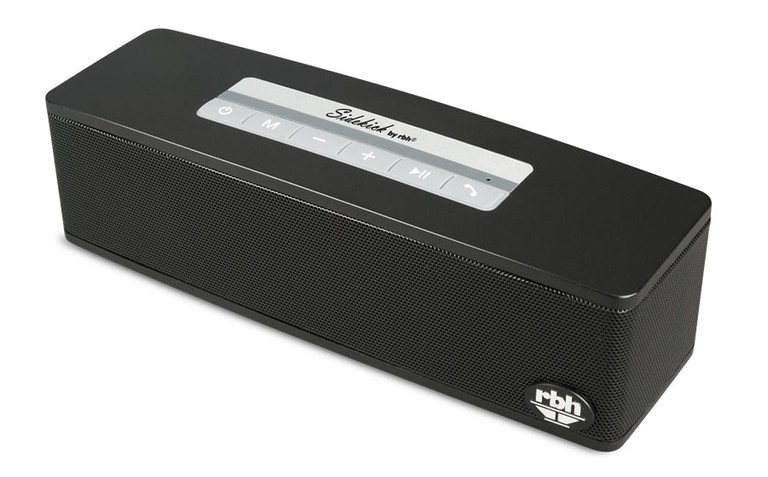 RBH Sound Sidekick Portable Bluetooth Speaker
Summary
Product Model: Sidekick Bluetooth® Speaker
System Type: Three speakers 2-way system
Speaker Drivesr: (2) 45mm drivers (stereo configuration) and dual membrane 70mm passive radiator

Output Power: 2x 10W
Bluetooth Version: 4.0
Bluetooth Distance: 33 feet (10m)
Playing Time: 5-6 hours
Charging Time: 8 hours
Battery Capacity: 2200mAh
S/N: 75dB
Dimensions: 7.04" x 2.28" x 2.05" (188mm x 58mm x 52mm)
Weight:1.15 lbs. (520 grams)
Warranty: 1 year
Executive Overview
RBH Sound has just introduced their first portable Bluetooth speaker which aims to prove good things can come in a small package.  The RBH Sound Sidekick personal Bluetooth speaker connects to any Bluetooth device so you can stream your music to it, or you can insert a Micro SD card which supports both MP3 and  WMA audio formats. Making the Bluetooth connection is simple and the Sidekick remembers your device once connected.  Sidekick is controlled by easy to read top mounted buttons for adjusting volume, play/pause, on/off or taking a phone call via a single button control.  The Sidekick comes with a USB cable for charging speaker and will play up to 5-6 hours once the built-in lithium battery is fully charged. The Sidekick also comes with a 3.5mm audio cable for connecting to analog audio devices.
RBH Sound Sidekick Portable Bluetooth Speaker YouTube Review

Unpacking
So what makes the Sidekick stand out among its peers?
Well for one, RBH didn't pull any punches with the amplifier powering this little brawny speaker.  It utilizes a Class D Texas Instruments TPA3118D2 high efficient stereo amplifier that is capable of delivering up to 50 watts x 2 (with a 21V power supply) or can do 2 x 15 watts without external heat sink on a single layer PCB.  RBH rates the amp at 2 x 10 watts/ch which is likely a peak rating considering the speaker is being powered off a battery.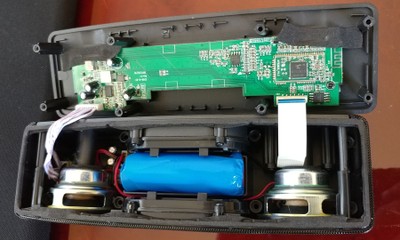 Inside View of RBH Sound Sidekick - notice the hefty drivers and large blue battery pack

We asked RBH about their power rating and they confirmed it was not a continuous rating but they were able to measure 9.36V at 100Hz across the 8-ohm driver. This would give you 11 watts which is quite amazing for a compact battery powered speaker running off a couple of 3.7V lithium batteries!
As impressive as the amp section of the Sidekick is, the speaker drivers RBH employed are equally impressive.  They employed (2) 45mm drivers in a stereo configuration with a patent pending dual-membrane 70mm oval passive radiator.
Initial Impressions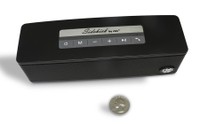 A Visual inspection of the Sidekick revealed a pretty typical housing structure you'd find in a portable speaker of this size.  While it looks similar to the Bose Soundlink Mini II, appearances are where the similarities between these products end.  
When I first powered the Sidekick up, I wasn't expecting much considering its diminutive size. But, coming from a company like RBH Sound, I should have known better.  Powering on the Sidekick, I was greeted by a loud female voice "waiting for connection" that was a bit too loud for my comfort.  My unit was from their initial run and RBH has since then updated the product firmware which lowered the voice prompts about 6dB and also made the volume up/down control more responsive. If you do happen to have one of the first units with the old firmware, it's easily updated by getting the latest version from their website and loading onto a microSD card to plug into the Sidekick.  I did this without incident and the results resolved the problem as promised.
The sound I heard coming out of the Sidekick truly defies imagination.  I did not expect to hear a Bluetooth speaker that could fit in the palm of my hands play so loudly and cleanly with decent bass response.  Whether I was playing orchestral music, or hearing Phil Collins beat the drums in "I Don't Care Anymore", I found myself really enjoying the experience, especially with the convenience of portability allowing me to walk around the house or backyard.  Best of all, the Bluetooth connection was solid, thanks to it being ver 4.0. I was able to validate RBH's claim of 33 ft from the source device with no qualms or hiccups.
Put the Sidekick on a flat surface, and the boundary boost you get really lets you play at satisfying levels even in small family rooms.  My daughter was loving playing her recital tunes and while practicing her dancing. For additional sound impressions and reactions, be sure to watch our YouTube Video review.
I have spent considerable time with a similar product from Bose called the Sound Link Mini II ($179) and the RBH Sidekick simply blows it away in my humble opinion.  The RBH plays much louder and has a richer sound and better resolution in high frequencies than the Bose. The Bose battery life is rated 2 hours longer than the RBH, but that's a small tradeoff to pay for a product that delivers superior performance.  
Conclusion
If you're in the market for a portable personal Bluetooth speaker, the RBH Sidekick is an obvious purchase.  I can't think of a competitor's product in this compact form factor at the current asking price of $129 or even up to $200 that comes close to the performance of the RBH Sidekick.  I'm pleased to see that RBH put some real engineering into this product and didn't simply slap their nameplate on a generic OEM device like some companies often do.  Rest assured the RBH Sidekick is a Superhero in its category.

Unless otherwise indicated, this is a preview article for the featured product. A formal review may or may not follow in the future.