KEF MUO Portable Bluetooth Speaker Review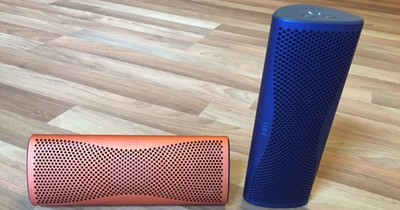 Summary
Inputs
Bluetooth 4.0 with aptX codec
3.5mm AUX
Micro USB – charging and firmware update
Bluetooth range: 10m

Bluetooth capacity: 2 devices

Bluetooth memory: 8 devices

Battery type: Li-ion rechargeable battery

Battery charging time: 3 hours to fully charge

Battery life: 12 hours playback time

Dimension (H x W x D): 80 x 210 x 60 mm (3.1 x 8.3 x 2.3 in.)

Weight: 0.8kg (1.8lbs.)

Power input: 5V D.C. 2A
Executive Overview
With thousands of people on the floor at the 2015 CEDIA Show in October, it was truly hard to get a good idea of the performance of KEF's new portable speaker MUO. So when KEF called and asked if I'd like to do a full review of their sleek new portable speaker of course I agreed.
Like the unit itself, the MUO arrived packaged in a compact well-protected box encased in a soft foam insert.  Under the speaker itself are the manual and accessories including the USB charging cable and 3 adapters for wall plug-in.
Before reading on, check out our YouTube video overview for further insights and shots of the MUO up close.
KEF Muo Portable Speaker YouTube Video Overview

The speaker is designed by Ross Lovegrove and engineered by KEF and features a clever new compact version of KEF's Uni-Q 'point source' driver array and a powerful new bass radiator.
The drivers are mounted within a rigid inner molding encased in an aluminum shell that comes in six cool finishes: Horizon Gold, Storm Grey, Light Silver, Neptune Blue, Brilliant Rose and Sunset Orange.
KEF is known for their high end speakers and as a company is dedicated to true to life sound, so even small portable speakers have to come up to their standards.
As Raymond Cooke, founder of KEF puts it:
 'Of all art, music is the most indefinable and the most expressive, the most insubstantial and the most immediate, the most transitory and the most imperishable. Transformed to a dance of electrons along a wire, its ghost lives on. When KEF returns music to its rightful habituation, your ears and mind, they aim to do so in the most natural way they can … without drama, without exaggeration, without artifice'.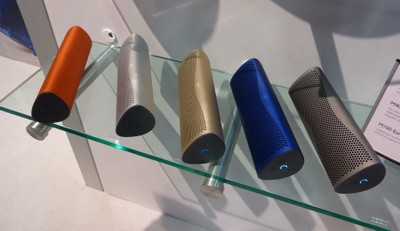 Check out all of the finish options offered for the Kef MUO
Setup
Setup for a single MUO is a breeze, so much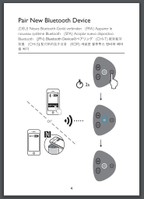 so that KEF optioned for a pictorial quick start guide to get you going.  Once the power button has been depressed a 4-tone signal from the speaker tells you that it is on and the power button will light up blue when fully charged.  In the settings menu of my iPhone 6 I turned on my Bluetooth option and once the MUO was recognized by my phone I clicked on the KEF MUO tab.  After 2 - 10 seconds another 4-tone signal from the speaker tells you that the speaker is now paired with the phone and you're ready to play your tunes.
Another cool feature of the MUO is the ability to 'tap-to-pair' - Just hold an Android applicable device against MUO and they're paired and ready to stream your music in seconds with most Android mobile devices. When not streaming your music wirelessly, connecting to any computer or mobile device via the 3.5mm Aux input is equally simple.
The MUO has a rechargeable battery with up to 12 hours of play time, and switches itself off automatically when not in use to prolong battery life. I have to say, out of the box, the battery life of the MUO is pretty fantastic. I played these speakers for hours without a recharge and after putting them away for a week unplugged, had no issues with them coming back on with as much battery as when they automatically turned off seven days before.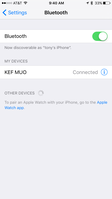 Two Speaker Setup
With thousands of portable Bluetooth speakers on the market, KEF needed a way to stand out in the crowd and they did it with their ability to link two KEF MUO speakers in stereo completely wirelessly.  Once one MUO is linked to your device via Bluetooth, turn on the second MUO and wait for the 4-tone signal telling you the second device is on.  Next, press the power and Bluetooth button on the first device and wait for a 3 tone sound. Next and immediately after you hear the 3 tones, press the power and Bluetooth buttons on the second device and wait for a 3-tone sound. After about 10 seconds (but up to 40 seconds), you will hear a different 3-tone sound.  This tells you the two MUO are synced and ready to play either in "stereo" or "party mode."
Note about Pairing Two Speakers:

I played with these MUO's A LOT during the three weeks I had them for review.  When the MUO's were paired up and turned on they worked flawlessly and sounded amazing, but once they turned themselves off you had to restart the whole setup again from the beginning, in most cases having to "forget this device" in the Bluetooth setup menu of your phone.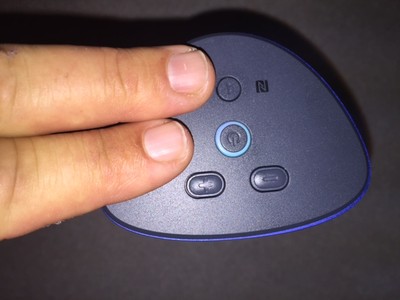 Pairing the Kef MUO was easy as pie

Listening Tests
For their size the KEF MUO really do sound amazing.  I would compare them to a high end pair of computer speakers (no sub). Although there are many powered Bluetooth speakers out there that can link to each other and play in stereo, some of which do sound better than the KEF MUO, when you consider that everything happening is completely wireless AND battery powered including the interpretation of the stereo output between speakers you realize that KEF really did an amazing job on these speakers.  I decided to scroll through what I already had loaded into my phone to see the MUO's ability to push sound to each speaker.
Pink Floyd – Money
The intro to Money with cash register sounds and coins moving from speaker to speaker was a good test for the MUO's ability to separate sounds between speakers. The MUO was able to move the sounds effortlessly back and forth throughout the whole intro of the song and then combined the rhythm and blues of the guitar riffs once the song began.
Stereo and Party Modes
The real appeal of the KEF MUO's is their portability, so to test their functionality, I brought the MUO's with me to a few different venues to test other people's reactions to the compact portable units.  People were initially impressed with their weight. It is shocking how heavy they are, but not to the point where you feel like you're dragging around an old 80's boom box. For everyone who tried, linking one MUO to their smart phone wasn't an issue and once they were shown how to link up the second MUO, the fun began.
When the MUOs are positioned in the vertical position they are set in stereo mode.  One MUO recognizes the other and takes a few seconds to adjust the stereo settings between the two units.  When I first got the MUOs in to test I was told by a KEF representative that they sometimes needed 30-40 seconds to link together and get the stereo modes right between units.
Most of us had Christmas music on our phones since it was a Christmas party and being that time of year took turns playing from our lists.  The bass coming out of the MUOs was impressive for its size, to the point where the whole unit would have moved if it weren't for the solid grip of the rubberized feet on the bottom of the speaker. Mids sounded clear and crisp, and the highs rang out like the bells in many of the Christmas songs played that night.
When the MUO are turned in the horizontal position a built in accelerometer engages and the MUO's  set themselves in "Party Mode."  No longer playing in stereo, each unit can be moved across the room or in different rooms up to 10 meters away from Bluetooth source. So any person near a given MUO speaker will hear the entire program, not just the left or right channel.
As the party wound down Mariah Carey finished her famous Christmas song, and people playing with the MUO's laughed and pointed "All I want for Christmas is you…"
A last point is that the Bluetooth worked flawlessly thanks to KEF implementing the latest 4.0 spec with aptX codec for the best possible sound with compatible aptX devices.  I didn't experience any audio dropouts which is especially important when hosting parties and NOT missing a beat.
Conclusion
At $350 each the MUO is really expensive considering the number of portable Bluetooth speakers that are available on the market right now. With KEF competing against the name recognition of Bose, Beats, and Sony (to name a few) all with products of similar size under $200 these might be a tough sell. There are lots of Bluetooth stereo speakers on the market, but the truly cool thing about the MUO is the ability to wirelessly link two speakers without plugging them into a wall. A pair will set you back $700, but they do sound great either singly or in a pair.  So if you are a discriminating audiophile with the money to spend, a pair of KEF MUO's might be for you especially if you want an aesthetically pleasing package that will spruce up any shelf space or little nook.
Confused about what AV Gear to buy or how to set it up? Join our Exclusive Audioholics E-Book Membership Program!
See also:
Recent Forum Posts:
tyhjaarpa posts on February 19, 2016 04:05
Really interesting product from KEF. Would be interested to buy one if they were under 200€, as I don't really need such a speaker I'm not ready to pay over 200 for it. If I needed one I could be interested how ever.

For that price I think they should of included microphone so you could also use one for conference calls for example.
gene posts on February 19, 2016 00:47
Looking for a great sounding portable Bluetooth speaker? The KEF MUO might be for you. We were impressed with the ability to link two MUO speakers together to play in stereo with each speaker playing left or right channels all without ANY cords.

Portable, functional, great aesthetics and a name like KEF to back it up are all great selling points for this not so inexpensive but potent little wireless speaker system.



Read: KEF MUO Portable Bluetooth Speaker Review
Post Reply